In China, Bracing for More Tibet Trouble
Will multinationals such as Carrefour, LVMH Moët Hennessy Louis Vuitton, and CNN again be targeted in China if tensions rise in Tibet?
by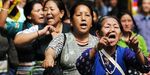 As members of China's National People's Congress head to Beijing for the opening of the annual session on Mar. 5, the faltering won't be the only thing for them to worry about. The nearly 3,000 delegates now converging on the capital surely will discuss, even if only behind closed doors, how to deal with the specter of a renewed flare-up of unrest in Tibet. The meeting of the NPC in Beijing coincides with several sensitive anniversaries marking Chinese rule in the strategically important high plateau region. Last March, for instance, protests by Tibetans led to bloodshed in which at least 19 Tibetans and Han (ethnic Chinese) died.
Should such destabilizing violence break out again, the Chinese government's response is almost certain to be another heavy crackdown. Despite reports that Beijing has sent thousands of troops to Tibetan areas, unrest appears to be growing. According to the human-rights organization Students for a Free Tibet, hundreds of Tibetans in Sichuan and Qinghai, provinces that border Tibet and include large areas that are majority Tibetan, have protested against Chinese rule during the last two weeks. A monk who lit himself on fire while carrying a homemade Tibetan flag with an image of the Dalai Lama was shot by Chinese police on Feb. 27 in Sichuan, according to reports by several human-rights organizations. "With Tibetans showing an increased determination to protest in the face of highly provocative military build-ups within Tibet, a bloody repeat of last year's crackdown by China looks increasingly likely," warned Stephanie Brigden, director of the rights group Free Tibet, in a statement released Feb. 27.
Death Threats
That prospect is likely alarming for at least some multinationals. Last year, there was a backlash against foreigners, with nationalistic Chinese youth using the Internet to organize boycotts of companies they perceived as supporting Tibetan independence. After French politicians made statements that were critical of China's Tibet policy, angry Chinese targeted French retailer Carrefour, and thousands of protesters picketed its shops in six cities. Protesters also called for a boycott of French luxury-goods company LVMH Moët Hennessy Louis Vuitton.
French companies weren't the only ones burned last year. Chinese critics singled out Time Warner's (TWX) broadcasting unit CNN for alleged bias in its coverage of the protests. In April, a Tsinghua University engineering student created a Web site that became popular, anticnn.com, aimed at criticizing CNN's coverage of Tibet. At the same time, a song titled Don't Be Too CNN swept the Internet. "Don't believe that lies will become mottos if they are repeated a thousand times," the song's refrain went. "What's the purpose of racking your brains to turn fraud into truth? Don't be too CNN." On a more serious note, staffers in CNN's Beijing office received death threats.
Many Chinese are again resentful of what they see as meddling in China's affairs. "I don't understand why [foreigners and overseas companies] have to intervene in Tibet. It's our own business," says Eric Chen, a 25-year-old graduate student in Beijing. While there have been no Tibet-spawned boycotts yet, pressure is building. The latest target: luxury-goods maker Gucci. François Pinault, the now-retired French businessman who founded Gucci's parent company, Paris-based PPR Group (PRTP.PA), has supported organizations seeking freedom of the press in Tibet—although according to associates he has never taken a public position on Tibetan independence. Nevertheless, a Xinhua columnist wrote on Feb. 27 that "[the power of the] money held by 1.3 billion Chinese is becoming stronger. There's no reason that Chinese people should choose to buy Gucci which sponsors 'Free Tibet' movements." A Gucci Group spokeswoman says the group is aware of the Xinhua article "but is not concerned about the possibility of a boycott since the group and its brands do not take or support political causes."
The problems companies face because of the Tibetan issue are not just limited to China—or to companies perceived as sympathetic to the Dalai Lama. During the months preceding the Beijing Summer Olympics last August, for instance, Coca-Cola (KO) faced criticism from overseas activists for its sponsorship of the torch relay, which Beijing used in part to trumpet its control of Tibet.
A Holiday Mourning
The Tibetan issue is flaring again in part as a response to Losar, the Tibetan New Year, which began Feb. 25. Many Tibetans in Dharmasala, the Indian city in the Himalayas where the Dalai Lama is based, and elsewhere are marking the holiday this year by mourning rather than celebrating. Last year's protests and Beijing's crackdown happened in March, and the 50th anniversary of a failed Tibetan uprising that led to the Dalai Lama's exile is Mar. 10; it is traditionally a day when Tibetans take to the streets. Also, Beijing has likely inflamed tensions by demanding Tibetans commemorate what it calls Serfs Emancipation Day, a newly created holiday, on Mar. 28. Many Tibetans view the day when China took full control of Tibet as an occasion for grief rather than celebration.
While March certainly is a sensitive period for Tibet, don't expect the problems to fade when April rolls around. That's because the unrest is driven in large part by the Tibetan region's dysfunctional economy. Other than mining and tourism, much of Tibet's $5.8 billion economy is centered on massive subsidies from Beijing, which totaled $14 billion in the five-year period between 2003 and 2007 and reached as much as 80% of GDP some years. "It's an almost completely illusory economy that's built on subsidies," says Robbie Barnett, director of the Modern Tibetan Studies Program at Columbia University's School of International & Public Affairs. And even though investment by Beijing in infrastructure projects such as the $4 billion Qinghai-Tibet Railway has driven double-digit growth in recent years, "it is disastrous as a long-term strategy," says Barnett. "It has brought in Chinese entrepreneurs [who dominate the best jobs and] are the source of the tensions."
Although accurate information about Tibet is hard to come by (Beijing has further restricted access to Tibet since last year), some independent Tibet watchers say they think the region's economy has suffered from a dramatic fall in tourism following the protests of last year. "You can't have tourism if you cut [Tibet] off," notes Barnett. And the economic downturn is expected to inflame even more tensions between the Tibetan and Han Chinese residents of the region. Beijing, however, claims there is nothing to worry about. "Social order is good, and the relevant people in Tibet are celebrating the new year," Ma Zhaoxu, a Chinese foreign ministry spokesman, said Feb. 24. "Tibet will make constant progress in the big family of the motherland. We're fully confident in the future of Tibet."
Before it's here, it's on the Bloomberg Terminal.
LEARN MORE