Car Designer Profile: Achim Storz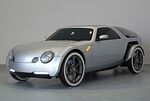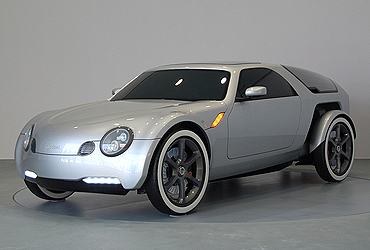 Global warming is a growing concern within the automotive industry and indeed, the world's population as a whole. With an increase in air pollution and CO2 emissions, politicians and entrepreneurs have been seeking ways to limit the environmental impact that human beings have on the earth. Design Storz is one such company.
Founded in 1982 by F1 racing engineer turned car designer Achim Storz, Design Storz is a design consultancy that delivers ideas, concepts and realizations within different areas—among them products, graphics, sports and architecture. Design Storz also develops interior, exterior and detail solutions in scale and full-size models (virtual and real) as well as prototypes for the automotive sector. The transportation design department has worked on an array of vehicle programs—from car to tractor and from train to incline—and has had the unique experience of working as a supporting design studio with major OEMs such as Audi, BMW, Porsche and VW for over 25 years. The company has created a wide variety of projects from a sports car to a toothbrush.
Starting his career as mechanic, Achim Storz managed to become a car constructor for Lotus and McLaren in Formula 1 and, after dabbling in motor sports, went to work at Porsche Design and became a student at the renowned Royal College of Art in London. His professional development resulted in the creation of his own design studio based in Zell Am See, Salzburg/Austria, which now consists of a team of roughly 30 freethinkers (designers and modelers) from all over the world.
Design Storz's most recent endeavor was an economical and unconventional electric car developed in cooperation with Mindset AG, an innovative new Swiss car company led by former Volkswagen design chief Murat Günak. Developed in three phases, the Mindset was turned from an initial exterior sketch, a skeletal engineering structure and a very rough interior buck (already created by Günak) into a fully realized, full-scale clay model with a complete interior by Design Storz, who worked under the direction of the Turkish-born designer at its studio in Austria from July 2007. During this second phase of the Mindset project, two designers at Storz initially began developing the exterior via sketches: "An electric vehicle is not a usual car, therefore Mindset should not look like a petrol car," said one designer, summing up the rationale behind the design.
The exterior design of the 4.2-meter-long vehicle can be described as simple, clear and unconventional. But simple does not automatically mean boring, as Achim Storz points out: "A car must not always be so serious; a car can sometimes also smile." With an idiosyncratic tail and slender 22-inch wheels, the four-seat minimalist car features only essential elements in its modern and timeless design.
After the sketching phase, Design Storz created a simple CAD model and a quarter-scale model was milled in-house before being presented to Mindset AG. The model was then aerodynamically optimized and developed in the wind tunnel at the University of Stuttgart, with Design Storz providing a quick data return by use of an internal 3D laser scan system. This meant that all changes to the real model were scanned and immediately transferred into CAD—a technology used for all models to enable the designers to improve their design directly on the model. All surfaces were prepared in Autodesk Alias Studio and the engineering work was further carried out by Mindset AG.
Following some additional design changes, Design Storz presented a 1:1 scale model in foam on October 2007, but the final exterior design was not yet determined. Still another 1:1-scale foam model was presented to Mindset management in December 2007, and following final refinements, the exterior of the model was signed off in February 2008. Since then, the third phase of the Mindset's development has seen French coachbuilder Heuliez build a fully driveable prototype featuring a number of interior design changes by former Stile Bertone design director David Wilkie. The company plans to sell 10,000 cars per year when it goes on sale in 2010.
"The proof of Mindset is its light weight and spaciousness, which ensures efficient daily operation by using stored electricity and offering all the comforts, speed and operating range demanded by today's clients," says Storz, "Mindset can run 100 kilometers for every battery charge and reach a speed of maximum speed of 140km/h." In hybrid mode the vehicle can generate enough energy to travel around 700km.
Mindset is one example of the various projects carried out by Design Storz—in this case being achieved in a short span of less than 8 months from the initial sketching phase to final 1:1 scale model. This feat was achieved mainly due to Design Storz's unique experience of working closely with the industry for over 25 years, skilled designers hand-picked from all over the world, in-house facilities with the latest technologies, and a strong passion for design.
This is not the first time Design Storz has developed an electric car. In cooperation with Innovative Transportation Systems AG (ITS) the company launched the Innovan—an electric car for short-distance use—at the Techno Park in Malta. Market research conducted in 2003 indicated a demand for 80,000 vans in Germany alone. However due to the inefficient electric infrastructure, most of the vans were forced to run on petrol. Even the new generation of hybrids had difficulties finding acceptance. "Finally it was not a question of lack of innovations causing environmental pollutions, but a question of attitude and acceptance," says Storz.
Mindset AG sought the cooperation of various research institutes and industry partners for the development of its electric car. It was particularly important to find independent partners who were convinced of the concept and wanted to create a new generation of alternative vehicles. Design Storz was just such a company, and is proud to have contributed to a project that holds so much promise at a time when economic and environmental concerns are forcing people to look towards a more sustainable future.
Before it's here, it's on the Bloomberg Terminal.
LEARN MORE