Obama's Budget Advances Domestic Agenda
The budget plan is as vast as the federal bureaucracy. But it focuses on his three core priorities: energy policy, health-care reform, and education
by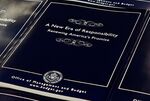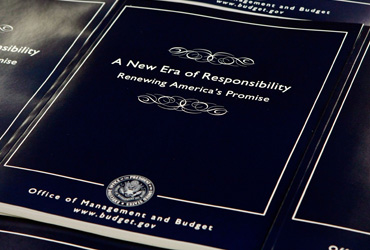 Give President Barack Obama credit for this much: He has shown a remarkable consistency about his domestic agenda, even amid the unfolding economic crisis.
The budget blueprint unveiled on Feb. 26 and previewed during the week by his address to Congress and Monday's fiscal summit, is as vast as the federal bureaucracy. But much of the document focuses on three core areas—energy policy, health-care reform, and education—even as Obama said "hard choices" needed to be made to to cut ballooning budget deficits.
"What I won't do is sacrifice investments that will make America stronger, more competitive, and more prosperous in the 21st century; investments that have been neglected for too long," the President said. "These investments must be America's priorities, and that's what they will be when I sign this budget into law."
Campaign Promises
That's the same message candidate Obama delivered relentlessly on the campaign trail, before the economy began its swift and unsettling downward spiral. And, as promised on the trail, he plans to pay for some of it by letting Bush-era tax-breaks for the wealthiest Americans expire, albeit later than originally suggested and less extensively.
Marginal tax rates for families earning over $250,000 will rise to 39.6%, up from the 33% or 35% they pay today. And taxes on dividends and capital gains for those families will rise from today's 15% to 20%. Still, senior Administration officials point out, that's an improvement over current law. With the end of the Bush tax cuts in 2010, dividend and capital gains rates had been scheduled to pop back to the 20% level in effect before 2001 for virtually all families. Now, for those earning under $250,000 the current 15% rate will remain.
Under the proposal, the new rates would not go into effect until after the Bush tax cuts expire.
Administration officials had originally considered moving right away on imposing the higher rates. But given the weak state of the economy, they decided to hold off for two years—when Obama's economic advisers expect recovery to be under way.
Shifting the Tax Structure
In addition, under the budget outline, which will be fleshed out into a full budget submitted to Congress in April, Obama proposes to pay for part of the health-care expansion by limiting the tax deductions for mortgage interest and charitable contributions for those same high-earning families. Their tax deductions for those expenses would be capped at 28% starting in 2011, rather than the current 35% allowed. Additional savings will come from cutting Medicare costs.
Administration sources say their budget is designed to shift the tax structure in a more progressive direction, while demonstrating their commitment to pay for the costly proposals they're putting on the table in health care and other areas.
"The President wanted to make clear that he was willing to carry water to get something serious done on health care, but to do it in a fiscally responsible way," says one senior Administration official, pointedly contrasting Obama's approach with the Bush Administration, which expanded Medicare coverage of prescription drugs without finding a way to pay for the increased costs. "But that will require some sacrifice on the part of those who can best afford it."
Pouncing on the Tax Proposals
In that search for funds, the Administration is also reigniting what promises to be another tough battle: It has reintroduced a proposal to tax the "carried interest" income earned by executives at hedge fund and private equity firms at the regular income tax rate rather than at the lower 15% capital gains rate they pay on such earnings today.
The change would also apply to partnerships in real estate, energy, and other fields that use a similar legal structure, but the lion's share of the revenue targeted would come from financial industry players.
Administration officials estimate the carried interest change could bring in $7 billion in revenues in 2011 and 2012, but they won't get that kind of dough without a fight. Private equity, hedge fund, and venture capital firms argue that boosting the tax rates on carried interest—which encompasses the returns they make for managing investments in companies and other assets—will discourage the long-term investments the economy needs. An earlier move to boost taxes on carried interest died in Congress in mid-2007 after the financial services industry launched a fierce lobbying campaign to kill it.
Indeed, that's likely to be the story for the budget proposal as a whole. As was seen with the partisan battle over the stimulus spending bill, it won't be easy sailing for the Obama team. Immediately, Republicans pounced on the proposed tax increases, saying the deep recession is a bad time to raise taxes. Said House Minority Leader John Boehner (R-Ohio): "Everyone agrees that all Americans deserve access to affordable health care, but is increasing taxes during an economic recession, especially on small businesses, the right way to accomplish that goal?"
"This budget plan is once again a missed opportunity for American taxpayers—it raises taxes on all Americans, implements massive new spending, and fails to make any tough choices to control the deficit," said Senator Judd Gregg (R-N.H.). the ranking Republican on the Senate Budget Committee.
"Exactly the Wrong Direction"
Business groups, too, were quick to complain of the planned tax hikes. "While we have not seen all the details, the President's disappointing budget proposal appears to move in exactly the wrong direction," said Bruce Josten, the head of government affairs for the U.S. Chamber of Commerce. "You don't build a house by blowing up its foundation. Small businesses and the entrepreneurs who lead them have been the primary drivers of job growth over the past decade. This plan would punish them with higher taxes, resulting in less government revenue, less economic growth, and fewer jobs—not more."
Other business lobbies offered some praise, however. The main securities-industry trade group, the Securities Industry & Financial Markets Assn., distributed a press release under the banner of a group called the Alliance for Savings & Investment, praising Obama's decision to keep capital-gains taxes low for most taxpayers. A SIFMA spokesman said the alliance's members extend beyond the asset-management and securities firms that would benefit directly from increased savings.
While the economic picture complicates Obama's approach, the President has also sought to deftly use the crisis to achieve his goals, noting in his Feb. 24 speech to a joint session of Congress: "History reminds us that at every moment of economic upheaval and transformation, this nation has responded with bold action and big ideas."
Revenue Raiser
Arguing that a failure to tackle health-care reform quickly will worsen a deficit already swollen by the government's response to the financial crisis, Obama also makes the case that fundamental health-system reforms will allow the kind of cost reductions that make broader health-care coverage possible. The budget plan projects to raise $634 billion over 10 years for expanding health-care coverage, with roughly half coming through greater health spending efficiency and half from the increased tax revenues on wealthy taxpayers.
Similarly, he has partially recast his proposal for a cap-and-trade system to reduce greenhouse gas emissions as a revenue raiser that will help close the budget gap while also stalling global warming and helping the country "break free from oil that's controlled by foreign dictators.
" Auction revenues from cap-and-trade are projected to bring in $150 billion over 10 years, starting in fiscal 2012.
Many of the initiatives in the budget build on programs in the economic stimulus bill enacted this winter, including home-weatherization assistance, refurbishing the electric grid, expanding broadband access, and rehabilitating roads, bridges, and other infrastructure.
On the education front, the budget highlights aid for early-childhood education, revamped incentive pay and training programs for teachers, funding more science fellowships for graduate students, additional charter-school support, and higher college-aid funding for Pell Grants.
Finding Wasteful Programs
To meet Obama's promise to halve the deficit during his Presidential term, the Administration says it is combing the budget to find wasteful programs. Some of those it has identified: eliminating government payments to store Agriculture Dept. cotton, cutting mine-cleanup funds to some states, reducing funding for overseas brand marketing, tying farm subsidies to environmental improvements, and cutting subsidies to farmers with sales of over $500,000 a year, and stepping up tax collection from federal contractors.
The budget also proposes a host of "honest budgeting" measures designed to change some federal accounting practices that critics say hid spending in misleading ways. It has accounted for the costs of the wars in Iraq and Afghanistan in the budget, for example, and ended the annual fiction of pretending that the alternative minimum tax is going to bring in billions in revenues. Because those billions increasingly would come from strapped middle-class taxpayers rather than the wealthy folk the AMT was intended to target, Congress effectively pares back the tax every year.
The Administration has also budgeted $250 billion for additional future costs, beyond what it has left in the Treasury's Troubled Asset Relief Program to continue bailing out the financial system. Administration officials were quick to point out, however, that the number doesn't correspond to an exact projection of the additional funds they might need or any planned request for new funds from Congress. Instead, they describe it as a "hypothetical" amount put into the budget as a placeholder, since the Administration acknowledges that more spending is likely. "We're not certain how much more will be needed; it could be less, it could be more," says one senior official. But some recognition in the budget was needed, he adds, "since we felt this was an area where there is a probable short-term cost ahead."
Health-Care Battle Lines
To be sure, there's no certainty the President's budget will sail to passage—or that Obama can actually count on those hundreds of billions in new revenues and costs savings coming in. Complications abound. Many businesses oppose the carbon cap-and-trade system, for example, and the details, including his proposal to auction off all carbon permits instead of granting some to businesses, will pit various industries against one another. Similarly, health-care reform, in order to truly cuts costs, would be sure to gore the ox of at least one branch of the medical industry, whether it proves to be insurers, hospitals, drugmakers, medical-device manufacturers, doctors, or hospitals. Many in the past have tried—and failed—to squeeze such cost savings out of the health-care system.
Already, the battle lines are being drawn. America's Health Insurance Plans, a trade organization, said that while it supports efforts "to strengthen the health-care safety net," it's concerned about proposed Medicare cutbacks, particularly in payments to private insurers under the Medicare Advantage program. The budget plan envisions saving $175 billion over 10 years by establishing a competitive system to establish payment levels. "A cut of this scale would jeopardize the health security of more than 10 million seniors enrolled in Medicare Advantage and would turn back the clock on innovative payment incentives to improve the quality of care that patients receive," the organization's president, Karen Ignagni, said in a statement posted on the group's Web site.
With this first budget, Obama is clearly signaling a willingness to fight for the ambitious agenda he has promised since he launched his campaign for President. And just as clearly, those who find themselves on wrong side of that agenda are gearing up for the fight as well.
Before it's here, it's on the Bloomberg Terminal.
LEARN MORE