Relief in Japan as Gaffes Weaken Yen
Embarrassing videos of Japan's Finance Minister, coupled with Prime Minister Aso's record-low approval ratings, have led, finally, to a weakening yen
Ian Rowley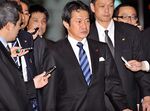 After an acutely embarrassing performance at the G-7 meeting in Rome on Feb. 14, Japan's Finance Minister, Shoichi Nakagawa, quickly became something of a global star. YouTube video clips of him, seemingly drunk at a press conference, were an instant Internet hit. As global news channels, looking for some light relief from the credit crunch, also broadcast the slurring Nakagawa, his fame spread further. In Japan, though, the abject performance, which Nakagawa blamed on strong cold medicine, came in for intense criticism and the 55-year-old resigned on Feb. 17.
Yet perhaps it's time to cut Nakagawa a little slack. While Prime Minister Taro Aso, who is battling record-low poll ratings, is unlikely to buy his erstwhile Finance Minister a drink any time soon, Nakagawa's woes brought stacks of global attention to the troubles facing Japan's economy and Aso's limp government. On the face of it that doesn't sound like positive news, but it's been enough to make investors think again. (One recent survey gave Aso a disapproval rating of 80%.) Ironically, that attention could be a tonic for Japan's suffering economy.
Until recently, the conventional wisdom among investors was that Japan, underpinned by a relatively sound financial system, was a safe haven during the current economic crisis. That triggered huge buying of the yen last year as the currency surged to 13-year highs against the greenback in December. Japanese exporters, already suffering amid a global slowdown, were left facing a huge loss of competitiveness just when they were hurting most. Worse, with the rest of the world's economy's also floundering, the Aso government has had few policy options available that could weaken the yen. Unlike in 2004, when Japan last intervened, government , for instance, would not have been well received in Washington. Indeed, while President Barack Obama gave Aso the honor of being the first foreign leader to meet with him at the White House, on Feb. 24, the new U.S. Administration has made it clear it doesn't want Japan to attempt to weaken the yen in the currency markets. A gift from Aso of lacquered chopsticks made in the Japanese town of Obama, north of Tokyo, is unlikely to have swayed the new President.
The Yen Losing Ground
Nakagawa, though, may have inadvertently added a new chapter to forthcoming books on how governments can influence the currency markets. Since he made headlines, the yen has lost ground against major currencies. Before the G-7 press conference, the yen traded at around 91.9 to the dollar. On Feb. 25 in Tokyo trading the yen breached 97 to the dollar for the first time since mid-November. That represents a fall of 5.6% in a little over a week. "It's the best policy measure since Koizumi," says Jesper Koll, CEO of Tantallon Research Japan, referring to Japan's reformist former Prime Minister Junichiro Koizumi. Nakagawa's muddled performance has had "more policy stimulus than three years' worth of Bank of Japan deliberations," he adds. Compared with the December peak of 87 to the dollar, the yen, while still painfully high for exporters, has at least now lost almost 10%.
Just as important, the yen has slipped by similar amounts or more against other currencies. For example, it has lost 4.7% against the euro since Nakagawa's accidental intervention. The British pound, which gave up 40% against the yen last year, has regained 6.3% since Nakagawa's press conference and 16% since mid-January. (That suggests comments by American investor Jim Rogers last month that the pound was "finished" may have been greatly exaggerated.)
Even better for Japan, the yen is falling apparently without direct intervention by the Ministry of Finance. By talking (or slurring) the yen down, Nakagawa may have had a similar impact as a government-orchestrated yen sell-off, but without raising tensions among trade partners.
Shrinking GDP
Of course, the yen's recent weakening could have occurred without Nakagawa shining attention on Japan's woes and shortage of political leadership. After all, the economic data in recent weeks have been dreadful even by recent global standards. On Feb. 16, a day before Nakagawa's resignation, Japan's Cabinet Office said the country's gross domestic product shrank by an annualized 12.7% between October and December—faster than the U.S. or Europe. And on Feb. 25 the Ministry of Finance reported that Japan, the great exporter, posted a record trade deficit of $9.8 billion in January.
Grim numbers alone would have changed investor perceptions, says Masaaki Kanno, chief economist at JPMorgan Chase (JPM) in Tokyo. And, Kanno adds, reputations of Japanese politicians were "already low." In his view, changing attitudes among speculators may offer a better explanation. "It appears that short-term speculators have been forced to unwind their long yen positions," he says.
Whatever the reasons behind the yen losing its luster, it is a rare welcome development for Japan's ailing exporters. Battered by falling global demand and the strength of the yen, many of Japan's strongest companies are slipping into the red. In the year ending in March, Toyota (TM) will lose $3.9 billion, its first loss since 1950. Nissan (NSANY) expects its first red ink in nine years and plans to trim its global workforce by 20,000, to 215,000. "In every planning scenario, our worst assumptions on the state of the economy have been met or exceeded." Nissan chief Carlos Ghosn said on Feb. 9. In the electronics sector, Panasonic (PC), Sony (SNE), NEC (6701.T), and a host of others are cutting jobs and expecting losses.
The yen is a big factor in those slumping earnings. At Honda (HMC), outgoing President Takeo Fukui has said it's difficult to make a profit with the yen below 100 to the dollar. Still, 97 to the dollar is much better than 87. Honda wins back about $200 million in profits for every 1 yen depreciation against the dollar. In Toyota's case, the impact of the yen's movement is even more extreme. The company estimates the rise of the yen will cost it $9.4 billion in lost earnings for its financial year. If not for the yen's rise, even with slumping sales, Toyota would still be profitable.
Frustration Sets In
For all that, even if Nakagawa's actions turn out to be an unwitting masterstroke, don't expect Japanese executives to start praising the government. As well as anger at Nakagawa's behavior—subsequent reports say he followed the press conference with an incident-packed tour of the Vatican that included him accidentally setting off an alarm—voters are just as upset that proposed stimulus packages have still not been passed in Parliament, and consumers are cutting back on spending. Regular gaffes by Prime Minister Aso, who initially stood by Nakagawa, only make matters worse. Some business leaders are no longer hiding their irritation. In a Feb. 25 interview with the Nihon Keizai, a business daily, heavy machinery maker Komatsu (6301.T) Chairman Masahiro Sakane showed his exasperation. "Regardless of who is Prime Minister, I think the state of Japanese politics and the shape of the country are reaching their limits," he said. At least a weaker yen softens the blow a little.
Before it's here, it's on the Bloomberg Terminal.
LEARN MORE