Prime-Time TV Isn't Prime Anymore
Late-night network shows such as Conan O'Brien and Nightline are outdoing the likes of CSI, and advertisers are taking notice
Jon Fine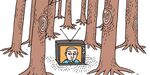 Add this to the list of media dislocations in general, and television in particular: Maybe prime time isn't prime anymore.
I don't mean the Internet runs the world, etc., and that broadcast TV is but a crude, cavemanlike relic. I mean that prime time—that post-dinner, pre-late-news stretch of the networks' glitziest offerings—may no longer be TV's prime time. Since the new season began last September, the top five broadcast networks' average audiences are down in the high single digits. Yet the networks' late-night shows, from Late Night with Conan O'Brien to Last Call with Carson Daly to Nightline, are up around 5%. The morning shows also are holding their viewers much better than those in the evening.
Yes, prime time still draws bigger crowds, and, yes, multiple factors might make this an anomalous moment. Still, if these dynamics hold, the assumptions about what truly rules TV, and thus where the big dollars get spent, could stand rethinking. The last programs left standing might not be the big-name scripted shows around which the networks' culture still revolves. They might be the ones devoted to the oldest-school stuff imaginable. What is The Tonight Show if not an updated and smartly paced vaudeville revue?
This is partially due to last year's Writer's Guild Strike, says Brad Adgate, senior vice-president for research at ad-buying firm Horizon Media, referring to the work stoppage that lasted from November 2007 to February 2008. But "late night bounced back [this year] and prime time didn't." The strike meant programs from the late-night likes of Jay Leno went off the air abruptly, although they found a way back on in January. The inventory of completed prime time scripts at the time of the strike meant those programs stayed on after the picket lines formed, although as the scripts were used up, those shows disappeared, too. But prime time reality shows, including last season's sudden hit American Gladiators, did not. Adgate, who helped assemble much of the data included herein, also shares Nielsen numbers that indicate more people now watch early-morning and late-night TV than 10 years ago.
The other overhang on this season was last November's Presidential election. (If you hadn't heard, there was one.) Many executives I spoke with said early-morning and late-night shows' topicality helped them in the runup to and aftermath of Election Day. Moreover, such programs' immediacy, and the way the day's events become fodder for late-night jokes, may make them more TiVo (TIVO)-proof than, say, ER. No show rode current events more skillfully than Saturday Night Live, which, regardless of how certain BusinessWeek media columnists feel about it, saw its total audience skyrocket more than 60% this season.
But even if you subtract SNL, late-night shows still far outperformed prime time. Some suggest the networks' prime time faces more competition, since cable networks now air scripted series that win buzz and viewers. But cable's heft is hardly exclusive to the early evening: Perhaps you've heard of Comedy Central's The Daily Show With Jon Stewart and The Colbert Report (both of which also posted huge gains).
"The value equation has changed dramatically," says Peter Gardiner, chief media officer of ad agency Deutsch. For years his company has espoused the argument that traditional prime time isn't truly that unless it's augmented by cable shows and even Web video.
But others argue for the primacy of the big networks in the evening. "Ratings might be low," says Chris Boothe, president of ad giant Starcom USA. "But it might not matter if [advertisers] feel the buzz is bigger" in prime time.
Boothe also walked me through a fairly complex (and convincing) analysis demonstrating that, at current ad rates, even declining prime time ratings give advertisers better bang for the buck. And Gardiner adds that prime time shows seem to hold viewers' attention through ad breaks a bit better than programming at other times of the day. This is the perversity of big-network TV: Prime time still exerts its powerful gravitational pull. But it's the other shows that are doing better at keeping viewers rooted to their couches.
Before it's here, it's on the Bloomberg Terminal.
LEARN MORE