London's Commercial Real Estate Freeze
With the lingering downturn and dearth of credit, many of London's office building projects have been delayed or put on hold
Kerry Capell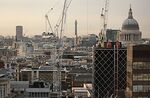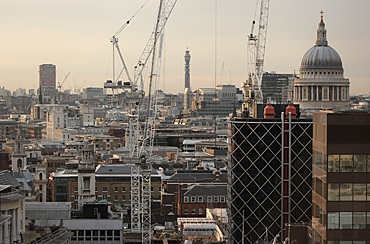 This was the year London's skyline was supposed to be transformed by the construction of yet more signature skyscrapers. But with funding increasingly hard to come by and fears that demand for office space will continue to drop, many such projects have now been delayed or shelved. Commercial property values fell by 3.5% in January, on top of a 27% decline in 2008, according to global property advisers CB Richard Ellis (CBG). "The British commercial property market has been the first and fastest to react to the financial crisis," says Peter Damesick, CB Richard Ellis' head of research in Britain.
Witness the number of high-profile projects that have fallen victim to the downturn. Plans for a tower called St. Alphage's in London's financial district—known as the City of London—were canceled after the intended tenant, JPMorgan Chase (JPM), withdrew. And Dutch bank ING (ING) pulled the plug on Frank Gehry's first British project, a $433 million waterfront development in Brighton. "There's been a sharp downturn in new development activity over the last 12 months," Damesick says. "A lot of projects that were in the pipeline are being reassessed."
Take British Land's skyscraper in the City. The 47-story-tall, Richard Rodgers-designed Leadenhall Building, popularly dubbed the Cheesegrater due to its resemblance to a certain kitchen accessory, was supposed to be completed in 2011. Instead, British Land (BLND.L) put the project on hold in August. At the time, then-CEO Stephen Hester—who now heads another troubled company, the Royal Bank of Scotland (RBS)—conceded the economic environment had changed. "Today you would never start such a big project without a tenant already lined up," he said. "The economics are not attractive enough."
"Exceptional Cyclical Downturn&quot
Britain's property firms face many of the same problems as those of its beleaguered banks: a dearth of credit, rapidly declining asset values, massive writedowns, and mounting job losses. In February alone, the country's three biggest property companies, British Land, Hammerson (HMSO.L), and Land Securities (LAND.L) tapped investors for a total of $2.9 billion in cash in a series of rights issues to repair badly damaged balance sheets. "This is what I would call an exceptional cyclical downturn," Land Securities CEO Francis Salway said in a conference call on Feb. 19 to announce the company's $1.1 billion rights issue.
Finding tenants for commercial property in London is proving tough. London's West End still has the world's most expensive office space, at around $248 a square foot, compared with $98 per square foot in midtown Manhattan, according to CB Richard Ellis. Little wonder that the amount of vacant office space in central London has risen by 36.5% in the past 12 months as tenants shed staff or relocate, says global real estate firm Cushman Wakefield.
Hoping to attract occupiers, some landlords are even offering two years rent-free on leases of 10 years or more, the firm says.
The big property firms aren't the only ones suffering. Related industries from construction to engineering and architecture are feeling the pinch. Recent data from Britain's Office for National Statistics revealed an 8% decline in construction investment. And the Construction Products Assn. predicts the British construction sector will fall a further 9% in 2009, the biggest drop in three decades.
Tumbling Profits
Uxbridge-based Galliford Try (GFRD.L), one of Britain's biggest construction firms and homebuilders, has had to axe 400 staff and move to a four-day week to cope with the slowdown. On Feb. 19 the company conceded it tumbled from a $48.4 million profit to a $54 million pretax loss for the six months ended Dec. 31, 2008, compared with the same period last year. CEO Greg Fitzgerald says current conditions in the homebuilding market are "the worst in generations."
British architects would certainly agree. With the collapse in the commercial, residential, and retail property markets, architectural firms are suffering, and the slowdown is fast translating into layoffs. New data from the Office for National Statistics reveal architects are joining the ranks of the unemployed at a faster rate than any other occupation in Britain. Some 870 architects signed on to unemployment benefits in the last quarter of 2008, compared with just 135 in the same period the year before, an increase of 544%.
Even some of the profession's biggest names have had to lay off staff. On Feb. 13, Norman Foster's Foster & Partners announced plans to let go around a quarter of its 1,300-strong workforce and close two of its 17 offices around the globe. Jo Wright, managing partner at Bath- and London-based design firm FCB Studios, which won last year's prestigious Stirling Prize, says her firm had to reduce its staff by 10%, to 135, in November. "As recently as August, I was using a headhunter, but the market turned so quickly," she says. "All of our core work sectors are suffering."
Few expect conditions to improve significantly until 2012. True, some projects such as Renzo Piano's "Shard"—set to be Britain's tallest building—are still going ahead. And for potential buyers and tenants, there's one bright spot in the real estate crunch: "If you combine the fall in asset prices with the decline in the value of sterling, some properties are as much as 55% cheaper than they were just 18 months ago," says Richard Barkham, group research director at Grosvenor Group, an international property firm privately owned by the Duke of Westminster. The only problem is finding investors with the cash on hand to take advantage.
Before it's here, it's on the Bloomberg Terminal.
LEARN MORE