business
India's Deficit Threatens 'Junk' Rating
Standard & Poor's warns India of further downgrades as the country's exports sink and extra borrowing raises its deficit to 12% of GDP
By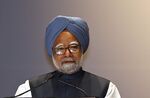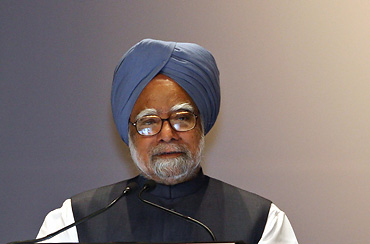 Faced with a slowdown in growth, an exodus of foreign investors, a huge corporate accounting scandal at a top , and a make-or-break election, India's government has been struggling to find ways to rev up the economy. First came an $8 billion stimulus package in December. Then, on Jan. 2, as the country digested the news that exports had fallen for the first time in nearly 15 years, the central bank cut interest rates and allowed state governments to borrow another $6 billion. And last week, Prime Minister Manmohan Singh's coalition government slashed taxes.
Now comes the slap on the wrist. On Feb. 24, Standard & Poor's sniffed at all the extra borrowing, which has raised India's total deficit to about 12% of its gross domestic product, and revised the country's outlook downward to negative from stable. While S&P reaffirmed its BBB- rating, Takahira Ogawa, the analyst who recommended the change, says the ratings agency (which, like BusinessWeek, is owned by The McGraw-Hill Cos. (MHP)) would be watching India's fiscal condition closely for the next few months. "We see more possibility for a downgrade later on down the line," he says. "In a sense, this is a warning."
Any more large expenditures announced by the government could trigger a downgrade, says Ogawa. One big problem: BBB- is the lowest investment grade rating. If S&P does downgrade India, then the country would have a junk rating. That would mean the government would have to pay a painfully high yield on any bonds it issues, both overseas and domestically.
S&P isn't the only ratings agency worried about . Moody's (MCO) rates India's local currency debt at BA2, while the foreign debt is rated higher, at BAA3, says Aninda Mitra, a Singapore-based analyst for the company. "The speed at which the deficit has deteriorated is pretty bad," he says. "Worse than comparable countries."
Economy First, Deficit Second
Still, with elections approaching, there's plenty of pressure for the government to go ahead and keep spending. Over the past year, Singh's government has promised an $11 billion debt waiver for farmers, additional billions of dollars for a national employment scheme for rural areas, and other spending that has added to the government's debt burden. In Parliament last week, announcing his interim budget, Finance Minister Pranab Mukherjee said his primary concern was stimulating the economy, not holding down the deficit. Just over two years ago, Indian officials had said they would try to hold the federal deficit down to 2.5%.
Now, though, the government seems to be placing its bets on a simple prediction: Even though the Indian stock market's benchmark index fell a record 52% last year, tight credit lines have stranded infrastructure projects all around the country, exports are dropping, and foreign investors remain wary, India will surf through the global recession at a slightly humbler growth, with higher tax revenues helping to lower the deficit. "The Finance Minister was honest in the sense that he said he doesn't give a serious consideration to the fiscal deficit," says Ogawa, the S&P analyst. "Instead, he has to focus on the countermeasures for the slowdown in the economy."
At least one thing is almost certain: The government is out of bullets now. In Parliament, Mukherjee shrugged off the S&P decision, pointing out that other countries were doing the same to stimulate their economies.
As elections approach, the government is unlikely to make any further major decisions, although that could change if the economy deteriorates rapidly. A new government won't be ready until mid-June, giving both economists and politicians time to see if these stimulus packages can do their job.
Investors Backing Out
Recent indicators don't bode well. Just last week, foreign institutional investors (FIIs), who had buoyed India's stock markets from 2003 to early 2008 with billions of dollars of fund money, sold about $380 million more in Indian shares than they bought, according to data maintained by the Indian stock exchange regulator. Indeed, in the financial quarter ended in December, FIIs sold $3.8 billion worth of Indian stock, dragging their share of the Indian stock market down to 2003 levels, at about 15.5%, according to a Citigroup (C) report.
That is putting pressure on the Indian rupee. It fell 24% in 2008 and is down another 2.5% this year against the dollar, as the Indian government sold foreign exchange to increase liquidity in the market. The rupee's weakness hasn't helped exports that much; India's largest export industry, textiles, has lost orders to Vietnam and Bangladesh, and the country has fallen off the list of the top five garment exporters globally. Meanwhile, the impact of last November's terrorist attacks in Mumbai and the January scandal at Satyam (SAY), once India's fourth-largest IT company, have tainted India's image as a destination for the world's investment. "Without doubt, Brand India has taken a hit," said Nandan Nilekani, the co-chairman of the board of directors for Infosys (INFY), India's second-largest IT company by revenues, speaking to foreign media at a conference on Feb. 19. "And it will take a lot of measures to improve that image."
On the other hand, India's banks, whose credit outlooks were also revised by S&P to match the country's, are relatively well capitalized and for now appear eager to buy government bonds at a time when other predictable investments are scarce. India will hold a $2.4 billion debt auction on Mar. 4, and previous auctions have gone well. In fact, much of India's recent debt has been raised domestically, says Ogawa. The country's foreign debt is more than manageable: India currently holds more than three times the foreign exchange it needs to meet short-term debt requirements. This year the Indian government will borrow a record $72 billion from capital markets, both local and foreign, according to a projection by the Controller General of Accounts for India.
For now, though, Moody's Mitra expects to wait and see if the stimulus plans work before taking any action on a possible downgrade. "Some of these stimulus packages could be quite effective," he says, even though he is concerned that some of the more publicly visible plans have been announced with an eye to the upcoming elections. "Where does stimulus end and where does populism begin is in the eye of the beholder," says Mitra.
Before it's here, it's on the Bloomberg Terminal.
LEARN MORE