Honda CEO Fukui Steps Aside
In the latest corner office adjustment, Japanese automaker Honda is tapping Takanobu Ito, its former R&D chief, to be its new leader
Ian Rowley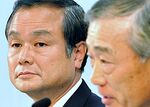 Another Japanese auto chief is moving aside. Amid plunging sales, Honda (HMC) President and CEO Takeo Fukui announced on Feb. 23 he will hand over leadership of the company to Takanobu Ito, chief of automobile operations, in June. The departure of Fukui, who has been boss at Honda for six years, is the latest of several corner office moves as Japanese car companies struggle to cope with dwindling sales in the U.S., Europe, Japan, and China. In January, Toyota (TM) announced its decision to replace President Katsuaki Watanabe with Akio Toyoda, grandson of the company's founder. In November, Mazda (MZDAF) said Takashi Yamanouchi would succeed Hisakazu Imazu. Legendary Nissan (NSANY) President Carlos Ghosn remains in the job but has relinquished some responsibilities recently as he balances leading the Japanese automaker and its major shareholder Renault of France.
Honda says the change had been planned and isn't related to the company's recent disappointing results. Indeed, speaking at a press conference in Tokyo, the 64-year-old Fukui explained that taking into account the harsh environment facing automakers, he had even considered staying on longer; ultimately, though, he decided the younger executive—Ito is 55—is ready for the top job. "It is very important to have a generational change in management every few years," said Fukui, who will stay on at Honda as a director and adviser. When asked to describe Ito in one word, Fukui replied "tough."
The new boss will certainly need to be. "I don't envy [Ito] at all," says Yasuhiro Matsumoto, an analyst at Shinsei Securities in Tokyo. For automakers, "it's the most difficult environment for a century."
Scaling Back
In line with all Japanese car companies, Honda is reeling from a combination of falling sales and the strong yen. Last year Honda had seemed to be weathering the storm far better than most Japanese automakers, but now it, too, is suffering. During the current financial year ending in March, Honda expects its net earnings to fall 87%, to $860 million. That's certainly better than the terrible red ink at other automakers. However, for the final quarter of the fiscal year (January through March), the company is likely to lose $2.7 billion, its first quarterly loss in 15 years.
And with sales showing few signs of recovery during 2009, many of Fukui's last acts as chief have focused on cost-cutting. In December, a solemn Fukui announced a string of measures aimed at trimming outgoings. Among them, the company will delay by at least one year a new flagship plant in Yorii, outside Tokyo, and a minicar plant in western Japan.
Honda will also postpone planned capacity increases in India and Turkey. The company has dropped a plan to release the Acura luxury marque in Japan in 2010 and has axed the development of the successor to the NSX sports car, scheduled to have been equipped with a new V10 engine. And its plans to use diesel engines in larger models are now on hold. Earlier in December, Honda pulled out of Formula One in order to save the company about $500 million a year.
There may be more cuts ahead. In Japan, Honda is cutting 4,300 temporary workers by April. In the U.S., Fukui said recently the company may be forced to follow Toyota and introduce work-sharing and begin offering voluntary retirement deals.
Candid About Challenges
Ito, who like Fukui is an engineer and former chief of Honda's research and development division, is a 31-year Honda veteran who began his career at the company in auto R&D. In 1990 he led the development of the all-aluminum uniframe body, the first of its kind, for the NSX. Later he led the development of several small sedans for the Japanese market and of the MDX, Honda's Acura brand's first SUV.
Ito is candid about the challenges he now faces and how difficult the job will be. On hearing he would succeed Fukui, he told reporters in Tokyo: "I don't think I had a full smile on my face." He reminisced about buying a Honda N360 minicar (produced until 1972) for $100 from a customer when he worked as a part-time gas stand attendant. "I found it was a peach of a car," he said. (Cutting a relaxed figure at the press conference, Ito also copped to owning Toyota and Mazda cars in his youth.)
For all of Honda's woes, Ito may yet find life at the top easier than Akio Toyoda at the company's Aichi-based rival. While losses at Toyota are expected to reach $3.9 billion this financial year, Honda is still one of only three Japanese carmakers, alongside Suzuki and minicar-making Daihatsu, projecting a full-year profit. In the year ending March 2010, UBS (UBS) analyst Tatsuo Yoshida says he expects Toyota's loss to widen, but believes Honda, aided by its motorcycle business, stable sales in Asia, and lineup of fuel efficient cars, can stay profitable if the yen stabilizes at current levels. "Honda is better positioned than the others," Yoshida says. For that, Fukui, who joined Honda in 1969, takes great credit.
With Hiroko Tashiro in Tokyo
Before it's here, it's on the Bloomberg Terminal.
LEARN MORE