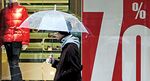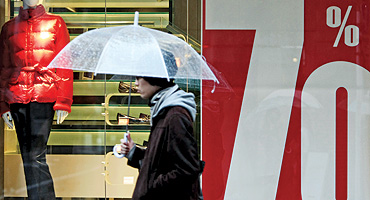 On Feb. 16, Japan's Cabinet Office announced that the country's gross domestic product contracted at an annualized rate of 12.7% between October and December. The fall was more than expected and marked the biggest quarterly slump since 1974. "There's no doubt that the economy is in its worst state in the postwar period," Economic & Fiscal Policy Minister Kaoru Yosano said in Tokyo (Yosano is also picking up the portfolio of Shoichi Nakagawa, who abruptly resigned as Finance Minister after appearing to be drunk at a G-7 meeting).
The shrinkage is evidence that Japan has slipped into an even deeper sinkhole than the U.S. During Japan's lost decade of deflation in the 1990s, it could still count on the American appetite for Japanese goods to sustain the factories of Osaka and Tokyo. Now the slump in demand for Japanese autos and electronics has spread from the U.S. and Europe to China and other once fast-growing markets. Japan's exports fell 13.6% in the latest quarter. "In every planning scenario, our worst assumptions have been met or exceeded," Nissan Motor (NSANY) CEO Carlos Ghosn told the press on Feb. 9. Japan's woes are hurting global growth and depressing global bourses further.
Making matters worse is that the yen has soared as investors both domestic and foreign have sought the safety of an established currency and the security of a banking system relatively untouched by the subprime scourge. In 2008 the yen gained 20% against the dollar and even more against the euro and other currencies. Exporters, even after extensive cuts, need a yen rate of about 100 to the dollar to make money. Today the yen is at 94.
Can Japan right this mess? It should be able to—it has $1 trillion in foreign reserves, almost $16 trillion in household assets, and perhaps the most skilled workforce on the planet. But its options are surprisingly limited.
UNEMPLOYMENT CLIMBS
The first is to try stimulus, something Tokyo did repeatedly in the 1990s. Yet today the ruling Liberal Democratic Party, which once held undisputed power, faces a serious political opposition that has blocked passage of a $111 billion stimulus bill partly in hopes of forcing an election. Even if the bill passes, critics point out the amount is small compared with President Barack Obama's $787 billion plan and China's $560 billion plan. That's despite a surge in unemployment, which Barclays Capital (BCS) estimates will reach 5.7%—more than the last peak of 5.4% in 2002. "In terms of job creation, the government isn't doing what it is supposed to do," says Kyohei Morita, Barclays' chief Japan economist. Room for maneuver is limited. At 173%, Japan's debt- to-GDP ratio is far higher than the U.S. level: Tokyo cannot afford a huge stimulus.
The second option is to slash interest rates. There's not much left to slash. The Bank of Japan pushed rates almost to zero to pull the country out of its last recession, then nudged them up as the recovery took off. As the economy has again slowed, Japan's base rates have fallen from a recent peak of 0.75% to 0.1%—not a lot to get companies and consumers spending.
The next option is to engineer a drop in the yen. One idea is that Japan use its reserves to help fund Washington's bailout and stimulus plans in return for a combined effort to reduce the yen. The U.S. has little to gain from such a deal, though. America is unlikely to need Japan's help to buy treasuries, particularly since Federal Reserve Chairman Ben Bernanke has said the Fed may make purchases. And despite some Beijing bashing by Treasury Secretary Timothy F. Geithner, China will likely remain a big buyer of treasuries. Such a deal would be political suicide as well: President Obama cannot help out Japan's exports at the expense of America's. "Effectively, it would be a donation of U.S. growth to Japan," says Richard Jerram, chief economist at Macquarie Securities in Tokyo.
The final option is to restructure the economy so it depends more on local consumption and far less on exports. Yet the Japanese, with memories of the lost decade still fresh and layoffs mounting once more, show no desire to open their wallets. In December, household spending fell 4.6%, the 10th consecutive monthly decline.
What's more, Japan's population is now shrinking. To boost consumption a nation needs young families: Japan does not have enough. There are now 10 million fewer Japanese age 20 or under than there were 30 years ago. The dearth of young adults and families is one reason car sales have dropped one-third from their peak in the 1990s. Many of these young people, squeezed by low-wage jobs, are saving far less than their parents did.
The needs of the old also make it hard for policymakers to cut taxes to spur spending. On Feb. 16, the day the government announced the grim economic data, Nippon Keidanren, Japan's biggest business lobby, called for a hike in the consumption tax to fund social security costs. Old, debt-ridden, and scared, Japan is in quite a fix.
Before it's here, it's on the Bloomberg Terminal.
LEARN MORE