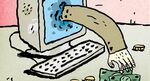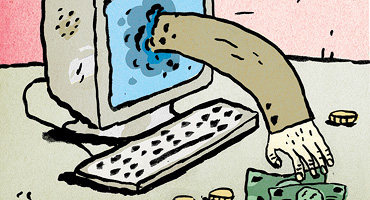 The news sentimentalists among us savor the best newspapers—their lovely turns of phrase, their bold reportage—as if they were rare and fragile wines. Which, these days, they are. The stresses on the grand old news institutions, compounded now by the evidence that online ad revenues are not immune to atmospheric changes, lead to a desperate groping for a solution, any solution. So look for some news organizations to lock up many of their online offerings and make them available only to paying customers. Out of all the imperfect scenarios available, the least imperfect version looks to me like this: A bunch of news organizations get together, create a site walled off from the prying Web-crawlers of Google (and the momentary affections of the casual Web surfer), charge subscription fees, and split these fees and any ad revenue.
"Can I imagine content going behind a pay wall?" asks Tom Curley, the CEO of the Associated Press. "Absolutely. And, yes, we are in conversations about that." These conversations with other content players are informal, he admits. And a gazillion issues arise. One is that the Associated Press has a licensing agreement with Google (GOOG), the particulars of which Curley would not detail, that won't expire until December. (A Google spokeswoman declined to comment.) It's also unclear how this would work for a newspaper or a TV operation that does not want to wholly destroy existing traffic. And this solution may not be one-size-fits-all: The Wall Street Journal gets away with charging; The New York Times might; a less illustrious paper a tenth as big may not.
Or, perhaps, the opposite is true. Little Rock's Arkansas Democrat-Gazette, which boasts a daily circulation of around 176,000, charges a monthly fee of $4.95 for full Web access. (It's owned by Walter E. Hussman Jr., a local newspaperman tough enough to successfully beat back a market invasion by newspaper giant Gannett (GCI).) Around 3,400 subscribers are paying for that access, which comes to just over $200,000 a year, a sum that's two zeroes shy of being meaningful for big players. And in a smaller city like Little Rock, it's easier to lock up the news. Bigger papers such as The Los Angeles Times or The New York Times would see leakage of their stories beyond the pay wall, as demand all but ensures other sites will re-post stories.
Still, Curley suggests a new mindset is forming: "There is going to be less and less advertising for some number of years. Everybody knows [the business] has got to shift to some sort of user payment model." A variant of this idea was espoused by former top Time editor Walter Isaacson on the cover of his old magazine. He favors "micropayments," or small fees that users pay for individual articles, akin to how iTunes (AAPL) charges per song. But the iTunes metaphor cannot be extended to news. Music fans have long paid for small chunks of artists' work—think singles or ringtones. There is no such analogue for news or print products. And for over 10 years companies that have tried to set up online micropayment services for content sites have gone bust.
While charging fees for a site that brings together several key news organizations won't be elegant or easy, it would create scarcity on a Web characterized by ubiquity and infinite competition. A potential template exists: the AP's Mobile News Network, where over 1,100 publishers provide news to those who surf the Web on phones. But the mobile Web's nascency means there's no revenue yet.
Are there doubters? Of course. "The reason media companies are in trouble is not because they can't run profitable Web sites," says an executive who's worked for online and traditional media companies. "It's that they can't run their old business profitably." He's right. But those companies aren't just going to, you know, quit. As other options dwindle, remodeling the online revenue equation suddenly seems like an alternative. Whether it's workable is a whole 'nother story. But then the status quo isn't looking so workable, either.
Before it's here, it's on the Bloomberg Terminal.
LEARN MORE