Coke and Pepsi Try Reinventing Water
Beverage makers rush to put a new spin on H2O as the downturn and a green backlash bring back tap
Christopher Palmeri and Nanette Byrnes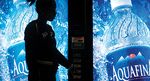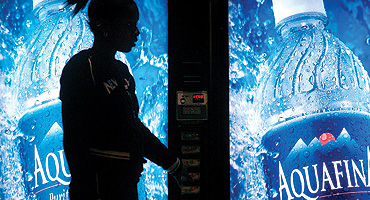 Just a few years ago, beverage giants bet on a big future for bottled water. With U.S. sales growing near double-digit rates, bottled water was a hip and healthy alternative to soda. But the downturn and an environmental backlash against plastic bottles caused growth in the $12 billion business to slow to 2% last year, with data provider Euromonitor predicting a decline this year. "The prime issues are the economy and the environment," says Gary Hemphill, senior vice-president at New York industry consultancy Beverage Marketing Corp.
Now, dominant players such as Coca-Cola (KO), PepsiCo (PEP), and Nestlé (NSRGY) are trying to reverse the decline. They're introducing new flavors, promoting lower-cost brands, and trying to go greener in an effort to stem the growing appeal of tap water. But it may prove to be an uphill battle, especially in developed markets where consumers increasingly fret about the energy costs and pollution generated by bottled water.
One tactic is to emphasize products that offer something more than plain water. Coke expanded its water portfolio in 2007 with the $4.1 billion purchase of Glacéau, maker of vitaminwater. The company just introduced a flavored version of its filtered Dasani water called Dasani Essence. Penny McIntyre, who manages the tea, coffee, and water division for Coca-Cola North America, says the goal is to provide consumers with options that add flavor but not calories. PepsiCo, owner of Aquafina, recently launched a version of its vitamin- and herb-enhanced SoBe Lifewater that features stevia, an all-natural, no-calorie sweetener recently approved by the Food & Drug Administration. PepsiCo reported that water sales were down double digits in the third quarter of 2008, but didn't break out sales in the fourth quarter.
CLEAR ALTERNATIVES
Nestlé, owner of the Perrier, Poland Spring, and Arrowhead brands, is putting more focus on its low-cost Pure Life. Priced as low as $3.99 for a 24-bottle case, the line has done well in chains such as Wal-Mart (WMT) and Sam's Club, with U.S. sales up 20% last year. But Kim Jeffery, chief executive of Nestlé Waters North America, balks at comparisons to tap, noting that Pure Life is filtered of chemicals and has added minerals. "Tap water is very different," he insists.
The sensitivity is justified. Cities such as Seattle and San Francisco have directed municipal offices to stop buying water in small plastic bottles. And high-end restaurants from Grace in Los Angeles to Del Posto in New York, which used to inflate customers' checks by pushing "sparkling or still," no longer serve water in disposable bottles.
That has helped to create a new market for water filter makers such as Clorox's (CLX) Brita and Procter & Gamble's (PG) PUR, both of which have enjoyed 10%-plus revenue growth in the past year. Other companies such as Sigg, CamelBak, Kleen Kanteen, and KOR Ideas are building businesses around refillable bottles. "The bottled water business hasn't figured out a way to address the fundamental fact that municipal pipes are the most environmentally friendly way to distribute water," argues KOR co-founder Paul Shustak.
While beverage giants are firing up their green credentials by using less plastic and recycling more, it's becoming harder to persuade consumers to shell out for a product they can find in their own homes. Companies worry that habits formed now may continue once the economy picks up.
Before it's here, it's on the Bloomberg Terminal.
LEARN MORE