Bank of America Works Out Countrywide Mortgages
But BofA's huge effort to keep consumers in their homes does not necessarily offer safeguards against redefault
Brian Grow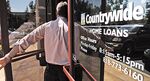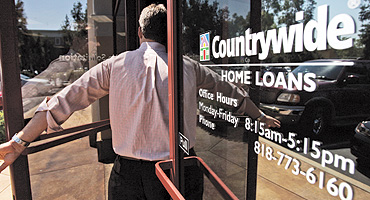 One admittedly unconventional way to understand the Obama Administration's latest economic rescue attempt is as a potential victory for the beleaguered banking industry.
Sure, the plan the President announced on Feb. 18 aims to help 4 million families stay in their homes, offering others the chance to refinance mortgages at lower interest rates. But in another sense, the $75 billion proposal constitutes an incremental win for lenders and loan servicers that have been engaged in a two-year game of chicken with Washington.
Since late 2006, when the subprime debacle began to come into focus, many housing-finance veterans have known that the mortgage industry would eventually have to take a big hit for marketing so many loans to so many borrowers who weren't likely to pay them back. The severe recession has transformed the situation into an outright foreclosure crisis, with 1 million owners already having lost homes since 2006 and 5.9 million more expected to do so over the next four years.
The mortgage industry has vowed since early 2007 to take steps to halt foreclosures. But neither voluntary private-sector efforts nor previous government-backed programs have prevented the housing market from descending into chaos. One reason is that institutions that own and service loans haven't moved aggressively to lower interest rates and reduce principal amounts so borrowers end up owing less each month. Now the Obama Administration says it will provide financial incentives to get the industry to do just that.
One side—government or business—had to make a move to arrest the cycle of defaults and evictions. The President moved.
Banks and investors that own loans will still have to agree to take losses on the book value of many mortgages and see some interest income evaporate. But suddenly there are cash incentives to act. If, for example, a lender lowers a borrower's interest rate so that she is spending 38% of her monthly income on the mortgage, the government would provide matching funds to lower the payment further, to 31%. That could trim hundreds of dollars a month from a mortgage bill and make it likelier the homeowner will keep paying. The plan also provides cash to lenders and servicers that modify troubled loans and to borrowers who stay current.
Officials at Bank of America (BAC), one of the country's largest subprime players, responded positively. "We support the Administration's focus on affordability in the loan modification process in order to achieve long-term mortgage sustainability for homeowners," the bank said in a written statement.
RE-DEFAULTS AHEAD?
BofA officials emphasize that even before the Obama announcement, they had been restructuring loans. BofA completed 298,000 workouts meant to keep people in their homes in 2008, up from 103,000 in 2007, says Steve Bailey, BofA's loan-servicing chief. Some 87% of BofA's workouts last year involved loans made or serviced by subprime specialist Countrywide Financial, which BofA acquired in July.
But on close inspection, the near-tripling of workouts last year by BofA suggests some less encouraging data—and points to the huge challenge confronting Obama.
Workouts don't necessarily put consumers in a secure position. Bailey says about a quarter of BofA's restructurings have resulted in higher monthly bills for borrowers, often because missed payments, penalties, interest, taxes, and insurance are added back onto their balances. In tough times, that can mean borrowers are at risk of defaulting again. Depending on the type of modification they receive, "from the low 30% [range] to the high 40%" of borrowers do re-default, Bailey says. "Once trouble gets in the house, it is difficult to get it out."
Obama hopes to clean out the trouble with a blast of taxpayer-provided aid.
Before it's here, it's on the Bloomberg Terminal.
LEARN MORE