Dealmakers Tiptoe Back into the M&A Market
With asset prices way down, the dealmaking market is expected to start picking up. But given the scarcity in financing, forget megamergers
Jessica Silver-Greenberg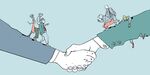 Is dealmaking back? The Masters of the Universe took a serious beating last year from the financial crisis and recession. Merger and acquisition volume worldwide dropped to $2.9 trillion in 2008, from $4.2 trillion the year before, according to research firm Thomson Reuters (TRI).
Yet despite the recent run of negative economic news, there may be some reason for optimism. With the credit markets perking up and stocks at record lows, buyers and sellers are once again circling each other in the well-known ritual of dealmaking. In late January pharmaceutical giant Johnson & Johnson (JNJ) acquired breast implant maker Mentor for $1 billion. Three days later drugmaker Pfizer (PFE) agreed to buy rival Wyeth (WYE) for $68 billion. "Expect a feeding frenzy," predicts Robert A. Profusek, head of global mergers and acquisitions at law firm Jones Day.
Pruning Tool
M&A activity often has to bounce back before the credit markets and the broader economy can recover fully. Deals are a critical tool for eliminating weaker players and wringing out excess capacity. They're also a signal of confidence, which can encourage other buyers and investors to jump back into the market. "The resurgence in dealmaking is the market's way of pruning the weak companies from the strong," says Paul Weisbrich, senior managing director at Costa Mesa (Calif.)-based investment bank McGladrey Capital Markets.
In preparation for a shopping spree, top-rated companies are issuing debt. Hewlett-Packard (HPQ) sold $2 billion worth of bonds in December, in part to pay for potential purchases. Overseas players, which are benefiting from a relatively weak dollar, are showing an interest in U.S. acquisitions. There's speculation that Singapore's sovereign wealth fund, Temasek Holdings, is eyeing the aircraft-leasing unit of insurer AIG (AIG).
Private equity firms, which helped fuel the last M&A boom, have an estimated $250 billion at their disposal for buyouts. Despite taking hits on holdings such as Huntsman (HUN) and casino Harrah's Entertainment, buyout shop Apollo Management recently raised $15 billion for a new investment fund. "Private equity money has been silently piling up and will start chasing new targets," says Weisbrich.
With stocks getting slammed, buyers will have plenty of attractively priced assets to consider. Even the best-performing sectors last year, health care and consumer staples, lost 24% and 17%, respectively. The raft of bankruptcies only adds to the supply of potential targets. "You have a very unusual situation where everything is on sale," says Donald B. Marron, CEO of private equity firm Lightyear Capital.
Of course, closing deals is still tricky amid the financial crisis. That's why buyers and sellers are moving more quickly to solidify agreements. When deals languish, the financing can fall apart or companies can get cold feet. After courting for 18 months, BHP Billiton (BHP), the world's largest mining company, nixed plans in December to buy longtime rival Rio Tinto (RTP), citing concerns over falling commodity prices and uncertain financing. The average deal now takes 60 days to close, down from 130 days in 2007.
Megadeals, those that top $10 billion, will be rare. To pull off such transactions, acquirers need to borrow huge amounts of money, the sort of leverage that simply isn't available anymore. Instead, many acquirers are focusing on smaller targets with a niche focus that complements their existing business. Aircraft manufacturer Boeing (BA) agreed in November to buy privately held Digital Receiver Technology, a defense contractor that specializes in surveillance equipment. "This acquisition is another move in our strategy to expand our presence in the growing intelligence market," James F. Albaugh, president and CEO of Boeing Integrated Defense Systems, said in a press release.
Little Leverage
Ironclad financing is also crucial in this environment. Belgian beer giant InBev locked up its financing package before an agreement with Anheuser-Busch was even signed to give the U.S. beermaker's board more confidence. The airtight financing helped the two companies—which merged in November to form Anheuser-Busch InBev—hash out a deal and get it signed in 32 days. "The deal market in 2009 is going to be defined by which industries can get financing," says Francis J. Aquila, a partner at law firm Sullivan & Cromwell who was involved in the Anheuser-Busch InBev deal.
With leverage largely out of the equation, cash-rich players should have the upper hand. That bodes well for technology and health-care companies. Oracle (ORCL), which has more than $7 billion in cash, has done 10 small deals in the past year and just announced plans to acquire Waltham (Mass.)-based software maker mValent. David Farr, CEO of St. Louis-based Emerson Electric (EMR), told investors during a February earnings call that targets long out of reach are now affordable: "There are companies that we've wanted for years. Those assets are out there."
Government spending is likely to spur dealmaking in the energy and defense sectors. Big Oil is taking a hard look at companies that specialize in wind, solar, ethanol, and other types of alternative energy. Such businesses could benefit from the Obama Administration's push to decrease the country's dependence on foreign oil. In February, San Antonio-based refiner Valero Energy (VLO) agreed to acquire some of the assets of ethanol producer VeraSun Energy (VSE), which is in bankruptcy.
There could be an air of desperation to some marriages. Struggling companies may look to mergers to stave off their demise. Those deals, though, don't always work out. Sirius Satellite Radio and XM Satellite Radio joined forces nearly a year ago, figuring they could solve their woes with a merger. But in February the newly formed Sirius XM (SIRI) needed a $530 million cash infusion from Liberty Media (LCAPA) in a last-ditch attempt to avoid bankruptcy. Says Jones Day's Profusek: "We will likely see deals where two companies, facing declining revenue, will join with the hope that two plus two equals something more than four."
Before it's here, it's on the Bloomberg Terminal.
LEARN MORE