Jobs and Protectionism in the Stimulus Package
Moira Herbst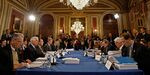 The $787 billion spending legislation being signed on Feb. 17 by President Barack Obama is designed to jolt some life into a moribund economy. Already, though, provisions to use the money to "buy American"—whether that means American iron, steel, or labor—is sparking a debate about whether such rules in a global economy amount to protectionism.
Organized labor and small U.S. manufacturers won an amendment to the stimulus bill to ensure that more materials used on construction and infrastructure are made in the U.S. Critics of the H-1B visa program won tougher rules governing when banks that are bailed out by the Troubled Assets Relief Program (TARP) can fill jobs with skilled immigrants.
The final language drew criticism from abroad, where editorials and government officials warned it could run afoul of trade agreements. But both provisions are less stringent than earlier versions had been, and neither is likely to have a radical effect on how stimulus spending takes shape.
Opposition from Exporters
The clearest attempt to wall off foreign companies from U.S. spending came in a "Buy American" provision. That rule requires that only U.S. iron, steel, and other manufactured goods be used for public buildings and public works funded under the bill. However, it comes with several key caveats. For one, the language states that the Buy American policy must not violate U.S. obligations under existing international trade agreements. Nor does the rule apply if American goods aren't available in sufficient quantities or if they'll increase the cost of the overall project by more than 25%. Federal highway, transit, and airport projects are already covered by similar Buy American requirements.
The battle over the provision had been contentious. On Feb. 3, 100 business groups and companies—including the U.S. Chamber of Commerce, General Electric (GE), Caterpillar (CAT), and other major construction, defense, and high-tech companies—wrote a letter to Senate leaders warning that a far-reaching Buy American rule "will harm American workers and companies across the entire U.S. economy, undermine U.S. global engagement, and result in mirror-image trade restrictions abroad that would put at risk huge amounts of American exports."
But advocates of the provision—including the Alliance for American Manufacturing, a partnership of manufacturing companies and the United Steelworkers union—said such rules are needed to stem the tide of layoffs in the U.S. construction and manufacturing sectors.
Coalition Claims 'Major Victory'
In negotiations, the Obama Administration sought to reconcile the opposing sides. White House spokesman Robert Gibbs told reporters on Feb. 12 that the final bill achieves this. "I think where we ended up with the Buy America provision is the right compromise that respects the Buy America laws that we've had on our books for many, many years while also ensuring that the language doesn't create unnecessary trade disagreements in a time of economic crisis," Gibbs said.
Scott Paul, executive director of AAM, said in a prepared statement that the resulting language was "a major victory for American manufacturers and workers." He said: "Buy America is good news for laid-off workers in construction and manufacturing, and good news for the global economy by helping to spur U.S. growth."
That's not how it was received overseas, however. Robert Zoellick, president of the World Bank, told The New York Times that it was crucial to avoid the protectionist policies of the 1930s. "The Buy American provision is very dangerous," he said. At the Group of Seven meeting of world financial leaders in Rome last week, U.S. Treasury Secretary Timothy Geithner was pressed to assure other countries that the Obama Administration would remain committed to free trade.
Tightening the H-1B Visa Program
Indeed, editorials from Europe to Asia blasted the symbolism of the Buy American provision. The Times of London called it "ugly," while China's Xinhua news agency described it as "a poison."
Debates around the stimulus bill also focused on proposals relating to foreign workers. With U.S. unemployment rising sharply, to 7.6% in January, some groups and lawmakers were concerned that jobs created by the bill might be outsourced or that they wouldn't be filled with U.S. workers. That sentiment led senators Charles Grassley (R-Iowa) and Bernard Sanders (I-Vt.) to propose an amendment that would restrict firms receiving TARP money in their use of the controversial H-1B visa program.
The final version of the bill included a measure that makes these companies jump through extra hoops in order to employ H-1B visa workers, but doesn't ban them from doing so. Critics of the H-1B program hailed the inclusion of the amendment as a victory. "The demand to reform corporate recruiting policies that ignore highly skilled local talent now moves center stage," says Donna Conroy, director of Brightfuturejobs.com, a lobbying group for visa reform.
E-Verify Remains Voluntary
However, another measure aimed at preventing undocumented workers from being employed in stimulus-related work didn't make the final bill. That provision would have required employers receiving stimulus money to use the federal government's E-Verify program—which is currently voluntary—to ensure that job applicants are legally authorized to work in the U.S.
The U.S. Chamber of Commerce and immigrant advocacy groups lobbied against that rule, arguing that the E-Verify program incorrectly identifies some documented workers as undocumented, and that it would cost too much to enforce. "Expanding E-Verify before improving it would have been a costly and chaotic mistake," says Michele Waslin, senior policy analyst at the Immigration Policy Center.
Groups in favor of the provision expressed frustration that it wasn't included. "It is almost absurd to think that Congress is spending $800 billion to create 3 to 4 million jobs while not taking any precautions to make sure they are filled by U.S. workers," says Ira Mehlman, a spokesman for the Federation for American Immigration Reform. "It's a clear capitulation to pressure from the Chamber of Commerce and its constituents who want to hire labor as cheap as possible."
Before it's here, it's on the Bloomberg Terminal.
LEARN MORE