What The Stimulus Plan Means For Entrepreneurs
The federal package could bring tax relief and spur lending, but small business advocates want more
Colleen Debaise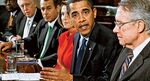 If the nation's small businesses are the engines of the economy, then the "service" lights are flashing. The massive stimulus package, scheduled for a Senate vote at press time, contains a number of measures that could provide some relief to small business owners.
The plan approved by the House of Representatives on Jan. 28 would permit the Small Business Administration to boost its guarantee on 7(a) and 504 loans to 95%, giving financial institutions more incentive to resume lending through the agency. In the last quarter of 2008, the SBA processed 8,996 of its 7(a) loans, 57% fewer than the same quarter of 2007. The Senate, meanwhile, has proposed temporarily eliminating fees on such loans, which lawmakers say could stimulate as much as $15 billion in lending.
Tax incentives included in both the House and Senate versions of the bill may provide more immediate help. One proposal widely expected to pass would allow business owners to use current losses to claim refunds against taxes paid in the past five years, rather than the past two years, as is now the case. "Businesses who are struggling now but were profitable before can use their own tax dollars to survive," says Barbara Weltman, a tax attorney in Millwood, N.Y. Another proposal would increase the Section 179 (first-year expensing) deduction for purchases of new equipment or machinery to $250,000. Currently, the 2009 limit is $133,000.
Small business advocates, though, had hoped for more. The National Federation of Independent Business had pressed for a six-month payroll tax holiday. The National Small Business Assn. has long lobbied for the elimination of the self-employment tax on health insurance. "We wish there were more provisions that would directly benefit small companies," says Todd McCracken, the NSBA's president and chief executive.
TOO MANY HURDLES?
In February, the Federal Reserve is scheduled to begin its own attempt to thaw frozen SBA lending through its newly created TALF, or Term Asset-Backed Securities Loan Facility. TALF will make up to $200 billion in loans to investors, such as hedge funds or pension funds, which buy newly issued, highly rated asset-backed securities. These so-called ABSs are collateralized by SBA-guaranteed loans and a mix of student, auto, and credit-card loans. The end result, the Fed hopes, will be a re-creation of the stalled secondary market for such loans and a resumption of lending. Historically, about 40% of SBA loans have been sold in the secondary market, or about $4 billion a year, says Eric Zarnikow, associate administrator for capital access at the SBA.
But some say TALF, while welcome in concept, faces too many hurdles to make much of a difference. It's unclear whether wary investors will want to buy the securities. Proposed rules that would require banks to report ABSs on their balance sheets could further hamper lending. "While there are still these problems, TALF can't do as much as it should," says Bobbie Britting, analyst at TowerGroup, a Needham (Mass.) research firm. But unfortunately, neither can business owners.
Return to the BW SmallBiz Feb/March 2009 Table of Contents
Before it's here, it's on the Bloomberg Terminal.
LEARN MORE