Taxing the RichFoods, That Is
Efforts to impose tobacco-style "obesity taxes" on some snacks and drinks have companies scrambling
Catherine Arnst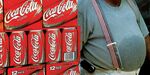 Obesity costs U.S. businesses about $45 billion a year in medical expenses and lost productivity. As a result, strategies that were once unthinkable for keeping the population's weight in check may soon become reality. In coming months, it's likely one or more states and municipalities will try to impose taxes on soda, sweets, or other types of "junk food," modeled on existing cigarette taxes.
To the Bush Administration, such "obesity taxes" were an anathema, even though 27 states have already imposed small tariffs of 7% to 8% on vending machine snacks such as candy, soda, and baked goods. Now the combination of a budget-busting recession and a citizenry that keeps getting fatter is causing legislators to consider more drastic steps. Late last year, New York Governor David A. Paterson proposed an 18% sales tax on non-diet soda and sugary juice drinks for the fiscal year starting in April. Such a tax, he says, would raise $404 million this year and $539 million in 2010, to be used for fat-fighting public health programs.
Paterson has run into stiff opposition from the soft-drink industry. But several other states are mulling such taxes, says Kelly D. Brownell, director of Yale University's Rudd Center for Food Policy & Obesity. "I've been contacted by a number of state legislators recently," he says. "I think it's only a matter of time before it happens."
In a statement, the American Beverage Assn. labeled Paterson's soda tax proposal "a money grab that will raise taxes on middle-class families." Opponents also note that new levies would fail to address the many complex factors that contribute to weight gain.
Yet studies have shown a clear correlation between costs and consumer behavior. A Rand Corp. survey of 59 cities found that children gain more weight if they live in communities where fruit and vegetables are expensive. And the University of Florida just published a study showing that the more alcohol costs, the less people imbibe. Academics also say high tobacco taxes deserve much of the credit for cutting the U.S. smoking rate from 42% in 1964 to below 20% now.
Economist Frank J. Chaloupka, director of the Health Policy Center at the University of Illinois at Chicago, cautions that a junk food tax could cause people to simply switch to other foods that are just as high in calories. Still, he contends, with an 18% tax "you would likely see some noticeable impact on consumption."
Any sweeping obesity tax is likely to run into another snag: how to define "junk food." Liz Morrill, chief executive officer of Fizzy Lizzy, a brand of sparkling juices, complains that Paterson's proposed tax is "completely irrational" because it would tax her product but not containers labeled "100% fruit juice," though those drinks may have the same amount of sugar. Any obesity tax must be based on such criteria as calories and sugars per ounce, Morrill argues.
The French government, for one, has embraced this logic. It's considering a tax of 5.5% to 19.6% on all foodstuffs the government deems "too rich, too sweet, too salty," and not strictly necessary. It remains to be seen if the American public will swallow more dietary taxes. In November, Maine voters overturned a wholesale tax on sodas and the syrup used to make soda that the governor had signed into law last April.
Before it's here, it's on the Bloomberg Terminal.
LEARN MORE