Satyam Scandal Takes Toll on Hyderabad
Manjeet Kripalani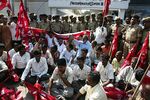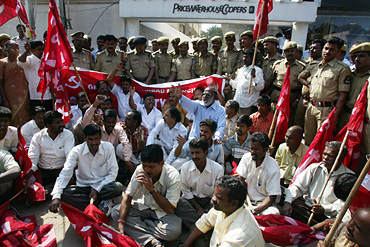 The collapse of Satyam Computer Services (SAY) on Jan. 7 touched off a flurry of anxious investor conference calls set up by bankers and analysts. Rajeev Chandrasekhar, a member of Parliament and president of the Federation of Indian Chambers of Commerce & Industry, sat in on one—and was startled by what he heard. How, asked one foreign investor, does one spot the next Satyam?
In particular, the callers homed in on the similarities between Satyam and other companies based in its hometown of Hyderabad. Like Satyam, many of these outfits are managed by their founders, enjoy strong links to local politicians, and have built up big land holdings—even when their core businesses have nothing to do with real estate or development. "There is a lot of pressure on Hyderabad companies to prove they are not like Satyam," says Chandrasekhar.
Effect on Stock Prices
It has been a dramatic fall from grace for Hyderabad, the southern Indian city that had emerged as a viable competitor to Bangalore as the public face of the new India. Giants such as Microsoft (MSFT), Dell (DELL), Oracle (ORCL), and Google (GOOG) have opened offices there. But Satyam was also among the city's leading lights, and Hyderabad today is rife with tales of murky land dealings, companies that cook their books, and owners who siphon off cash.
Now investors are talking about a "Hyderabad discount" for companies based there. Even before the scandal, Satyam's stock typically had about two-thirds the price-earnings ratio of market leaders such as Infosys Technologies (INFY) and Wipro (WIT). The reason: Satyam did relatively simple work, and investors fretted about Chairman Ramalinga Raju's political connections.
Satyam's fall seemed to validate those latent fears. Since Jan. 7 stock prices for the top 50 listed companies from Hyderabad, mostly managed by their founders, have fallen by an average of 23% (not including Satyam's near-total collapse), vs. an 11% fall for the Bombay Stock Exchange's benchmark index. In contrast, the top 50 companies in Bangalore have fallen by 14%. "Hyderabad developed as a low-cost option to Bangalore," says Ravi Raheja, chief executive of Mumbai developer K. Raheja & Sons, which has built offices for many tech companies in Hyderabad. "Now we are back to square one."
A Different Path to Growth
Some blame history for Hyderabad's problems. As recently as the late 1940s the region was feudal and largely poor, with little industry and virtually no middle class, though many farmers had extensive land holdings. When Hyderabad became the capital of Andhra Pradesh state in 1956, the rich farmers got into the construction business. Major infrastructure projects were launched and local companies with little experience—but strong political ties—emerged to win government contracts.
Neighboring Bangalore, in contrast, was a military station during the British Raj, so it was apolitical, well run, and orderly, known for its pleasant climate and lush gardens. In 1947 newly independent India made it a center of scientific and industrial research and built major universities there. The city's IT industry was born from those institutions, independent of political ties. "Bangalore has deep professional roots," says Mohandas Pai, director at Infosys, the city's leading IT player.
A young chief minister of Andhra Pradesh, Chandrababu Naidu, concluded that information technology was the key to changing the destiny of his impoverished state. By 2000, Naidu had dubbed his new vision "Cyberabad," and placed his hopes in tech entrepreneurs such as Raju. Farmers-turned-builders got fat state contracts to build highways and develop IT parks. In two years, Hyderabad was in full competition with Bangalore for the IT and biotech pie. As Bangalore choked on its own growth, companies gratefully shifted to Hyderabad.
One of those was Alliance Global Services, a $50 million provider of software services based near Philadelphia. Unable to find affordable talent in Bangalore, it moved its 40-man operation to Hyderabad, where it now has 300 employees. Though the company intends to stay in Hyderabad, in the wake of the Satyam scandal Alliance is worried about its reputation. Alliance Chief Executive John Castleman says that while U.S. customers may not be aware of the location of the Indian companies they hire, "maybe they should be, given the potential for local politics to play a role in corporate governance in India."
"Crony Capitalism"
Hyderabad's dodgy reputation extends to its professional class. Accounting firm KPMG runs a busy practice in India that helps companies spot fake degrees and exaggerations of job experience. While Hyderabad isn't alone in this sort of activity, it's the embellished-rÉsumÉ capital of India, says Garuav Taneja, who runs the KPMG operation. In the city's Ameerpet neighborhood, a fresh college grad with no experience can better his job prospects with a $200 set of fake documents. "It's a highly lucrative and openly run business in Hyderabad," says Taneja.
Some in Andhra Pradesh are trying to change the system. EAS Sarma, a former top economist in the Finance Ministry in New Delhi, now lives near Hyderabad. He's battling to reverse Satyam's December purchase of 50 acres of state property along an endangered coastline. Satyam bought the land for what Sarma says was just 10% of its market value, resulting in a loss of at least $52 million for the state. He is also demanding details of property sales to 14 Hyderabad companies that he says are closely connected to the state government. "It's crony capitalism," Sarma says. "Giving away cheap land is not promoting industrialization; creating a corruption-free environment and simplified procedures is." A government spokesman declined to comment on the matter.
The biggest beneficiary of Hyderabad's distress may be its rival to the south. Infrastructure bottlenecks in Bangalore have been a boon for Hyderabad in recent years. But now, Bangalore is in the process of building new roads and even a subway. And to ensure transparency, the government is providing citizens a quarterly update on the progress of development projects. "Here, business and political interests don't converge," says Manish Sabbarwal, who runs TeamLease, India's largest temp agency, based in the city. In Bangalore, "they occupy powerful but separate and parallel universes."
Before it's here, it's on the Bloomberg Terminal.
LEARN MORE