A Dismal Quarter for Toyota
Ian Rowley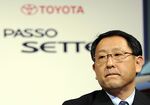 Toyota's (TM) expected losses might still seem like small change compared with Detroit's. But the suddenness with which the world's biggest automaker has gone from profit machine to money loser is nevertheless breathtaking.
On Feb. 6, Toyota announced its third downward earnings revision in three months, saying it now expects to lose $3.9 billion in the fiscal year through March 2009. That would be its first annual net loss since 1950. In December the company had predicted its first operating loss in 70 years but a net profit of $555 million. Annual sales are now expected to fall 20% from last year, to $230 billion.
The worsening outlook is all the more stunning because Toyota made $5.5 billion in profits in the first half of the fiscal year. That followed record stellar net profit of $19.1 billion in the year through March 2008. But as global auto sales slumped and the yen surged late in 2008 to 13-year highs against the dollar, Toyota racked up net losses of $1.8 billion between October and December. And the company now expects to lose another $7.5 billion in the current quarter. Executive Vice-President Mitsuo Kinoshita told reporters that the poor results were largely due to plunging sales in the U.S.—traditionally where Toyota earns its biggest chunk of profits—and Europe. The strong yen made matters worse—and could pile on more pain. "If the yen stays this strong, it will be a major blow for our business performance," he said.
Plunging Sales
How bad were Toyota's sales in North America? Although Toyota introduced interest-free financing on some models, sales plunged 235,000—roughly 31%—to 521,000 vehicles in the three months through December. In Europe, the pace of decline was just as spectacular, as sales decreased 73,000, to 235,000 vehicles. In Japan, Toyota sold 465,000 vehicles, a more modest fall of 76,000. Globally, Toyota sold 1.84 million vehicles in the quarter, 443,000 units, or 19%, fewer than a year earlier.
Adding to the gloom: Moody's Investor's Service (MCO) earlier cut Toyota's credit rating one notch from Aaa, the highest possible rating, to Aa1. Moody's also gave Toyota a negative rating outlook, signaling the rating could go even lower. Until the downgrade, Toyota was the only nonfinancial or nongovernment borrower in Asia in the Aaa echelon. Standard & Poor's (MHP) also lowered its AAA rating for Toyota's long-term debt to AA+, and said the outlook was negative.
Toyota is hardly the only Japanese automaker having to cope with the sharp downturn. Earlier this week, Honda (HMC) cut its annual profit forecast, and Nissan (NSANY) is expected to issue a profit warning on Feb. 9. Mitsubishi Motor (7211.T) and Mazda (7261.T) have said they are now likely to post full-year losses.
While unwilling to make firm forecasts, Kinoshita said he hoped that the current quarter would mark the low point. One positive for carmakers is the cost of raw materials has begun to fall. Toyota, for example, is expected to negotiate a discount on its annual steel purchase next fiscal year, with one media report estimating as much as a $3 billion, or 30%, savings.
U.S. Rebound Needed
In the coming months, automakers could get a boost from government spending. In the U.S., President Obama's stimulus might indirectly bring an uptick in sales, Kinoshita said. "Hopefully, by the end of the year there will be some signs of recovery," he said. A rebound in the U.S. is key because it could auger improved sales in other parts of the world, he added.
For now, Toyota is temporarily closing factories in Japan to prevent a stockpile of unsold cars, but it will try to avoid firing permanent staff. "We intend to make every possible effort to protect employees," he said.
The company is also betting that cost cuts can limit the hemorrhaging. Having established an Emergency Profit Improvement Committee last fall, Toyota is looking to save 10% on fixed costs by March 2010. It already has postponed plans for new factories and is focusing research and development spending in key areas, such as the environment.
One Toyota executive who will be desperate for a turnaround soon is President-elect Akio Toyoda. The grandson of Toyota's founder, Toyoda will succeed outgoing chief Katsuaki Watanabe in June. Insiders hope the return of a member of the founding family to the top job can help raise morale and rally employees at one of the most trying times in the company's history.
Before it's here, it's on the Bloomberg Terminal.
LEARN MORE