Signs of Hope Amid Alcatel-Lucent's Loss
by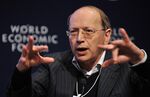 Is Alcatel-Lucent (ALU) on track to recovery? It might seem a strange question to ask on a day when the Paris telecom gear maker posted a $6.2 billion loss for 2008 after writing off $6 billion in assets, and predicted it would make no operating profit in 2009. Yet the company's yearend results, announced on Feb. 4, offered some glimmers of hope after two years of unrelenting bad news.
"We have a unique opportunity to transform this company and come out stronger, more focused, more relevant," CEO Ben Verwaayen told BusinessWeek in an interview. Verwaayen, the Dutch-born former chief of British telecom group BT (BT) who took the reins at Alcatel-Lucent last September, points to several encouraging signs.
The company's plan to achieve $966 million in annual cost savings by the end of this year is on track, he says, and fourth-quarter 2008 cash flow was at its highest level in two years, at nearly $850 million. While full-year sales were down 4.5%, to $21.9 billion, that was within the range forecast by the company and most analysts, and not surprising in the context of current telecom industry conditions. If it weren't for the $6 billion writedown, Alcatel-Lucent would have posted a modest full-year profit. And despite the global economic turmoil, Verwaayen smells opportunity in markets such as China, which is preparing for massive investments in next-generation wireless networks.
Disastrous Merger
Investors seemed reassured, sending Alcatel-Lucent shares up as much as 4.8% on the news, before subsiding to 2.1% in afternoon trading. But the stock is still down 90% since the merger of France's Alcatel and New Jersey's Lucent Technologies was announced in 2006.
And what about that $6 billion, which brings to more than $10 billion the total asset writedowns the company has taken since the tieup? "This underscores something the market has known for a long time: The execution of the merger has been nothing short of a disaster," says Richard Windsor, a London analyst at Nomura International.
But Verwaayen says that more than half the write-off "simply reflects deterioration in the marketplace" affecting all equipment suppliers as phone companies and mobile operators cut spending. Indeed, Alcatel-Lucent predicts the global market for telecom equipment and services will shrink by 8% to 12% this year. And while the writedown is a tacit acknowledgement that Alcatel overpaid for some Lucent assets, Verwaayen says cleaning up the balance sheets will help the company as it reorganizes and refocuses its strategy.
Verwaayen plans to shift the company's focus to services and Internet-related technologies, while placing less emphasis on traditional products such as telephone-switching equipment. "Our task is to focus on differentiation, not making what everybody else has," the CEO says.
Outsource the Servicing
To beef up research and development, Verwaayen wants to establish partnerships with specialized suppliers to develop new products. "It doesn't make sense to do everything ourselves," he says. And to cut costs, he may outsource some activities such as servicing of "legacy" equipment that phone companies are still using even as Alcatel-Lucent has moved on to newer-generation technologies.
Still, Alcatel-Lucent faces huge challenges over the next few months. The steepest downturn in telecom-equipment spending is likely to come in the fixed-line phone business, where Alcatel-Lucent has traditionally excelled (especially in DSL broadband gear). Spending on mobile-network equipment has declined less sharply—but Alcatel-Lucent has struggled in that sector against rivals such as China's Huawei Technologies and Sweden's Ericsson (ERIC). Just last month, Ericsson posted surprisingly strong yearend results.
On the other hand, analysts say Alcatel-Lucent's situation is nowhere near as dire as that of longtime competitor NT, which filed for bankruptcy last month.
"This year is going to be very critical for Alcatel-Lucent," says Jouni Forsman, an analyst at market researcher Gartner (IT). "But if you look at the latest numbers, they are delivering what they promised. You can see continued strengthening on the services side of the business. They are communicating—and they have a solid strategy." Just the sort of results Alcatel-Lucent's long-suffering investors were hoping for from Verwaayen.
Before it's here, it's on the Bloomberg Terminal.
LEARN MORE