Huge Recession-Fighting Cuts at Panasonic
Kenji Hall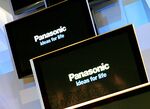 Trimming costs has become an annual ritual at Panasonic (PC) in recent years. But the Japanese tech giant's disappointing quarterly financial earnings, announced on Feb. 4, showed that no amount of cutting had prepared it for the sudden unfortunate turn of events.
Japan's biggest consumer electronics maker announced plans to close 27 plants—more than half of them overseas—and to lay off about 15,000 employees, or about 5% of its global workforce of 300,000. The measures are designed to limit the damage from a strong yen and worsening sales of digital cameras, car navigation systems, and semiconductor chips, as Panasonic hunkers down for the recession. Even the company's once-reliable moneymaking TV business isn't helping much; it's struggling to control high parts and raw material costs while slashing retail prices to stay competitive against Korean rivals Samsung Electronics and LG, which are benefiting from a weak currency. "We're selling more flat-panel TVs by volume than last year but making less money," says Panasonic Chief Financial Officer Makoto Uenoyama.
In the October-December quarter, operating profit plunged 84%, to $295 million, from last year, and sales slid 20%, to $21 billion. The Osaka company now expects annual operating profit to fall 88%, to a mere $670 million, well off the $3.8 billion estimate from November, and sales are likely to fall 15%, to $86.5 billion, below the earlier prediction of $95 billion.
To pay for the restructuring, the company will book an extraordinary $3.85 billion charge this fiscal year through March, more than twice the size of its previous estimate. It will also write off $870 million in securities-related losses. That's expected to saddle Panasonic with a $4.2 billion annual net loss, its first in seven years. (The good news: Next year's expected savings could top $1 billion.) "It's been said that this kind of economic downturn only occurs once in 100 years," says Uenoyama. "We think more drastic restructuring will help us stay ahead."
Misery Loves Company
Panasonic, the world's largest maker of plasma TVs, is hardly the only Japanese tech company feeling the pain. The yen's rise and the belt-tightening of businesses and consumers alike have led Sony (SNE), Toshiba (6502.T), NEC (6701.T), and Hitachi (HIT), among others, to forecast losses for this year. Nor were Panasonic's layoffs the most drastic in Japan. That dubious honor belongs to NEC, which announced last week it would eliminate 20,000 jobs. But the setback for Panasonic arguably hurt more because the company had been in the midst of an aggressive marketing push overseas to raise its brand profile.
Still, Panasonic's tough love approach could win praise from analysts. And since much of the bad news had been leaked to the Japanese media over the past week, investors may jump in to buy Panasonic shares. Panasonic's stock is down nearly 6% from a week ago.
Panasonic Chief Executive Fumio Ohtsubo aims to restore the company to profitability next fiscal year and is focusing on growth sectors such as TVs and batteries. And he's sticking to his strategy of discontinuing products and pulling out of businesses that lose money for three straight years, Uenoyama says. That's key as Panasonic begins absorbing Osaka-based tech firm Sanyo, which it bought late last year. In a symbolic gesture, Panasonic's top brass will take a pay cut in February, ranging from 5% for senior managers to as much as 20% for directors.
Many details of Panasonic's reforms have yet to be worked out. For now, Panasonic has only said that it's considering the closure of two plants in Japan as well as a battery plant in the Philippines and an electronic parts factory in Malaysia. It's also consolidating two other Malaysian components plants into one. Half of the 15,000 layoffs are expected to be in Japan and will include temporary or short-term contract workers in administration and factory jobs. In January the company announced plans to reduce spending on factories and has since decided to delay by six months the opening of its new plasma-panel plant in the western Japanese city of Amagasaki, which was originally scheduled for January 2010.
Before it's here, it's on the Bloomberg Terminal.
LEARN MORE