GM: A Rough Road in China
Slowing sales and too many brands are dragging the automaker down
David Welch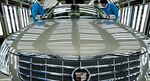 Even as General Motors (GM) loses ground at home—U.S. sales plunged 49% in January—the company has been able to point to strong performance in China. And it's true that GM sold more cars there last year than ever. Now, though, Chinese consumers are pulling back, and the automaker is losing ground to its Japanese rivals. "GM has lost momentum," says Michael J. Dunne, president of Automotive Resources Asia, a division of J.D. Power & Associates (like BusinessWeek , a unit of The McGraw-Hill Companies (MHP)). "It has no room for error."
For more than a decade, GM was the automaker to catch in China. Its Buick sedans were the car of choice for mid-level executives and government officials. Three years ago, GM launched Chevrolet, which quickly caught on with the middle class. Even now, to the casual eye, GM's sales growth in China looks pretty robust. That is, until you strip out the company's Wuling commercial truck business. The fast-growing division accounts for 60% of GM's China sales, but the profit margins are razor-thin, and the company owns only a third of Wuling.
Some things GM can't do much about. Toyota and Honda (HMC) are expanding aggressively, and the Chinese are swallowing their resentment of Japan and its wartime behavior. Last year, Toyota sold more passenger cars in China than GM for the first time, and Honda is now riding GM's bumper. Buick also has lost cachet, Dunne says, because more Chinese can afford prestigious European makes such as Audi and BMW. It doesn't help that GM released few new models last year, although President and Chief Operating Officer Frederick A. "Fritz" Henderson expresses high hopes for the new Buick Regal.
When GM had more of the China market to itself, it didn't need to worry as much about quality comparisons with rivals. Now it has the Japanese to contend with. Increasingly, Dunne says, Chinese drivers see Japanese quality as best in class.
Meanwhile, GM's problems at home are starting to cast a pall. Chinese consumers have heard and read plenty about GM's near-bankruptcy experience and its pleas for a government bailout. A mainland automotive blog called China Car Times praised the new Buick Regal, but then asked: "Who wants to buy a high-ticket item from a potentially doomed company?"
That's not the only thing Chinese consumers are wising up to. For years, GM has sold restyled Chevrolets as Buicks at home. In China, Buick's best seller is a midsize sedan called the Excelle. It is a Korean-made car sold in other emerging markets as a Chevrolet Lacetti. Dunne says some Chinese buyers have caught on and don't think GM's Korean-engineered cars are as good as the American-designed models. Internal Hyundai Motor research shows that Chinese consumers consider the Excelle a direct competitor to Hyundai's Korean-built sedans. That may help explain why GM sold 11% fewer Excelles in 2008.
GM is badly weakened and has limited resources. Yet it supports five house brands in China: Buick, Chevy, Cadillac, Opel, and Saab. Does this sound familiar? The company argues that the two European brands have cachet and add to the bottom line. Even so, producing new models, marketing them, and supporting dealerships eat up a lot of money. Not ideal when Saab and Opel sold a combined 5,600 cars in all of Asia last year. Given the billions at stake—Chinese last month bought more cars than Americans did—GM may have to take a page from its U.S. strategy: Ax some brands and focus on what's left.
Before it's here, it's on the Bloomberg Terminal.
LEARN MORE