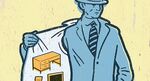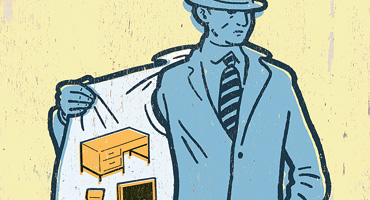 There's no polite way of saying this: In bleak times, people are more likely to rip off their employers. According to a Deloitte survey, two-thirds of executives expect insider crime to rise in the next two years. Corporate grifters seem to be getting nervier. Recently, a Maryland man swiped 32 laptops from his nonprofit health-care employer and put them on eBay (EBAY). A chief financial officer changed the color of the type on some spreadsheet data from black to white so as to render the fake numbers invisible while juicing the totals—and his bonus. One regional vice-president for sales billed his corporate card $4,000 for Victoria's Secret lingerie—and not for his wife, either.
That these schemers are getting caught is a testament to the strides made by the corporate fraud police. Sleuthing technologies are light-years beyond where they were in the last recession, of 2001. And with most companies looking to cut costs, managers are eager to crack down on insider malfeasance, which on average equals 7% of revenues, says the Association of Certified Fraud Examiners. "You can think of us as the electronic cop looking for good and bad behavior," says Ralph Baxter, CEO of ClusterSeven, which sells monitoring software to the likes of Dresdner Kleinwort and Mitsubishi.
After the September 11 attacks, companies stepped up physical security. The Sarbanes-Oxley Act then forced them to increase internal controls, which translated into continuous monitoring and surveillance of electronic records. "Every time someone sends a file, whether over e-mail or a Web site, or transfers data onto a cell phone or a thumb drive, it can be monitored," says Gunter Ollmann, IBM's (IBM) Internet security czar.
Increasingly, information is the fraudster's currency. Just before Christmas, a prized employee at a software company resigned, citing family problems. When he turned in his documents and cell phone, he reported his laptop stolen. Something didn't sit right. So the boss asked the IT guys to trace the employee's laptop. Using the Web, they tracked it to the man's house. "He'd been poached by one of our competitors and was using our methodology, system design, and technology to cement him in his new role," says the company boss.
T&E ABUSES
Technology is helping companies fight theft right down to the rank and file. The restaurant industry has long battled such scourges as buddy punching (clocking in for a friend) and lollygagging (doing anything but work). At Valenti Management, which owns and runs 117 Wendy's and 17 Chili's franchises, IT chief Pachy Torresola was looking for "as foolproof a method as we could find" to tie all actions at the cash register to individuals. The answer: installing fingerprinting scanners on Chili's cash registers. Torresola says workers would say things like, "Umm, gee, that wasn't me." But he says the company hasn't heard such excuses since getting the scanners. Valenti will soon install them at its Wendy's operations.
Fudging travel and entertainment is not new. But in times like these some employees figure: "I could get laid off anyway, so I might as well dip while the getting's good." In recent months, Nakia Williams, an accounts payable boss at Carl Zeiss Vision, has been extra zealous about this kind of abuse. Like many companies, Carl Zeiss uses Concur Technologies' (CNQR) expense report software. It can scour T&Es for fishy activity: rounded-up numbers, unauthorized travel upgrades, the same meal expensed by two colleagues. Recently, Williams nailed employees who were amping up car mileage, inflating tips, and submitting duplicate reports. Says Williams: "Employees didn't know we were checking their reports."
Before it's here, it's on the Bloomberg Terminal.
LEARN MORE