Stimulus: How Porky Is It?
Moira Herbst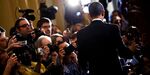 John Maynard Keynes famously suggested that paying people to simply dig ditches and fill them in again would boost the economy because at least wages would be pumped back into the system. There was plenty of ditch digging, road building, and other construction projects in the Obama Administration's stimulus plan that passed the House on a party-line vote Jan. 28. But as debate continues on the $900 billion stimulus package in the Senate, critics are pointing to a raft of projects they say would be wasteful spending and won't help the economy recover.
Republican leaders point to items such as $34 million to remodel the U.S. Commerce Dept. headquarters, and $70 million to "support supercomputing activities" for climate research. "Altogether, only 11% of the so-called American Recovery and Reinvestment Act of 2009 will have anything to do with either recovery or reinvestment," said Senator Jim DeMint (R-S.C.) in a Jan. 29 speech on the Senate floor in preparation for the debate. "This bill is not a stimulus, ladies and gentlemen; it is a mugging. It is a fraud."
Supporters of the plan contend that the vast majority of funds are aimed at worthy projects such as increasing energy efficiency, bolstering education, and rebuilding infrastructure. "The President is pleased with the package that passed the House," said Robert Gibbs, President Obama's press secretary, in a Feb. 2 briefing. "Undoubtedly that package will be strengthened and changed some through the process, but it meets the test that the President laid out originally to, first and foremost, create jobs immediately and to strengthen, for the long term, our economic growth."
Gibbs added: "This meets the President's standard of stimulating the economy, creating jobs, investing in our long-term economic growth through creating jobs in things like a new energy economy that will also make us less dependent on foreign oil; that we do so in a way that's accountable and transparent to taxpayers; and we do it in a way that gets that money quickly into this economy."
Short-Term and Longer-Term Fixes
The grab-bag nature of the House and Senate stimulus bills was sure to present a juicy target for critics. Clearly a big bone of contention is the way that short-term job creation measures were mixed in with projects with a longer time horizon. Alice Rivlin, an economist at the Brookings Institution and head of the Office of Management and Budget under President Bill Clinton, says she thinks the stimulus bill should have been split into two parts: one an immediate emergency package to be "fast-tracked," and a separate long-term one subject to the normal budget process.
Some government watchdog groups argue that even in a time of great economic emergency such huge spending measures shouldn't be rushed through without careful consideration. "Congress is not taking a deep breath and looking at what [policies] would be the most stimulative and the most beneficial," says Steve Ellis, vice-president of Taxpayers for Common Sense, a taxpayer advocacy group. "[The bills include] a lot of money, and it's a great opportunity for Democrats to enact policies they've been wanting to do for years."
For example, the stimulus plan includes about $4 billion to resurrect grants that put tens of thousands of police on the streets during the 1990s but were cut under President George W. Bush. One portion of the Medicaid provisions included in both bills makes the newly unemployed eligible for Medicaid, regardless of their income; some critics say such benefits should be means-tested. The bills also allocate $1 billion for the U.S. Census, spending which would otherwise be in an appropriations bill.
Defining an Emergency
Others say the directives on how money can be spent in some areas aren't specific enough. For instance, the stimulus legislation would provide to states, over two years, $22 billion in school construction bonds, as well as $400 million for Native American schools. "Renovating or expanding a school's athletic fields could be considered an abuse of these funds in these economic times, though it appears such actions would be eligible," says a report by Taxpayers for Common Sense.
The taxpayer group also questions whether some stimulus spending provisions truly constitute an "emergency." "Certain areas are widely agreed upon as smart areas of investment, including extension of unemployment insurance benefits, food stamps, and aid to states," says Ellis. "Once you leave that core it becomes more debatable." Ellis estimates that the House and Senate bills are about one-third "core," and two-thirds noncore.
The Republican Party contends that some parts of the bills don't constitute stimulus under any definition. The Senate Republican Communications Dept. pointed to provisions in the Senate bill, such as $20 million "for the removal of small- to medium-sized fish passage barriers;" $25 million to rehabilitate off-road (ATV) trails; up to $150 million for "emergency relief to eligible producers of livestock, honeybees, and farm-raised fish" in case of losses due to disease, extreme weather, or natural catastrophes; and $400 million for sexually transmitted disease prevention.
Revised Bill Expected
Of course, to Keynes' point, even such projects create jobs somewhere and put money into the pockets of people who are likely to spend it. Still, some of the most vocal critics of the stimulus bills disagree with that basic premise, that huge government expenditures will boost the economy. "The entire idea that government spending increases demand ignores the fact that government first has to borrow that demand out of the private sector," says Brian Riedl, a research fellow at the Heritage Foundation, a conservative think tank.
In the Senate bill, Riedl cites such items as the $650 million to be spent to help consumers switch from analog to digital television, $50 million in funding for the National Endowment for the Arts, $300 million for Americorps, and $7.7 billion for work on federal buildings. "These [items] strike me as the least justifiable," says Riedl.
The White House contends that the items being argued over constitute a miniscule percentage of the total stimulus measure. Nonetheless, Senate Majority Leader Harry Reid (D-Nev.) is expected to release a revised bill without such items as $75 million for smoking-cessation programs and the STD provision, according to one GOP aide.
Before it's here, it's on the Bloomberg Terminal.
LEARN MORE