Want a Wireless Plan with Your Netbook?
by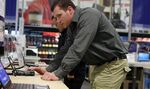 Stripped-down computers known as netbooks have been taking a bite out of laptop sales for the better part of a year. Now computer makers are trying to capitalize on netbooks' popularity by pushing them into a new market—the one occupied by smartphones like Apple's iPhone and Palm's upcoming Pre.
The strategy has yielded some attractive deals for consumers, who can score big discounts on Dell (DELL) and Acer netbooks that are paired with wireless data plans from AT&T (T). For PC makers, chopping hundreds of dollars off their prices and emphasizing netbooks' always-connected nature broadens the little products' appeal. Ordinarily, these machines that sport small screens and keyboards and less powerful processors than full-sized notebooks can cost $300 or $400.
Pairing netbooks with wireless plans is also a way to differentiate the machines, designed for reading e-mail and surfing the Web, from full-sized laptops that can cost three times as much. "For many people, the notion that you're not connected is almost foreign," says Michael Tatelman, a vice-president of global sales and marketing at Dell. "I don't think you'll see us exiting the model any time soon." In fact, the PC maker is exploring the possibility of selling printers and monitors bundled with 3G service, for quick transfers of photos from a camera or Web site, for example. "We're looking at all those things," says Tatelman.
Built-in Superfluity?
But PC makers and telcos may struggle to convince consumers they need another class of mobile machine, somewhere between a full-featured computer and, say, a smartphone. Netbooks equipped with special modem chips and sold with 3G wireless data plans let users nearly always get online. But the big screens and fast Web browsers on the iPhone and Pre let users perform many computing tasks, including word processing and e-mail, right from their phones. And in a world where more computing storage is headed for "clouds" of remote servers, netbooks' built-in disk drives may become superfluous.
That means AT&T and other telcos are under pressure to make netbook data plans more affordable. AT&T's netbook service costs $60 a month, or $1,440 over the life of a two-year contract—unpalatable for consumers who already shell out monthly cell phone and home broadband Internet fees. "Do you really want to pay for yet another data plan?" says analyst Richard Shim, an analyst at IDC (IDC). "If the operators want more subscribers, they're going to have to become more flexible."
So far, just a handful of wireless netbook offers are available. Dell sells its $450 Mini netbook for $99 online when consumers pair it with two years of cellular service from AT&T. RadioShack (RSH) is knocking $250 off the price of a $350 netbook from Taiwanese computer maker Acer when shoppers buy two years of AT&T service. In Britain, retailer Carphone Warehouse (CPW.L) and telco Vodafone (VOD) are offering similar deals. Dell and RadioShack are able to discount the netbooks because of subsidies from AT&T, according to Glenn Lurie, president of AT&T's emerging devices division.
AT&T, the biggest U.S. phone company, plans to pair its wireless calling plans with a widening range of electronic devices. Rethinking prices will be paramount as the company moves ahead with a plan to sell data services for digital cameras, mobile Internet devices, and electronic book readers. "The expectation of our customers is that more devices are going to be connected," says Lurie. "We have to give customers a ton of choices how they want to pay us."
The Common-Software Approach
Web search giant Google (GOOG) has plans that will make it easier to pair computers with cell phones that rely on its Android operating system. Google is working with hardware makers to put Android in netbooks, letting users share calendars, chat sessions, and other applications more readily with Android-powered cell phones. In this view, common software is more important than the shape of the hardware. "The holy grail there is developing a platform capable of running on cell phones and any other device," says Andy Rubin, Google's senior director of mobile platforms.
Embracing netbooks poses other risks for carriers, too. If consumers perform more Web surfing with netbooks, they could also trade down to less feature-laden phones, which use less data each month, says Matt Thornton, an analyst at Avian Securities. "For someone who isn't a business user, they may drop down," he says. Another wild card: new mobile Internet devices that Intel and others are pushing could squeeze netbooks out of the market, says Stephen Baker, an analyst at market researcher NPD Group.
Many tech industry executives say the markets for smartphones, netbooks, and MIDs will probably converge at some point. That would seem to favor vendors like Apple (AAPL) that have grabbed an early lead in pocketable computing. Either way, netbooks and phones are colliding. That could be good news for consumers, but challenging for computer companies and wireless carriers.
Before it's here, it's on the Bloomberg Terminal.
LEARN MORE