Mutual Funds: Big Losers Can Be Big Tax Shelters
Some strong funds have taken a beating--which makes them worthy tax-efficient plays for intrepid investors
By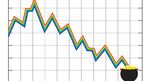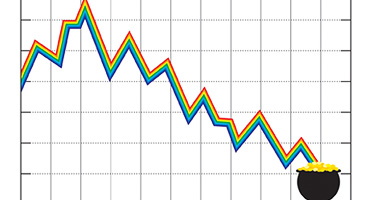 If there's a silver lining to 2008's dismal bear market, it's that many investors likely won't have to pay any taxes on gains in their stock mutual funds for years to come. By law, funds must distribute any taxable gains realized each year from selling appreciated stocks, but they can't distribute their losses. Those stay on a fund's books and can be used to offset future gains, and so eliminate or minimize the need for a fund to make taxable distributions to shareholders.
This also means new investors can benefit from previous investors' pain by buying good funds with large losses on their books. Good funds with large losses? That may sound like an oxymoron, but last year's decline spared virtually no one, and some of the best funds have effectively become massive tax shelters. Top-performing funds such as Dodge & Cox International (DODFX), Hartford Capital Appreciation (ITHAX), and Janus Contrarian are all sitting on sizable losses that will shield investors from taxable distributions for years.
Investors searching for good funds with big losses can start with the "capital gains exposure" stat for funds on Morningstar.com (MORN). It quantifies, based on estimates of returns and assets, a fund's gains or losses as a percentage of assets. This is one of the few cases in investing in which a negative number is a good thing. Take Dodge & Cox International. It has a -80% capital-gains exposure, meaning it has a capital loss that covers 80% of assets. So it could have several years of tax-free gains.
Generally, the smart strategy is to buy a bigger fund so that losses are harder to dilute with new money. If the fund is small, check on Morningstar.com or on the fund family's Web site to see whether the fund or fund family has a history of closing funds before they get too big. Bridgeway and Wasatch are good examples of fund companies that tend to close their funds at small sizes.
Dodge & Cox International is a $25 billion fund, so it would take a lot of new money to dilute the losses it has to offset future gains. As with any fund, low expenses and good long-term returns are key. Dodge & Cox has a low 0.65% expense ratio and a record of having beaten more than 70% of peers over the past five years.
THE LONG VIEW
There are caveats. "Morningstar's capital-gains number is correct for what it's estimating but doesn't tell you how a fund is managed with respect to taxes," says Joel Dickson, a tax specialist and fund manager at Vanguard Funds. "Often, capital losses in a fund will only last maybe five to seven years before they run out. That's not good for a long-term tax-efficient strategy over a person's lifetime." So even though a fund Dickson co-manages, Vanguard Strategic Equity, currently has a 72% loss exposure on its books, he does not recommend it for taxable accounts. "We're very clear in Strategic Equity's prospectus that tax ramifications are not taken into account in the daily management of the fund," he says. Although Vanguard's index and tax-managed funds currently have smaller loss percentages, Dickson recommends taxable investors stick with those.
The main reason Vanguard Strategic Equity is not tax-efficient is that it trades a lot. Appreciated stocks tend to be sold and thus produce taxable capital-gains distributions. While such gains are unlikely now, they'll occur when times are good. Although not managed with an eye to taxes, Dodge & Cox's funds practice a buy-and-hold strategy. Morningstar's site shows that they have low turnover ratios, typically holding stock positions for at least five years. That should make them tax-friendly over time.
Investors also need to consider the cause of the losses. "You have to ask yourself: Are the fund's losses fund-specific or market-specific?" says financial planner Kirk Hackbarth of Kabarec Financial Advisors in Palatine, Ill. "Is this a fund that just suffered with every other one in the decline, or is there a fundamental flaw in its strategy? Is it run by a good manager like [Legg Mason Funds'] Bill Miller, who was just off his game for a year, or by a hack?"
Miller's Legg Mason Value is, in fact, an intriguing example of a fund with big tax losses. Miller had 15 years of beating the market before his fund started to lag in 2006 and then tanked in 2008, falling 55%. Whether this is a freak lapse or not is impossible to say, but the $4 billion fund has a 74% capital loss exposure. Yet it is Miller's newer charge, Legg Mason Opportunity, which holds stocks of all sizes and can take short positions, that will prove to be the real tax haven. Morningstar pegs its losses at 285% of its $1.2 billion in assets.
There are other funds with returns so ugly and losses so large that it may not matter what their trading style is for many years: Fidelity Select Electronics (FSELX), -539%; MFS Core Equity A, -369%; Janus Worldwide (JAWWX), -304%; Vanguard U.S. Growth (VWUSX), -227%. Though purists might argue such funds won't be tax-efficient over a lifetime, they'll do the trick for quite a while.
It's also important to consider the types of losses a fund has—realized and unrealized. Realized losses are from stock positions a manager has sold. By law, these can be kept on a fund's books and used to offset realized gains anywhere in the portfolio for seven years after the year the losses occurred. Unrealized losses are based on stocks the manager still holds and can be used only to offset future gains in those specific losing positions. Unrealized losses can be held on a fund's books indefinitely.
To find out how much of each kind of loss a fund has, look at its Statement of Assets and Liabilities in its annual report, though these are often outdated. A report dated Sept. 30, 2008 might not be available until yearend. Since big losses occurred in October, the report won't include them. Some fund sites, like Vanguard's, provide more up-to-date gains exposure data and break them out by the type of loss or gain. Look up Vanguard U.S. Growth under the "Distributions" tab, and you find that as of Dec. 31, 2008, it had a 200% realized loss exposure and a 27% unrealized one. Unfortunately, few sites are as detailed as Vanguard's.
Before it's here, it's on the Bloomberg Terminal.
LEARN MORE