Obama's Speech Links Economy, Broad Change
by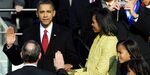 In an inaugural address at once soaring in style, optimistic in tone, but sober in short-term outlook, President Barack Obama kept the economy front and center, quickly making the case that tackling the country's deep economic problems would require both bold, immediate action and sweeping changes to the nation's infrastructure and its energy and health-care sectors.
Although he offered no new specifics, Obama cast the goals of the proposals he has been shaping in grand terms, promising to "harness the sun and the winds and the soil to fuel our cars and run our factories" and "wield technology's wonders to raise health care's quality and lower its costs," according to prepared remarks.
Without pointing fingers too specifically, he briefly scolded potential opponents "who question the scale of our ambitions—who suggest that our system cannot tolerate too many big plans." He admonished that "their memories are short. For they have forgotten what this country has already done; what free men and women can achieve when imagination is joined to common purpose, and necessity to courage."
Question of Whether Government Works
Obama, who became the nation's 44th president and the first African American to hold the office, spoke to a crowd that stretched along the National Mall, essentially unbroken from the U.S. Capitol to the Lincoln Memorial. Generally good-natured despite temperatures in the mid-20s and the threat of snow, some toward the rear of the huge crowd sang "Hey, hey, hey, goodbye," an obvious reference to the end of the Bush Administration. They switched to chants of Obama's name as the introductions of other dignitaries dragged on.
The Reverend Rick Warren, a controversial and conservative evangelical minister whose position against gay rights drew protests from many more liberal Obama supporters, offered a largely nondenominational prayer, asking God for both forgiveness and guidance, but uncharacteristically invoking Jesus Christ only at the end and in personal terms.
Shortly after taking the oath of office, Obama signed papers formally nominating those he hopes will serve as cabinet secretaries, and declaring Jan 21 a "National Day of Renewal and Reconciliation." A half-dozen appointees were confirmed Tuesday afternoon, and most or all of the rest are likely to receive speedy approval in the Senate; even New York Federal Reserve Chief Timothy Geithner, his nominee for Treasury secretary, who has come under scrutiny for failing to pay some taxes in past years, is expected to get the nod by the end of the week, after a Wednesday hearing.
The one dark note on an otherwise happy day for Obama came during a luncheon at the U.S. Capitol, where Sen. Edward M. Kennedy, 76 years old, suffered a seizure and was taken to the hospital. Several other lawmakers at the event were visibly shaken by the incident, but Kennedy, who is expected to spearhead health-care reform efforts in the Senate, was reported to be conscious and talking at the hospital.
At the head of the traditional parade from the Capitol to the White House, Obama left his armored limo briefly to walk several blocks, something security experts had called unlikely because of the difficulty of securing such a large area with so many people in it. The president and his wife, Michelle Obama, stayed to the middle of the road, surrounded by vehicles and Secret Service bodyguards. Some signs suggested the apparently impromptu move had been planned: The area was lined with government buildings, and a lobbyist with offices near the point where the Obamas began walking said security getting into the area and their building had been stiff.
In his address from the Capitol steps, Obama called for an end to "stale political arguments," Obama laid the groundwork for what many predict will be an expansion of the federal government's efforts unseen for many generations.
"The question we ask today is not whether our government is too big or too small, but whether it works—whether it helps families find jobs at a decent wage, care they can afford, a retirement that is dignified," he said in prepared remarks. "Where the answer is yes, we intend to move forward. Where the answer is no, programs will end."
Hewing closely to his prepared remarks, Obama made a point of rejecting "as false the choice between our safety and our ideals," vowing not to give up those ideas "for expedience's sake"; he pledged to "spend wisely, reform bad habits, and do our business in the light of day—because only then can we restore the vital trust between a people and their government."
Obama also signaled an intent to follow through on campaign promises to ensure that future economic growth was shared equitably by poor and wealthy Americans. The country's economic success, he said, "has always depended not just on the size of our gross domestic product, but on the reach of our prosperity; on our ability to extend opportunity to every willing heart—not out of charity, but because it is the surest route to our common good."
Recalling World War II and the Cold War, he noted that "earlier generations faced down fascism and communism not just with missiles and tanks, but with sturdy alliances and enduring convictions." Thus, he invoked—without explicitly making—the contrast between those fights, cast as principled struggles that relied on multinational efforts, with what many critics have characterized as a go-it-alone, the-end-justifies-the-means approach from the Bush White House.
"They understood that our power alone cannot protect us, nor does it entitle us to do as we please," Obama said of previous generations. "Instead, they knew that our power grows through its prudent use; our security emanates from the justness of our cause, the force of our example, the tempering qualities of humility and restraint."
Throughout, his tone was upbeat, promising that the nation could rise above its economic troubles and work through the threat of terror and the wars in Afghanistan and Iraq. And while he touched on where the blame lies for the economy's crisis—speaking generally, as he has increasingly done since winning the Presidency on Nov. 4—he didn't dwell on it, declaring that the "question before us" is not "whether the market is a force for good or ill."
"Its power to generate wealth and expand freedom is unmatched, but this crisis has reminded us that without a watchful eye, the market can spin out of control," Obama said in his remarks.
While he tackled the economy early on, Obama spent much of the speech on foreign-policy issues, promising a cooperative approach to reach out to "the Muslim world" while standing firm against despots, "new threats that demand even greater effort—even greater cooperation and understanding between nations."
His pledge to aid the poor overseas carried a strong environmental tilt, recognizing the challenges of clean water and sustainable agriculture by saying the country would "work alongside" poorer countries "to make your farms flourish and let clean waters flow; to nourish starved bodies and feed hungry minds."
In an unusual nod to atheists, he called America "a nation of Christians and Muslims, Jews and Hindus—and nonbelievers."
Join a Debate about whether Obama should keep using his BlackBerry.
Before it's here, it's on the Bloomberg Terminal.
LEARN MORE