The Chamber Will Keep Its Voice at the Table
The Chamber Will Keep Its Voice at the Table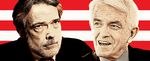 Located on a historic site just across Lafayette Park from the White House, the U.S. Chamber of Commerce has long enjoyed a cozy seat at the policy table. The Chamber is by far the country's biggest lobbyist. In 2008 it spent $58 million to influence policymakers in Washington, topping AARP, Northrop Grumman (NOC), and ExxonMobil (XOM) combined.
But for all that, the Chamber is now in a tough spot. Like most business groups, it has generally leaned toward the GOP, but it became even more closely aligned with the Republican agenda during the Bush years. Nor have recent moves helped endear it to the new majority. The Chamber threw its weight behind GOP candidates in a half-dozen key Senate races last fall in hopes of keeping the Democrats from a filibuster-proof majority—a fact that Senator Charles E. Schumer, an influential member of the Senate Finance Committee who oversaw the Democrats' Senate campaign, is unlikely to forget soon.
Many of its policy goals also remain at odds with those of Congress and the new Administration. The Chamber's longtime head lobbyist, R. Bruce Josten, remains worried that the Dems' push to boost regulation and limit climate change will go too far and hamper growth. Moreover, the group has antagonized many Democrats by leading the fight against "card check," a bill that would ease union recruiting drives—the top priority of labor, whose star is rising after helping elect Obama.
After years of being ignored by GOP policymakers, Andy Stern, head of the Service Employees International Union, the nation's largest, now finds himself offering policy options in one meeting after another with Hill allies and Administration officials. "The door is open for a broad range of ideas," he says. After years playing defense, he adds, "it's nice to have a conversation with people in the White House who think we're part of the solution and not part of the problem." Stern and other union officials have had a big say in the stimulus program; they'll be key in debates over health care and workplace issues, too. The unlikely "Divided We Fail" coalition he has formed with AARP, The Business Roundtable, and the National Federation of Independent Business is pushing Obama for action on health care within 100 days.
Chamber officials say fears of their waning influence are overdone. Like every interest group around Washington, they have met frequently with Obama transition staffers on everything from climate change to transportation policy. And they've made clear to the Administration that they'll strongly back it in areas where they agree, such as housing, infrastructure, or the stimulus package. The group will also vigorously support Senate approval for Obama's key nominees. "If he's not successful in those areas, we're not successful," says Chamber President Thomas J. Donohue. While conceding that the Chamber may have to learn to deal with a new cast of players, "we've got the content and ideas to have a place at the table," Donohue says. Besides, he adds, "we represent 3,000 companies. They'll have to deal with us."
Return to the Obama Inauguration Table of Contents
Before it's here, it's on the Bloomberg Terminal.
LEARN MORE