Tax Policy Players
Who is likely to shape the forthcoming tax debate? Many of the major players share a common influence: the Brookings Institution's Hamilton Group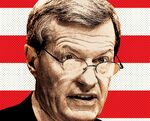 THE INSIDE PLAYERS
Taxes may be one of the few certainties in life, but here's another: Washington will spend much of President Barack Obama's first term in a fight over whose taxes to cut, whose to raise, and whose to leave alone. Already, a free-for-all is brewing over the business and individual tax cuts he has proposed as part of his stimulus package. That's just a start. By 2010, the Bush cuts on income and estate taxes, as well as capital gains and dividends, will all expire. In theory, that would send rates back up to levels of a decade ago, but everyone knows it won't happen. Instead, the Administration and its congressional allies will have to figure out how to raise enough revenues to keep the government going while rejiggering the tax burden in a way that does them the least political damage.
That will put the Beltway's budget and tax masters in the spotlight. Watch for Peter R. Orszag to play a key role from atop the Office of Management & Budget. An economic adviser to Bill Clinton and most recently head of the Congressional Budget Office, he's so efficient he exercises by running to work. He's expert on the fiscal woes of the health-care system, which he calls the most pressing budget issue. As for Social Security, he has said a fix is doable "only through politically painful choices: tax increases and benefit reductions."
If that sounds a bit like the sort of eat-your-peas advice Robert Rubin used to dole out to the Democrats, no small surprise. Orszag and Rubin co-founded the Hamilton Project, a think tank at the Brookings Institution from which key economic advisers are emerging. At the CBO, Orszag will be succeeded by Douglas W. Elmendorf, a former Federal Reserve and Clinton Treasury official who has been churning out policy papers as the most recent head of the Hamilton Project. Hamilton also was once run by Jason Furman, who's now working closely with Lawrence H. Summers—another Hamilton Project bigwig—on stimulus.
In the House, the titan in tax policy is Representative Charles B. Rangel (D-N.Y.), the affable chairman of the tax-writing House Ways & Means Committee. In late 2007, Rangel introduced a tax reform measure written largely by his lead tax staffer, John Buckley—the man who, one analyst says, "will ultimately write the bill to fund the government." In the measure, Rangel proposes dropping corporate rates from 35% to 30% in exchange for an end to loopholes and selective tax breaks. Obama has backed the idea, though never vigorously.
In the Senate, Chairman Max Baucus (D-Mont.) will be a key player, though bigger Democratic majorities may not blunt the influence of Senator Charles Grassley (R-Iowa), the ranking Republican on the Senate Finance Committee. His Tweedledee-Tweedledum working relationship with Baucus borders on power-sharing. Book a meeting with either senator's staff, and you're likely to meet both. Grassley's tax guru, Mark Prater, a laid-back CPA known for his Halloween parties, and Russ Sullivan, his Democratic counterpart, also often consult.
THE OUTSIDE PLAYERS
Where do Apple (AAPL), Ford (F), GE (GE), Kraft (KFT), and the Motion Picture Assn. go when they want help on a taxing matter? Capitol Tax Partners, a firm co-founded by Jon Talisman, whose résumé includes stints as Summers' tax policy adviser and at the Senate Finance Committee. Other key advocates include Nick P. Giordano of lobbyists Washington Council Ernst & Young, and Akin Gump Strauss Hauer & Feld's Donald C. Alexander, a longtime tax lawyer who was IRS commissioner during the 1970s.
Return to the Obama Inauguration Table of Contents
Before it's here, it's on the Bloomberg Terminal.
LEARN MORE