Home Mortgage Foreclosure Relief Gathers Steam
Citigroup's endorsement has the financial-services industry fighting harder against a "cramdown bill" to let homeowners fight foreclosure
By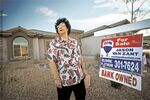 As the housing crisis deepens and foreclosures mount, a legislative proposal is gathering steam to give bankruptcy judges the authority to modify mortgages held by defaulting homeowners. Incoming President Barack Obama backs the idea. And on Jan. 8 banking giant Citigroup (C) voiced its support for the measure after negotiating three relatively minor alterations.
Other than Citigroup, though, no major bank has endorsed the bill, which is officially titled the Helping Families Save Their Homes in Bankruptcy Act. Several big trade groups—including the Financial Services Roundtable, the Securities Industry & Financial Markets Assn., and the American Securitization Forum—remain opposed even to the Citigroup compromise. Although the odds are against it, the industry still hopes to kill the bill, or at least water it down considerably. "I think this is an opening salvo—a big opening start to the battle," says Scott Talbott, the Financial Services Roundtable's top lobbyist.
With housing prices falling, home-owners facing foreclosure can't simply get out from under an unaffordable mortgage by selling. The huge volume of foreclosures is driving prices down further as lenders seek to cut their losses and dump repossessed homes on the market. Many economists and policymakers say lenders must modify mortgage terms—interest rates, duration, even principal—to make monthly payments affordable. So far the largely voluntary efforts in place to renegotiate mortgages aren't working fast enough, despite government incentives for lenders. More than half the loans modified early last year wound up in default again within six months. Critics say that's because many of the alterations weren't meaningful.
TAX-FREE SOLUTION
Enter bankruptcy modifications, also called "cramdowns." Mortgages on single-family, primary residences are the only secured debt that judges can't alter in bankruptcy court—even mortgages on multifamily homes, vacation houses, and investment properties can be changed. End the exception, supporters say, and you'll have a ready-made way to keep needy homeowners in their houses, at no cost to taxpayers. The threat of bankruptcy modification also gives lenders every incentive to work out deals directly with home-owners. "We know it will work," says Senator Dick Durbin (D-Ill.), who has championed the proposal for more than a year.
The banking industry realizes it is losing ground. "If we don't see real improvement by the industry in foreclosure mitigation, then I think bankruptcy [cramdown] is almost certain," one trade group official says.
Banks raise a host of arguments against the proposal, from the need to protect the sanctity of contracts to warnings that homeowners will seek bankruptcy even when they are able to pay off their mortgages over time. The loudest complaint is that the change will drive up borrowing costs for everyone as lenders work into their calculations any losses they expect at the hands of bankruptcy judges. Supporters counter that bankruptcy is no costlier than foreclosure. They add that court is an established way to alter contracts, and that the courts already have safeguards against bailing out fraudsters and speculators, including tests to ensure filers really can't meet their bills.
To get Citigroup's support, Durbin and his colleagues agreed to apply their bill solely to existing mortgages. Industry lobbyists want it limited further, perhaps restricting it to subprime loans or loans taken out between 2002 and 2007. "To the extent that anything is ultimately passed, we would certainly want to limit that damage," says Steve O'Connor, head lobbyist for the Mortgage Bankers Assn. It remains to be seen just how much clout the politically radioactive financial sector still wields.
Return to the Obama Inauguration Table of Contents
Before it's here, it's on the Bloomberg Terminal.
LEARN MORE