British Retail: Hurt on the High Street
Mark Scott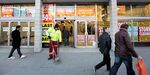 Editor's note: This is an updated version of a story originally published Jan. 9.
If 2008 was the year financial services melted down in Britain, 2009 is shaping up as retail's moment to implode. The once-booming retail sector—known in Britain as the High Street—is reeling as weak consumer confidence, tight credit, and rising unemployment throttle sales and profits.
The list of victims is eye-popping. Upscale clothing and food seller Marks & Spencer (MKS.L) said Jan. 8 that its fourth-quarter sales fell 7.1%, and announced plans to close 27 outlets and lay off 1,230 workers. Woolworths, which failed to find a white knight last year as it wobbled toward insolvency, closed the last of its 807 British outlets on Jan. 6, putting 27,000 employees out of work. And music emporium Zavvi, originally owned by Richard Branson, has called in the administrators and closed 22 of its 114 outlets as management struggles to sell the business.
The news didn't improve the following week. On Jan. 13, the British Retail Consortium, an industry body, revealed that like-for-like retail sales in December fell 3.3% annually—the largest drop since it started collecting data in 1995. The same day, supermarket giant Tesco (TSCO.L), the country's largest supermarket ahead of Wal-Mart (WMT) subsidiary Asda, also reported its weakest holiday sales figures since the early 1990s. Tesco's same-store sales in Britain rose a mere 2.5% over the last seven weeks, though total revenues, including new outlets and Tesco's international divisions, grew a more comforting 11.6%.
Retail's Drag on Broader Economy
All told, says insolvency and restructuring consultancy Begbies Traynor (BEG.L), nearly 2,000 retailers already are in bankruptcy proceedings in Britain. The carnage is likely to get worse. By yearend, predicts credit researcher Experian (EXPN.L), some 135,000 storefronts—1 in 7 across Britain—may be vacant. And up to 135,000 retail workers could lose their jobs by the end of 2009, says the London-based Center for Economics & Business Research. "There definitely are tough times ahead," says Jonathan De Mello, director of Experian's retail consultancy.
The implications for the broader economy are worrisome. Consumer spending accounts for 65% of British gross domestic product, and retail is the third-largest source of employment behind business services and health care. A High Street slowdown thus translates quickly into sharply lower economic performance, declining tax revenues, and higher spending on jobless benefits. Economists figure Britain's GDP contracted 1.2% in the fourth quarter of 2008, after falling 0.6% in the previous quarter. Brokerage Morgan Stanley (MS) now predicts Britain's overall GDP will shrink 1.1% in 2009.
Even before the most recent spurt of retail layoffs, Britain's unemployment rate already had jumped almost one percentage point annually, to 6%, as of October, according to the Office for National Statistics. The last time joblessness was that high was in the first half of 1999. Now, with retailing expected to remain in the doldrums until 2010 at the earliest, Morgan Stanley figures unemployment could hit 7.4% this year. More pessimistic estimates range up to 9%.
Government Intervention
So far, government efforts to help the retail sector haven't made much difference. To spur spending, the government trimmed Britain's value-added tax (VAT) before Christmas as part of an overall stimulus package. Most analysts say the modest cut was too little, too late. Likewise, the Jan. 8 decision by the Bank of England to chop interest rates to a record low of 1.5% may not do much to ease credit or kick-start consumer spending. Prime Minister Gordon Brown is now rumored to be mulling a new round of tax cuts to goose the economy.
Until stimulus sets in, retailers are left scrambling to save themselves. Over the Christmas holidays, some offered discounts of up to 90% to woo shoppers. That brought short-term relief for a few: Upmarket department store Selfridges, for instance, recorded the most profitable hour in its 100-year history on Dec. 26 as customers snatched up luxury brands like Louis Vuitton (LVMH.PA) and Burberry (BRBY.L) for knocked-down prices.
More Carnage to Come
But slashing prices cuts both ways. "All the discounting has done is squeezed margins," says Tarlok Teji, head of British retail at consultancy Deloitte. He reckons that sales promotions will help keep like-for-like sales broadly flat over the first half of this year, but cautions that discounting will hit profits. Margins will likely fall 30% to 40% in 2009, and demand for big-budget items such as flat-screen televisions and home furnishings will remain weak even despite price cuts.
"More retailers will enter administration in February and March," Teji says. "Companies will have to batten down the hatches until the economy starts to recover."
Before it's here, it's on the Bloomberg Terminal.
LEARN MORE