Tax Cuts, Obama-Style
The incoming Administration seeks a quick jolt for the economyand support from the GOP and business
Jane Sasseen and Phil Mintz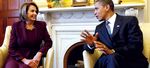 As the economy slips deeper into the abyss, the incoming Obama Administration is preparing a package of individual and corporate tax cut proposals that would have seemed improbable a few months ago. Tax cuts were expected to play a modest role in any Obama plan. Now, there's talk of $300 billion worth of tax measures, with perhaps $100 billion aimed at business. Obama advisers hope targeted tax cuts will inject money into the hardest hit industrial sectors and prod healthier companies to hire and invest.
Obama's bid to use tax breaks to build business and Republican support for his nearly $1 trillion, budget-busting stimulus effort appears to be paying off, at least judging by the frantic efforts of lobbyists to shape the evolving tax package. One measure getting attention would allow money-losing companies to apply their net operating loss to past tax payments going back four or five years, vs. only two years now.
Many companies would get a sizable benefit if they could write off huge losses incurred last year, and also in 2009, over a longer period. They would do so by counting the losses against past tax payments in profitable years and then receiving a refund. The proposal was discussed last spring when the Bush Administration assembled its stimulus package. But the provision, which by one estimate would deliver $25.5 billion in refunds, was viewed at the time as a giant giveaway to banks and homebuilders and dropped.
Other business tax cuts are in play, too. One would extend so-called bonus depreciation, which allows profitable companies to write off business investments more quickly. Another would give companies that hire new workers a one-year tax credit at a total cost of $40 billion to $50 billion over two years.
Business groups such as the U.S. Chamber of Commerce also have fresh ideas of their own. On Jan. 6 the Chamber sent a letter to Congress asking for a temporary tax holiday for companies that buy up their own debt (or debt of a subsidiary or affiliate) when its value has fallen.
ADDED INCENTIVE
Given the stampede out of the corporate bond market by investors in recent months, bonds have been trading at distressed levels, often below the issue price. So companies have a big incentive to buy up that debt on the cheap and lower their debt loads, though there is a tax hit for doing so. A tax holiday, says Thomas J. Donohue, the Chamber's chief executive, "would facilitate the deleveraging that needs to take place."
How much these tax proposals will deliver is debatable. Some worry the tax incentives on hiring may benefit companies that planned to add workers in any event. The net operating tax loss measure would pump cash quickly into hard-hit sectors such as homebuilders and car companies. But Daniel Clifton, head of policy research for Strategas Research Partners, questions whether it will serve as simply a short-term capital boost for companies rather than a long-term incentive to invest. Perhaps, but Obama is inheriting an economy that needs all the juice it can get.
Before it's here, it's on the Bloomberg Terminal.
LEARN MORE