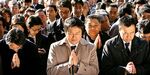 Tokyo - These are dark days in Japan. Over the holidays, an encampment for laid-off workers sprang up in Tokyo's Hibiya Park, just steps from the Emperor's digs in the Imperial Palace. Across town at the Kanda Myojin Shrine, nearly 100,000 salarymen turned out on the first work day of the year to pray for business success. And in the suburb of Chiba, the Kurata family skipped the big January sales at department stores and pulled the plug on an annual trip to see relatives in Kochi, 550 miles west of the capital. "My husband's winter bonus was much lower," says Azusa Kurata, a 48-year-old homemaker. "And things aren't getting any better soon."
She has plenty of reason to be glum. The Japanese economy contracted 0.6% in 2008 and may fall a further 4.6% this year, according to Barclays Capital (BCS). The Tokyo bourse finished 2008 down a record 42%. And as the yen has surged in value in recent months, global demand for Japanese cars, TVs, and other products has plummeted. Exports in November slumped 27% from the year before, the largest decline since 1957. "I don't think anyone can be optimistic about the Japanese economy until at least the middle of 2009," says Kyohei Morita, Barclays' chief economist in Tokyo.
The export numbers are the biggest cause for concern. Japan Inc. has long recognized that it needs to wean itself from overseas sales and get the nation's consumers to spend more. While the country is nowhere near as dynamic as neighbors such as India and China, it remains the second-largest national economy after the U.S., and its health is an important factor in global economic stability. But these days Japanese consumers are spending less, not more, so they're unlikely to contribute much to any global recovery. In fact, Japan's dependence on exports is greater today than it was two decades ago, figures Jesper Koll, CEO of Tantallon Research Japan. "There's a lot of huffing and puffing and blaming [the current situation] on the rest of the world, but Japan should have done a lot more to prepare itself for the global slowdown," Koll says. "Japan has completely failed to stimulate domestic demand."
THE HIT TO TOYOTA
Profits suffer when the yen starts climbing, and the problem is compounded by falling overseas sales. At Toyota Motor (TM), for instance, a one-yen appreciation against the dollar shrinks operating profits by $450 million. In 2008 the dollar sank by 19% vs. the yen, so one greenback now buys just 90 yen, down from 111 last January. With sales also slumping, Toyota expects to post an operating loss for the first time since 1938. On Jan. 6, Toyota said it plans to shut down its Japanese factories for 11 days this winter. "The current crisis is unlike anything in the past," Toyota President Katsuaki Watanabe told reporters on Dec. 23.
Why didn't Japan do more to boost domestic spending and shield itself from a downturn? As the nation's population ages and shrinks, growth opportunities are getting harder to find at home. So as long as the yen stayed relatively weak, it made sense to focus on overseas sales. But while manufacturers have boosted production worldwide in recent years, building factories from Thailand to Texas, they haven't eased up on investment at home. Domestic auto sales reached two-decade lows in 2007 and kept falling last year. Yet during the first half of 2008, car production in Japan hit an all-time high. As recently as last summer, Nissan (NSANY), Toyota, Honda (HMC), Suzuki, and Subaru were all planning to add capacity at home, though most of those plans are now on ice.
Japan's other major industry, electronics, followed a similar path.
Despite cheaper labor in Vietnam, China, and other developing countries, domestic production still accounts for at least half of total sales at Sony (SNE) and Canon (CAJ). Tech companies and automakers alike say it's important to maintain some manufacturing in Japan to be close to research and development labs. And they say producing at home helps keep innovations and new ideas from falling into rivals' hands.
Japan's policymakers bear some responsibility for the problems, too. Under former Prime Minister Junichiro Koizumi, the government slashed spending programs that had been aimed at reviving the economy after the collapse of the early 1990s. That might have been fiscally prudent, but it cut into domestic demand and boosted the importance of exports for growth. Today, with Japan's longest postwar expansion at an end, the weakened domestic economy can't cushion the blow as companies cut back on investment and exports hit the skids.
Then there's Japan's ultralow interest rate policy. For five years until July 2006, the Bank of Japan kept its benchmark rate at virtually 0%, and as the economy recovered it raised rates to just 0.75%. That contributed to what investors call the carry trade—borrowing yen for next to nothing and investing in higher-yielding securities abroad. As everyone from housewives to hedge fund managers bought foreign currencies to do just that, the yen weakened, which made Japanese goods cheaper and inflated profits for Japanese corporations. But as the yen started to recover last year, investors rushed to sell their foreign assets, pushing the Japanese currency ever higher. "We had a cheap yen bubble, and now it has burst," says Eisuke Sakakibara, a former top official at the Finance Ministry and now a professor at Waseda University in Tokyo. "Not raising interest rates earlier was a major mistake."
Some experts trying to find a way out of the mess are calling for the Finance Ministry to intervene to halt the yen's rise, which would provide an instant tonic to exporters. And in the absence of a global recovery, economists say Tokyo must boost spending to spur growth. "Everyone realizes the government has to keep the economy from collapsing," says Richard C. Koo, chief economist at Nomura Research Institute in Tokyo.
The malaise gripping Japan was in full view in Hibiya Park over the New Year holiday. Volunteers converted part of the park into a tent village, providing free food and shelter for some of the 85,000 temporary workers who have been laid off in recent months. But the 250 beds were quickly occupied, and the Health, Labor & Welfare Ministry was forced to open an auditorium in its building to provide extra shelter. Given the economic downturn and the difficulties faced by temporary workers, said one volunteer, a 61-year-old retired teacher who asked not to be named, "I thought I should do something."
Before it's here, it's on the Bloomberg Terminal.
LEARN MORE