A Green Auto Show
David Welch and Matt Vella and Reena Jana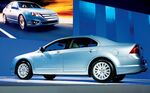 This year's Detroit auto show, which runs from Jan. 11 to Jan. 25, promised to be a subdued affair. Carmakers are struggling to engender enthusiasm among wounded consumers. The show's theme, not surprisingly, is green, green, green. Most participants planned to unveil some kind of hybrid or electric car. The timing isn't great: Lower gas prices make such exotica less appealing. But in many cases the point is not so much to sell a lot of these vehicles but rather to create a tech-savvy and environmental image around the maker. A sampling:
FORD
Its new Fusion hybrid sedan has already made waves because it gets better mileage than Toyota's Camry hybrid. But Ford also turned to outside design firms to create a driving experience that might set the car apart. Palo Alto (Calif.) design firm IDEO and Ford surveyed consumers and discovered that many drivers are obsessed with fuel economy, almost as though it were a game. Smart Design, known for the hot-selling Flip video camera, designed a dashboard screen that rewards drivers with green leaf icons that grow when they manage to squeeze out more miles per gallon.
TOYOTA
To fend off interlopers, Toyota is taking the wraps off its all-new Prius. It promises to alleviate the annoyance of driving a less-than-peppy car by offering a bigger gasoline engine that generates—in tandem with the electric motor—more power. Even with those extra horses and a larger cabin, fuel economy will be better than the current model's 48 mpg. Toyota also will become the first automaker with a hybrid-only luxury car, the Lexus HS250h. Unlike current Lexus hybrids, which offer just a modest boost in efficiency for existing luxury cars, the HS250h will sell only as a hybrid, with fuel economy said to push 40 mpg.
HONDA
The company aims to out-Prius the Prius with its new five-passenger Insight. Honda's goal is to separate itself from Toyota by making its hybrid affordable to even the thriftiest buyers. Sources say the car will sell for about $19,000, which is even cheaper than a hybrid Civic and about $2,500 less than a Prius. Fuel economy is said to be 40 -plus mpg.
MERCEDES-BENZ
The German luxury automaker wants to remind consumers that it's a technology leader. Mercedes isn't rolling out any green production cars, but it will show a trio of concept cars, including a pure electric car and one that runs on hydrogen.
BYD AUTO
This Chinese upstart is eager to be taken seriously. Its F3DM and F6DM plug-in hybrids will be sold only in China for the time being. But BYD is eager to send the message that it can compete in the technology race.
Before it's here, it's on the Bloomberg Terminal.
LEARN MORE