Infrastructure Boom: Potholes Ahead
David Bogoslaw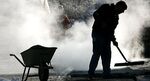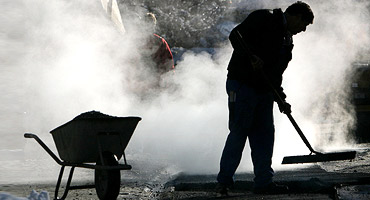 The incoming Obama Administration has made clear that investing in infrastructure will be a cornerstone of its program to spur a U.S. economic recovery. But before investors rush into all kinds of infrastructure plays—from single stocks like power-gear giant Emerson Electric (EMR) to mutual funds that specialize in toll roads, bridges, and airports—they need to be aware of some things that could derail, or at least significantly delay, any bonanza from public works projects.
Here, BusinessWeek looks at six factors that could keep these projects in a holding pattern—an unpleasant prospect for those who wish to see the rebuilding boom begin immediately.
Hobbled Capital Markets
President-elect Barack Obama has said he wants to invest in renewable energy sources to reduce this country's dependence on foreign oil imports and vulnerability to the kinds of price spikes in gasoline seen last summer. But many projects have been funded through project finance, a market that has shrunk dramatically as a result of the financial crisis as banks that were major players in this area such as the Royal Bank of Scotland (RBS) have been taken over by government or have otherwise suffered, says George Bilicic, chairman of Power, Utilities & Infrastructure at Lazard (LAZ), the investment bank.
Infrastructure is viewed as a relatively defensive asset class—safer, with more stable cash flows, even if returns aren't as high as leveraged buyout vehicles—and tends to benefit more from a flight to quality during more challenged market environments, says John Veech, managing director of private equity at Neuberger Berman. Veech says he expects to see project finance for infrastructure rebound this year but thinks banks will be less aggressive. They may be willing to put up 60% to 70% of the high-grade debt needed to cover the cost of such projects rather than the 80% to 90% they provided in the past. That will translate into lower prices and bigger equity checks from investors in infrastructure, as well as a rise in collaborative partnering deals.
"I believe you're going to see project and infrastructure-type debt [deals] return significantly quicker than you'll see high-yield or LBO-type debt come back," which is consistent with prior economic cycles, he adds.
But the amount of private capital that's either been raised to date or contemplated is quite small relative to the overall investment in North American infrastructure that is needed and, in terms of fundamental impact on the economy, wouldn't make a difference without further government stimulus, says Lazard's Bilicic. Private capital is certainly a tool that stimulus programs at the state and local levels should tap into in order to make some projects more viable, however. For example, a city mayor could get a lot of mileage for filling his budget gap by selling off assets like parking garages, which could then provide resources that the city needs for more basic social services, he says.
The government has a good chance of getting a fair price for such assets and securing private capital at a fair price to build an infrastructure asset from scratch, which currently isn't true of other industry sectors across the world, he says. There is, however, some political resistance to local governments going after private capital for infrastructure projects, Lazard learned from the results of a survey it sponsored in mid-2008. Even so, Chicago recently sold its Midway Airport and its street-metering system to private interests, he adds.
A Slow Permitting Process
If expansion of electrical transmission capacity is to be a key part of the stimulus effort, the authorities will have to find a way to speed up the process by which permits are approved for new power plants, says Bilicic. Any acceleration of those procedures, which have been known to take as long as five to 10 years, would be sure to raise concerns among environmental groups, property owners, and cities and towns about whether it's a good idea to build transmission lines in the area at issue, he says.
Building new water treatment plants, for which there's a great need, would face similar challenges, he says. In lieu of accelerating the process, state and local governments might have to choose projects that have been delayed but already have their permits in place, says Bilicic.
The 2005 energy bill granted authority to the federal government to overturn local permitting decisions concerning new electric transmission lines and liquefied natural gas import terminals, but the federal government has yet to use that authority, says Veech at Neuberger Berman.
A more likely scenario is that energy infrastructure will continue to be built, where permitting allows, in regions like Texas and the Midwest where land is more plentiful. Restrictions on permitting are likely to create more pressure to invest in the build-out of transmission wires in areas such as the Northeast, where it's more difficult to build new plants, he says. It's also easier to add transmission lines along existing rights of way, he adds.
Renewable Energy Project Subsidies
Subsidies in the form of production tax credits are the main impediment to renewable energy sources such as solar and wind being able to contribute significantly to the stimulus program. Although the subsidies were recently extended for at least another year, many alternative energy producers aren't yet showing profits and, instead of using those credits themselves, have had to rely on selling them to industries that needed the credits to offset big profits. The primary consumers of those credits had been financial-service firms that have much less need for them since taking enormous losses related to risky assets held on their balance sheets. Hence, the market for those tax credits has largely dried up.
Demand for those tax credits could expand to a wider base of energy consumers from industrial sectors that are still earning large profits and need to reduce their tax expenses. Finding a new group of buyers to replace the financial firms will first require an education process, and that might take up to a couple years, says Veech at Neuberger Berman.
The other solution would be to move away from tax credits to subsidies such as the feed-in tariff that has become dominant in most industrialized countries. That subsidy requires rate payers to pay a premium for their power usage in order to make renewable energy sources more economically viable. That would also take some time to accomplish. A third possibility is direct government subsidies in the form of loans or construction company guarantees, or the federal government buying subordinated debt to take the place of tax equity in the capital structure of new solar and wind projects, says Veech.
Fortunately, permitting hasn't been a hindrance for renewable energy projects. Most wind and solar projects are stalled because of capital constraints rather than permitting, according to Veech.
An Outdated U.S. Transportation System
When it comes to investing in the nationwide transportation system, Robert Puentes, senior fellow and director of the Metropolitan Infrastructure Initiative at the Brookings Institution in Washington, sees potential for tension between the need to get money out the door quickly and the desire to reform the system to meet the challenges of the modern era.
With the transportation law coming up for reauthorization in August 2009 and in view of talk about bills to address climate change and a shift toward cleaner fuels, "there's a tremendous opportunity to make sure these legislative priorities are all consistent," he says.
A report released by the National Surface Transportation Policy & Revenue Study Commission in early 2008 weighed input from transportation industry executives, environmental and social equity constituents, and public advocates, and called for a thorough overhaul of the system before investing in new projects, says Puentes. Among other things, the commission proposed a shift from a cumbersome, overly complex program consisting of 108 individual priorities to a more manageable program comprised of 12 pieces focused on practical outcomes such as traffic congestion relief, metropolitan mobility, and safety.
But implementing such reforms won't be so easy. The federal government could decide it wants to spend money on congestion relief, but states aren't set up to do that right now because they're not trained to think in terms of outcomes or performance measures, says Puentes. "That would require states to think differently about their own transportation programs and that would take some time," he says. Some states, however, including Massachusetts and New Jersey, have histories of giving priority to ensuring that existing systems work properly over building new systems, he adds.
Continuing to funnel money into the old system would also run up against the current transportation debate, which largely centers on breaking away from a carbon-based economy, says Kris Nielsen, chairman and president of Pegasus Global Holdings, a Cle Elum (Wash.) firm that consults on infrastructure projects. "Does that mean we should build more transit systems or long-haul railroads or go to other modes that are less petroleum-intensive, or do we invest in continuing what historically we have always done?" he says. That's a question Nielsen is currently addressing for a handful of engineering and construction contractors.
How maintenance and repairs of highways across the U.S. are paid for gets to the core of the carbon fuels issue. The highway trust fund, which covers those costs, is funded almost entirely by the gasoline tax, which has been dwindling for the past few years as Americans have been driving less and driving more fuel-efficient vehicles, says Puentes at Brookings. In September 2008, $8 billion had to be shifted from the general fund to cover a shortfall in the highway trust fund, he says. What may be the most viable alternative to using gas taxes to fund the highway trust fund is sure to be a hot political topic this year, predicts Nielsen.
A Tricky Muni-Bond Market
Issuance of municipal bonds, which traditionally comprise a significant portion of state and local government funding of infrastructure projects, has fallen sharply, particularly for variable-rate bonds that are a preferred source of short-term funding. While the volume of five-year variable-rate bond issuance more than doubled for all of 2008 from 2007, issuance for December fell 35% from the prior year, says George Friedlander, a muni-bond analyst at Citigroup (C). On the fixed-rate side, stronger credit-quality bonds rallied in the second half of December, widening the discount at which weaker-quality issues are trading.
The primary draw of the variable-rate bonds is how low borrowing costs are on the short end of the yield curve. The problem is that many state and local governments don't have access to that part of the market because their credit ratings aren't high enough for their debt to be eligible to be held by money market funds and they require a liquidity backstop from banks, which are scarce and very costly, he says.
A bigger challenge for state and local governments than financing infrastructure, however, is getting the funding needed to allow basic government services to continue to be provided, he says. "It would be counterproductive for the states and their subdivisions to be forced to cut spending too much—lay off workers and provide less services," says Friedlander. Unless the states are given support to meet their budget needs, their access to the municipal bond market is sure to erode more quickly as a result of worsening credit problems, he says.
Limited Access for Smaller Contractors
There's no shortage of road, bridge, and dam construction projects on the shelf ready to go once federal funds starts flowing. The bigger projects that are typically awarded to the big contracting outfits will probably swallow up most of this money, but more jobs would be created by financing small projects that are usually done by smaller contractors that need to finance every project, says Nielsen at Pegasus. Since advance payments are prohibited by U.S. bidding statutes and since most of these contractors live job to job, they may be passed over by local governments awarding contracts that need to be assured a contractor has the financial wherewithal to complete a project.
"Without some change, particularly in public bidding laws, I fear there won't be as quick and as responsive a stimulus as is being forecasted," he says. "I'm not saying at all that pubic bidding laws should be relaxed, but that is something that has to be addressed or considered" in order for a bigger group of cash-strapped contractors to be able to compete for parts of the infrastructure pie, he says.
Before it's here, it's on the Bloomberg Terminal.
LEARN MORE