Gambling on Netbooks in Vegas
by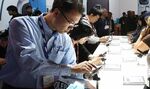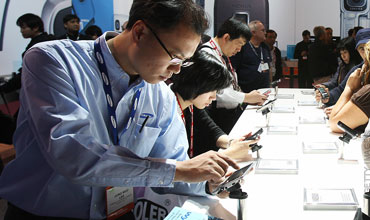 It's not hard to spot a netbook in the wild. You know these tiny, stripped-down laptops by their screens, which measure about 10 inches, and price tags, which currently go as low as $300.
But soon this emerging class of machines won't be so easy to ID—electronics manufacturers are about to bust the computer category wide open. At the Consumer Electronics Show in Las Vegas that officially begins on Jan. 8, manufacturers will introduce a slew of devices of different shapes, sizes, and prices—everything from netbooks that cost less than $200 to high-end miniature machines that cost more than $1,000 and function as a phone, Web access device, and media player rolled into one.
A wider variety of models may be good news to the growing number of consumers who say they're jonesing for a netbook. About one in five consumers who plan to purchase a new computer in the next year say they will spend less on their next PC in light of current economic conditions, according to November data from Forrester Research (FORR). Some of that smaller budget may be devoted to netbooks, according to researcher IDC. About 21 million netbooks may ship this year, compared with 11 million last year, says IDC.
More netbook choices, however, could spell trouble for the makers of consumer electronics that are already seeing a downtick in demand, in part because budget-strapped consumers are opting for cheaper machines. Notebook sales already ate into shipments of traditional notebooks during the holiday selling season.
Music and More
Now, as netbooks take on such features as calling, navigation, and media delivery, their makers could nab a slice of the market for smartphones, global positioning systems, and even digital music players. "I probably see more cannibalization between a small [touchscreen] netbook and a music player," says Pat Moorhead, vice-president of advanced marketing at Advanced Micro Devices (AMD), which on Jan. 6 unveiled a laptop using its first netbook chip. "Instead of paying $399 for a media player, you'd maybe go out and buy a netbook."
What defines a netbook may soon become fuzzier. Machines on the low end are getting smaller and cheaper. On Jan. 5 cell-phone chipmaker Freescale announced a set of semiconductors that could be running sub-$200 netbooks by Christmas 2009. On the other end of the spectrum are pricier, more full-function netbooks. On Jan. 5, Lenovo released a version of its IdeaPad S10 netbook, which boasts facial recognition. Others will launch netbooks that let users connect to the Web using Wi-Fi or even networks of major wireless carriers such as AT&T (T). "This will attract the traditional smartphone user," says Luis Pineda, a senior vice-president at chipmaker Qualcomm (QCOM), which also makes chips for use in netbooks. "It's a game-changer for a netbook as a device."
Manufacturers also plan to introduce touchscreen models, creating a potential alternative to tablet PCs. On Jan. 9, Intel (INTC) and its manufacturing partners will announce a foray into touchscreen netbooks. Adding a touchscreen could enable a manufacturer to raise its price—say, from $300 to $500. Intel also plans to announce a slew of partners that are developing software applications specifically designed for touchscreen netbooks for use by children and educators. "[Touch] is coming along, and we are right on the edge of when it's starting to happen," says Tony Salvador, director of strategic planning and architecture for the emerging-markets platforms group at Intel. Microsoft (MSFT) is expected to release a touchscreen-friendly operating system in late 2009, which could push touchscreen netbooks further into the mainstream.
A Mac Netbook?
Meanwhile, Apple (AAPL) has built a working prototype of a touchscreen, iPod-like netbook that could be unveiled later in 2009, according to people who have been briefed on the company's plans. These follow touchscreen netbook announcements from smaller players such as Gigabyte. Touchscreen netbooks could account for 10% of all netbook shipments this year, according to Bob O'Donnell, program vice-president at IDC.
Makers of touchscreen netbooks are hoping the new class of devices will prove more successful than an earlier attempt at touch computing, the tablet PC, unveiled to much fanfare several years ago. Today tablets account for less than 1% of traditional notebook shipments and are growing more slowly than the larger laptop market, O'Donnell says. "Sometimes when one technology doesn't work, it doesn't mean the market won't move to embrace something new," says IDC analyst Robert Murtagh. And touchscreen netbooks will cost half to a third the price of tablets. They also may have better software support.
Still, even some of the biggest proponents of netbooks aren't sure the touchscreen variety will take off. "Clearly, the iPhone has transformed customer expectations," says Henri Richard, senior vice-president at Freescale. "I don't know that a touchscreen is a must-have—it's a nice-to-have."
Roger Kay, president of Endpoint Technologies Associates, agrees that caution is warranted, though he's more optimistic. "Touch is a Bermuda Triangle," he says. "Every [computer] product that has ventured there has died." Still, "this is an important development," he adds. As part of a netbook, it "could work."
Before it's here, it's on the Bloomberg Terminal.
LEARN MORE