Will This Bold Shakeup Save Dell?
The computer maker is struggling, but CEO Michael Dell's latest cost cuts, layoffs, and reorganizations may be steps in the right direction
By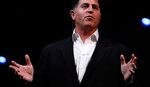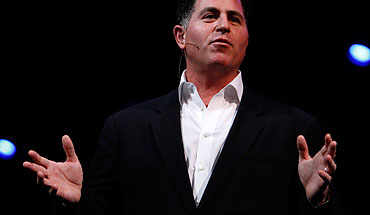 Nearly two years since retaking the helm of his company, Michael Dell has just taken his toughest steps yet aimed at righting the ship. On Dec. 31, Dell (DELL) announced the departure of two top lieutenants and reorganization of the struggling company's commercial sales division. As 2009 gets under way, investors will be eager to know where he navigates next.
After stepping back into the chief executive job in January 2007, Dell began a program of steep cost cuts and layoffs. And as part of an effort to regain lost market share, he pushed the low-cost, direct-sales PC maker to turn out fresh, compelling products consumers will be more likely to want to buy. He acquired software, storage, and technology services companies to try to compete with more diversified and bigger rivals Hewlett-Packard (HPQ) and IBM (IBM). The company faltered nonetheless. Dell's stock lost 58% in 2008 after closing on Dec. 31 up a penny, or 0.1%, at 10.24. In the most recent quarter, revenue and profit declined from a year earlier.
The reorganization announced on the final day of 2008 signaled Dell's efforts were falling short. Operations chief Mike Cannon, recruited from contract manufacturer Solectron last year, is leaving the company. Chief Marketing Officer Mark Jarvis, an Oracle (ORCL) veteran who came to Dell in 2007, is also departing. Longtime Dell manager Jeff Clarke got a promotion to vice-chairman in charge of operations, and Dell reorganized its commercial business into three units. That move is designed to unify development and sales decisions around the world. "We've made a good deal of progress the past two years," says Dell spokesman T.R. Reid. But profit and market share performance "don't represent full realization" of the company's potential, he acknowledges.
More Aggressive Moves to Come
Dell had to do something. "Michael is deciding to get more aggressive now rather than sit around and hope for the best," says Bill Kreher, a technology analyst at Edward Jones who has a "buy" rating on Dell shares. "There was a lot of excitement around Michael's return," Kreher says. "Some of that is beginning to wane."
But the management moves are only the beginning. To try to regain some of its former glory, Dell needs to do at least three things, say analysts, bankers, and tech industry executives. The company needs to forgo market-share gains and aggressive sales growth targets for the sake of higher profits; it must balance an aim to move upmarket to compete with Apple (AAPL) and Sony (SNE) with consumers' belt-tightening in the teeth of a recession; and Dell should also consider putting more of its $19.9 billion market value and $8.6 billion in cash to make acquisitions that push it further into the burgeoning market for corporate data centers that run Internet applications. "He's still the king of direct [sales]," Bob Muglia, a senior vice-president at Microsoft (MSFT), says of Dell in a recent interview. But direct-to-consumer PC sales have less value to customers than they once did, he says.
Part of Dell's problem is its slow reaction time. Nearly a decade ago, the company wanted to beef up areas such as data storage and tech services to better compete with IBM, says an investment banker who has worked with Dell for years, but asked not to be named because he still deals with the company. "Wind the clock forward a decade, and they've done almost none of that," he says. Think the PC business is tough now? Wait till 2009, when banks and other financial companies—some of the biggest buyers of tech gear—clamp down on purchases even more. Dell "is in a heap of trouble," the banker says.
Market conditions—in particular, depressed asset values—argue that the time is ripe for Dell to go the way of IBM and HP and build a bigger portfolio of computers, storage devices, software, and services to help companies expand their data centers. Dell spent $1.4 billion in cash in November 2007 to buy storage maker EqualLogic, which Dell's Reid cites as an example of the way the company plans to bundle technologies for cloud computing and other data center applications. Others say Dell should go even further, perhaps merging with storage vendor EMC (EMC) or another business technology player. Even though EMC's $21.4 billion market value exceeds Dell's, Dell could emerge from a tie-up stronger in sales to large companies, and with higher profit margins, says the investment banker. Plus, EMC owns the bulk of fast-growing software vendor VMware (VMW).
Leaner Is Better
At the same time, investors want Dell to dial back on price cuts that cost it profit margin. Overly aggressive prices hurt Dell's second-quarter results, announced in August. Dell adjusted in the third quarter, with a better outcome. "A leaner Dell is a better Dell at this point," says Edward Jones analyst Kreher. Yet the departure of operations maestro Cannon, who sliced costs by outsourcing more of Dell's manufacturing, could hurt profit margins in the future, Jayson Noland, an analyst at Robert W. Baird who has a "neutral" rating on Dell shares, wrote in a Dec. 31 research note.
Finally, Dell needs to strike the right chord with consumers, who still don't find its products as exciting as those made by Apple, or as easy to find in stores as HP's. Dell's consumer business moved into the black last quarter, but its 4% operating margin still trails Dell's overall margin of 6.7%. The company is emphasizing premium-priced notebooks and desktops featuring artsy graphics and expensive materials right when many consumers are cutting back.
Dell likes to emphasize that it can sell consumers a range of products, catering to everyone from a first-time PC buyer to a hard-core game-player who wants the latest graphics chip. "You can play the game a couple of different ways," Ed Boyd, Dell's vice-president for design, says in a recent interview. "Apple has one approach, which is, 'Have it Steve's way,'" Boyd says of Apple CEO Steve Jobs, renowned for offering a narrow range of high-end products.
Dell has had it Michael's way for about two years, and investors are still hoping for better results. The end-of-the-year shakeup is a sign that the company may need to take even bolder steps in 2009.
Before it's here, it's on the Bloomberg Terminal.
LEARN MORE