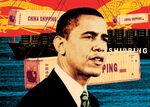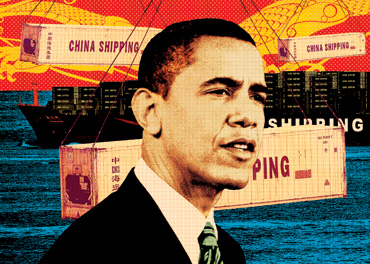 Global recessions can bring out the worst in trading partners. Plunging domestic demand in both China and the U.S. has left manufacturers in both countries plagued with overcapacity. American companies are now accusing their Chinese rivals of dumping products—selling at below-market prices—in the U.S. The clash could provide the first trade challenge for incoming President Barack Obama, who must balance his promises to be tougher with Beijing against America's need for Chinese funds to finance a projected $1 trillion federal budget deficit.
Stoking the controversy is the sudden activism of the Bush Administration, which U.S. manufacturing lobbyists often accused of being soft on China. The Bush White House filed lots of dumping cases but tried to head off bigger trade disputes with quiet diplomacy. But on Dec. 19, in one of her last acts as U.S. Trade Representative, Susan C. Schwab filed a sweeping petition with the World Trade Organization alleging that China illegally aids local exporters of Chinese-branded products, from appliances to apparel, with such subsidies as cash grants and cheap loans. "The programs are coordinated by agencies in the central government and have tentacles reaching deep into the provinces and cities," says a U.S. trade official. "We are talking about hundreds of companies."
China has denied the charges, but many U.S. companies are spoiling for a fight. The U.S. textile industry says China grabbed more than half of the U.S. apparel market for the first time this year by pumping $10 billion into new export subsidies since July. Industry lobbyists want Obama to be far more aggressive with Beijing, both in enforcing trade laws and applying diplomatic pressure.
The biggest brawl promises to be in steel. In December, the U.S. International Trade Commission, in an action separate from Schwab's petition, assessed duties of 35% to 40% on certain Chinese steel products to compensate for alleged subsidies. "Steel is often an early indicator of other trade problems," says Scott N. Paul, executive director of Alliance for American Manufacturing, a Washington trade group. "We need to send a signal that there will be consequences if China resorts to dumping." Beijing is challenging Washington's findings in the WTO.
Since April, Chinese monthly steel exports to the U.S. have nearly tripled. The biggest surges, in fact, occurred in the fall—even though the U.S. economy by then was sliding into deep recession. In October, Chinese steel exports to the U.S. hit an all-time high. At the same time, U.S. steel mills are running at 43% of capacity, their lowest level in 25 years, and dozens of mills have shut. After reporting record profits in 2007, U.S. Steel (X) on Dec. 2 shut mills in Michigan, Minnesota, and Missouri, idling 3,500 workers.
Trade hawks claim part of the problem is Beijing's use of subsidies, currency manipulation, and tax breaks for exporters in a bid to stem unemployment and preserve stability. The data suggest China is on track for a further jump in steel exports in 2009, says Barry D. Solarz, senior vice-president for trade and economic policy at the American Iron & Steel Institute. "Our fear," he says, "is that China will try to export its way out of this crisis by dumping here."
Washington trade attorney William H. Barringer, who represents Chinese steel producers, says most of the autumn's import bulge consisted of pipes for oil-drilling equipment. The orders were placed months earlier, when oil prices were high, he notes. Now Chinese steel shipments are falling. Barringer contends American producers are trying to make China a scapegoat. "This is what the U.S. steel industry historically does," he says. "There always is a crisis coming."
SIX-YEAR WONDER
Several factors make China the prime target in trade disputes. America's record trade deficit with China—at $233 billion for 2008 through October—tops the list. And since entering the WTO in 2002, China has become a manufacturing juggernaut. Six years ago, China exported little steel. It has since added capacity that's more than double America's total output. China now makes 40% of the world's steel.
Beijing hasn't helped its case by pushing policies that juice exports. In November, it began offering partial rebates of value-added taxes for thousands of goods produced for export. China had scaled back that controversial perk in 2007. Beijing also stopped letting the yuan rise against U.S. dollar. While none of these moves may violate WTO rules, the fact that China is pushing exports while global industries are reeling has raised alarms.
Beijing University finance professor Michael Pettis goes so far as to liken China's tax-rebate move to the Smoot-Hawley Tariff Act of 1930, the U.S. law that sharply hiked tariffs to protect American manufacturers. Smoot-Hawley is widely blamed for a wave of global protectionism that helped usher in the Great Depression. Back then, America was the world's workshop and suffered from huge overcapacity at a time of global contraction. "China is in the same position today," says Pettis. "So far, China is acting like it thinks it can export its way out of this problem. I am very, very worried."
With Dexter Roberts in Beijing
Before it's here, it's on the Bloomberg Terminal.
LEARN MORE