Tech's Dangerous Oversupply
A glut of technology and consumer electronics products could force manufacturers to suspend production
By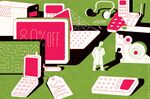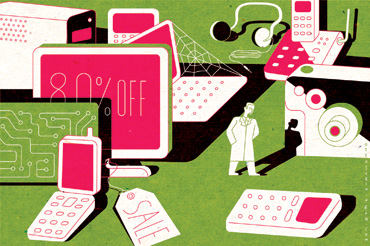 There's been little cheer this holiday season for technology and consumer electronics companies. On Dec. 26, MasterCard (MA) estimated that sales of electronics and appliances fell 26% year-over-year from the beginning of November through Dec. 24. Yet analysts are concerned that consumer penny-pinching is causing greater problems: Sales of televisions, personal computers, cell phones, and other products have been so slow that inventories appear to be piling up. "A lot of companies entered the holiday season with very subdued expectations," says Charles Wolf, an analyst at Needham & Co. "The anecdotal evidence suggests they still might have overestimated what they could sell over Christmas."
Rising inventories could cause a host of troubles in the months ahead. Tech and electronics manufacturers may have to slash prices to move product, which would cut into profits. They may also have to lower forecasts for 2009 sales as they wait for older goods to sell. And because technology products grow obsolete quickly, manufacturers may have to write down the value of products held in inventory as the market price for them declines. There could be a rerun of the 2001 tech crash, when companies including Cisco Systems (CSCO) took billions of dollars in charges because of excess inventory. "We could see some industry writedowns," says Jayson Noland, an analyst at Robert W. Baird & Co.
The inventories are clogging retail stores and manufacturing plants. Either way, tech and electronics companies usually have financial exposure. Many stores require manufacturers to take back products or compensate them when items fail to sell.
The glut looks particularly severe in semiconductors. Market research firm iSuppli expects industrywide chip inventories to surge to $10.2 billion by the close of December, from September's $3.8 billion. SanDisk (SNDK), which makes chips used to store data on cell phones and music players, says it will halt production at two Japanese factories for two weeks. The oversupply has swamped such chipmakers as Micron (MU) and Hynix as well.
Flat-panel TVs also are piling up and sales of the most popular LCD sets may decline in 2009 for the first time ever. Riddhi Patel, an analyst with iSuppli, estimates that the TV industry has about eight weeks of inventory, although four to five weeks would be more appropriate, given the sluggish demand. He predicts LCD sales will drop to $21.8 billion in 2009, from $24.4 billion last year.
THE HP WAY
Computer makers face similar issues. Desktop PCs and traditional notebooks are selling more slowly than expected as consumers opt for smaller, cheaper netbooks, which go for as little as $300. "The problem is hardware, anything where the ticket price is $250 or higher," says Richard D. Hastings, consumer strategist for Global Hunter Securities. "There's an enormous amount of product in the marketplace."
That has led to aggressive price cuts for PCs and other tech goods. But lower prices may not be enough. Companies may have to follow the lead of Hewlett-Packard (HPC), which shut down production for an extended period over the holidays. "Given the state of the economy," says analyst Stephen Baker of research firm NPD Group, "the way of clearing out the inventory is going to be to stop producing rather than to lower prices."
Before it's here, it's on the Bloomberg Terminal.
LEARN MORE