Solar: First a Shakeout, Then a Boom
Tumbling prices for solar panels may lead to an industry consolidation. But that could spell good times for the survivors
John Carey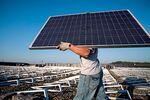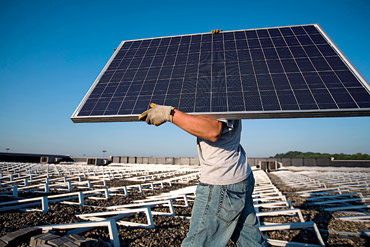 The law of supply and demand hasn't just wreaked havoc on the oil markets. Solar power, one of the favored industries of the incoming Obama Administration, also has been on a roller-coaster. As supplies of the panels that turn sunlight into electricity increase, prices are plunging, causing misery among manufacturers. "It's bad news for the next couple of quarters for a lot of us," says Roger Efird, president of Suntech America, the U.S. arm of China's Suntech Power, a top producer of solar panels.
Yet in solar, as in other cyclical industries, tough times can signal a bright future. "As prices come down, the economics of solar power will look that much better," explains Lisa Frantzis, managing director for renewable energy at Navigant Consulting (NCI). Because of lower prices and coming green initiatives from President-elect Barack Obama, Navigant thinks the global industry will grow from 3 gigawatts today to 10 to 15 GW by 2012—roughly equal to the output of a dozen new nuclear power plants.
Why the imbalances between supply and demand? For 25 years the cost of solar panels declined, sliding to about $3.15 per peak watt, a measure of electric power, by 2004. Then global demand soared, spurred by such incentives as Germany's policy of paying premiums for solar-generated electricity. The result: shortages of polysilicon, the main ingredient in photovoltaic (PV) solar panels. "We were held hostage by silicon pricing," says Efird. The spot price of polysilicon, normally less than $200 per kilogram, jumped to more than $450. That pushed up the price of solar panels to $5 per peak watt—creating big profits for silicon and panel makers.
A CROWDED FIELD
Then the market did its job. The profits led such polysilicon manufacturers as Michigan's Hemlock Semiconductor to expand their factories or build new ones. This year, Hemlock added 9,000 tons of capacity, almost doubling its output. By 2011, it will be able to make 36,000 tons annually. More than 50 new companies have also entered the market in the past two years. Solar-panel makers have kept pace, building factories around the world. Now, the global financial crisis, the decline of the euro, and a severe slowdown in some key markets have walloped demand. Supply of solar panels "appears to be overwhelming demand as we move into 2009," reports Merriman Curhan Ford analyst Brion D. Tanous.
Spot prices of silicon have plunged and the prices of solar panels have sunk to $3 per watt, with more declines predicted. "The solar PV industry could be facing very hard times over the next two years," says Edwin Koot, CEO of SolarPlaza.com, an industry group based in the Netherlands. Analysts predict a wave of consolidations. "The smaller solar players probably won't be able to survive," says Christine Wang, an HSBC Securities (HBC) analyst in Taiwan.
But those lower prices will restart the solar boom. The cost of solar is nearing the price of electricity in such states as California and Hawaii. Add in the long-term tax credit Congress just passed and mandates on utilities to generate more electricity from renewable sources, and the longer-term prospects look good. Navigant anticipates 27% to 36% annual growth rates for the next three years. Says Ron Kenedi, vice-president of Sharp's Solar Energy Solutions Group: "Today we have some issues, but we think there is an excellent environment coming up."
With Chi-Chu Tschang in Beijing
Before it's here, it's on the Bloomberg Terminal.
LEARN MORE