Automakers' Overcapacity Problem
Automakers have to cut factory overhang without losing their ability to ramp back up when people start buying cars again
David Welch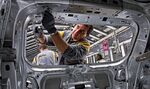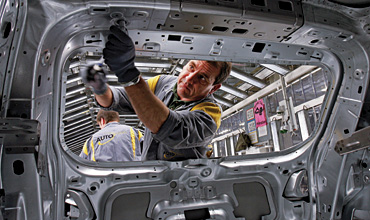 With sales tanking from Beijing to Boston, automakers find themselves in an embarrassing position. Having indulged in a global orgy of factory-building in recent years, the industry has the capacity to make an astounding 94 million vehicles each year. That's about 34 million too many based on current sales, according to researcher CSM Worldwide, or the output of about 100 plants.
In other industries, a cleansing wave of mergers and acquisitions often scrubs away the excess. It's true that Chrysler may well vanish or be folded into GM or another major player. But other marriages are unlikely because even potential suitors like Renault-Nissan are in a holding pattern until global economies turn around and credit for deals loosens up. So, yes, over the next year or so carmakers will idle factories and lay off thousands—and U.S. and Chinese carmakers will absorb much of the pain.
The challenge will be to cut the production overhang without losing the ability to ramp up when people start buying cars again. On the one hand, Toyota and other Japanese automakers are whacking production at home, where sales have slipped. In November, Toyota slashed production in Japan by about 27%, the biggest cut in 30 years. Japanese automakers also are letting go thousands of temporary workers and not renewing their contracts. But in North America, where the industry has the capacity to build some 7 million more vehicles than the market is buying, Toyota, Honda, and Nissan are so far slicing on the margins. They are slowing production, cutting contract workers, and postponing plans to open more factories because they're keen to grab share once the U.S. comes back.
The so-called Big Three don't have that kind of wiggle room, and shrinking at home promises to be wrenching. To become profitable, according to Michelle Hill of consulting firm Oliver Wyman, U.S. automakers will need to close at least a dozen of their 53 factories in North America in the next few years. Demoralized factory hands are bracing themselves. "Someone has to go," says a resigned Ray Johnson, who makes Chrysler sedans outside Detroit.
CHINA STRATEGY
Nowhere is there greater overcapacity than in China. Much as the crash of 1929 reordered the U.S. auto industry, a sudden dearth of buyers will do the same in the People's Republic. Industry watchers expect local companies to absorb much of the pain as the weakest players close and large state-owned companies gobble up the stronger ones.
That could be good news for foreign makers and their joint-venture partners. GM may be closing plants at home, but it is not retrenching in China, where it is much easier to furlough workers and rehire them when things pick up. Toyota is actually expanding its Chinese operations: In October it announced its sixth plant.
As in China, the global downturn has hammered automakers in Russia and Eastern Europe. Hardest hit: Russia's top two car manufacturers, Avtovaz and GAZ, both of which began slowing production in October. Multinational car companies, which have grabbed about three-quarters of the Russian market, are hurting too but are reluctant to pull back for fear of losing out in the long run. Heidi McCormack, GM's director of new business development in Moscow, calls Russia "our No. 1 growth market" and says the slowdown in sales has more to do with tight credit than consumer demand.
Many Western European governments are giving their carmakers financial assistance, but there's a catch. They get the money only if they don't close plants at home. Since the likes of Volks- wagen and Renault-Nissan don't want to shut new, low-cost plants in the east, they're eyeing cuts in places like Spain, Portugal, and Italy where there is less political pressure, says Jim Schmidt, a vice-president at Oliver Wyman.
Carmakers expect sales to revive starting in 2011. And no one thinks they can take out 34 million vehicles' worth of production by then. What they're relying on, says Michael Robinet of researcher CSM, is population growth and a sales bonanza in 2013 as people start replacing aging vehicles. That, he says, could fuel a big turnaround.
Even then, though, there will likely be too many factories. So carmakers will seek alliances to jointly develop and build cars, and some well-financed players might even go shopping once the banks start lending again. But in the meantime, the industry will experience a once-in-a-century contraction that only the strongest will be able to use to their advantage.
With Dexter Roberts in Beijing, Carol Matlack in Paris, Jason Bush in Moscow, and Ian Rowley in Tokyo
Before it's here, it's on the Bloomberg Terminal.
LEARN MORE