Toyota Likely to Pick Scion as Next President
Japan's auto world is abuzz after the grandson of Toyota's founder was reported to become the carmaker's next president
Ian Rowley and Kenji Hall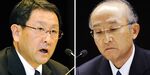 From the moment Akio Toyoda joined Toyota's (TM) board of directors in 2000, rumors circulated that the scion of the Japanese carmaker's founding clan was being groomed for the top job. Now the 52-year-old executive vice-president is likely to succeed President Katsuaki Watanabe after winning the board's support, a source close to the Japanese automaker told BusinessWeek.
If Toyoda is appointed, he would be the first executive from the founding family to lead since 1995. He would also face the difficult task of restoring the automaker to profitability and getting it through one of the toughest periods in its 71-year history.
News about Toyoda, the grandson of founder Kiichiro Toyoda, was first reported in Japan's Asahi Shimbun newspaper on Dec. 23. A Toyota spokesman said no personnel decisions had been made.
Confirmation May Be Months Away
Toyota normally announces executive promotions by April and confirms them at the annual shareholder meeting in June, so Toyoda's formal appointment could still be months away. Typically, Toyota presidents serve two or three terms of two years each. Watanabe, who has been president since 2005, had considered stepping down several months ago for personal reasons but stayed on to help draw up an emergency plan as the U.S. financial crisis rattled markets globally, said the source, who requested anonymity.
It's unclear whether Toyota's profit warning on Dec. 22 played a role in hastening the board's decision to replace Watanabe. Hurt by a mix of unfavorable currency swings, slumping worldwide auto sales, and high materials costs, Toyota forecast an operating loss for this fiscal year through March 2009 of $1.7 billion—its first-ever annual loss. The profit revision was Toyota's second in six weeks and reinforced how the global auto industry has been slammed by the U.S. banking crisis. Net profit, which includes income from joint ventures in China, is forecast to shrink 97%, to $555 million.
Analysts expressed mixed feelings over news of Toyota's C-suite change. UBS (UBS) analyst Tatsuo Yoshida said that Toyoda could be a unifying force for the company, but questioned why the company had to act now. "I don't think it is a good time to change top management," Yoshida says. Others worried that a new president could slow the decision-making at a time when the company needs to be able to react quickly to unexpected events. "It would have the effect of intensifying the sense of crisis within the company," says Mamoru Kato of Tokai Tokyo Research Center.
Toyota's defenders say critics would be right if the company depended on a single authoritative figure, but the automaker's management reaches decisions by discussion and consensus. "When top management makes decisions, it does so as an organization, as a team," says a person with close ties to Toyota's management. "Akio's promotion isn't enough to assess what will happen to Toyota. The organizational changes in April and June should reveal a lot more."
Building a Web Site
Toyoda would appear to be well qualified to become the top executive. He has gone to great lengths to earn his promotions on merit, not because of his family connections, say observers.
Toyoda joined the carmaker in 1984, after getting an MBA at Babson College near Boston and working in London and New York as a banker and consultant. In the late 1990s, he led a Toyota venture called Gazoo.com, even before the company paid much attention to the Internet. Started as a Net-based database for used cars, Toyoda built the site with few resources into one of Japan's most popular Web sites for car enthusiasts. It now offers industry news, car reviews, and a cyber-mall, and even has a thriving online community of bloggers who regularly post commentaries, photos, and other content. "People assume that Gazoo sprang from Toyota's flush war chest," Akio told BusinessWeek in a 2001 story. "But we toiled without much funding before finally selling management on the concept."
Later that year, Toyoda was assigned to run the company's operations in China. Toyota hadn't yet built up much of a presence there, and Toyoda forged alliances with Chinese automakers, notably First Automotive, that would prove key to the company's expansion plans. Named a senior managing director in 2003—the youngest at Toyota—he also worked in the U.S., as vice-president at Toyota's joint venture with General Motors (GM) in California, New United Motor Manufacturing. More recently, Toyoda took on the tough job of reinvigorating domestic sales, which has been in decline for years. "He has put in the time to learn the ropes and has not been given any special favors because of his name," says J.D. Power & Associates (MHP) Vice-President Alberto Lapuz. "Many senior board members point to him as 'one of us,' which is the ultimate compliment."
Toyoda has a reputation for being a determined debater, which has served him well in meetings with other headstrong board members, according to one former insider. An amateur car racer, Toyoda fought to save the Lexus LF-A, a GT racer, from being sidelined, after it was shown as a prototype at the North American International Auto Show. It made its debut in May at the 24-hour endurance race in Nürburgring, Germany, and last month Toyoda got behind the wheel for an exhibition run at the Fuji Speedway in Japan.
But he also has been careful not to abuse the authority that's his birthright. "The Toyoda name still carries a lot of weight even among top management," says the the person with ties to management. And occasionally he has taken a low profile so other executives can be recognized. When J.D. Power officials recently called to invite Toyoda to receive an award, he recommended that another executive receive the credit, says Lapuz.
Before it's here, it's on the Bloomberg Terminal.
LEARN MORE