India's Car Market Offers No Relief for Automakers
As sales plunge, Indian auto plants are slashing production, cutting shifts, and putting joint ventures on hold
Nandini Lakshman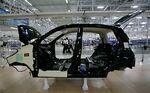 Until a year ago, India (India) was the fastest-growing automotive market in the world. Today the $33.3 billion Indian auto industry has slumped to an eight-year low. November was particularly bruising as passenger car sales skidded 19%, to 83,079, down from 103,031 a year ago. Trucks sales plunged by half, the worst in 10 years, according to the latest data released by the Society of Indian Automobile Manufacturers (SIAM). "The complete lack of consumer finance and high interest rates [are] putting off consumers from buying vehicles," says Dilip Chenoy, executive director of SIAM.
As America's Big Three teeter on the edge of bankruptcy, and even Japanese powerhouses like Toyota (TM) and Honda (HMC) drastically cut back their sales projections, emerging markets like India are offering no relief. The credit crunch has forced Indian and global automakers to pull back production, reduce shifts at plants, and lay off contract labor in the past two months. Toyota has slashed production by 30% since November and has halted production for eight days a month at its plant in Bidadi on the outskirts of Bangalore. In keeping with Toyota's global practice, training sessions during plant holidays ensure that the workforce is not idle. "We also send them out on corporate social responsibility projects," says Shekar Vishwanathan, a Toyota director. At Chennai in southern India, Hyundai Motors has begun keeping its factory closed for a day every week to rationalize production costs.
Joint Ventures Slowing
Companies that have teamed up with local partners are putting the brakes on Indian ventures, too. Mahindra Renault, a joint venture between Nissan Renault and tractor and auto manufacturer Mahindra & Mahindra that makes the Logan sedan (Dacia in Europe) in India, closed its factory in Nashik, 74 miles from Mumbai, for three days earlier this month. Renault has pushed back production of trucks with another Indian partner—Ashok Leyland in the south—by six months, to mid-2010. Renault's small car, a venture with local player Bajaj Auto, is expected to be made in 2011 as planned, but the plant in Chennai may use just one shift instead of two. "Auto companies have no option but to defer plans, as vehicle buying has petered off," says Abdul Majeed, a partner at PricewaterhouseCoopers in Chennai.
The biggest name in the Indian auto business, Tata Motors, is also retrenching. The company, which hopes to launch its much-hyped $2,000 Nano car in 2009, shut its commercial vehicle plants in Pune in the west and Lucknow in northern India for a week to 10 days in November to avoid building up inventory. Tata Motors continues to maintain that the Nano would be launched by March next year. And Mahindra & Mahindra eliminated 900 jobs in India and international operations.
A big problem: Most of the consumer demand that drives the Indian auto industry relies on financing. The liquidity crunch, credit squeeze, and weak currency have combined to make auto loans more expensive. Lending for new cars now accounts for 65% of consumer auto purchases, down from 85% a year ago. ICICI Bank, India's largest private-sector lender, expects a 35% drop in car loans this year, worse than the average 16% dip in loans for the industry. "The market is not conducive for lending, so we are not pushing auto loans aggressively," says N.R. Narayanan, the group business head of vehicle financing at ICICI Bank.
Tighter Credit Standards
With banks not in a mood to lend, interest rates on car loans hover at around 14% to 18%, up from 10% to 12% not long ago. A slew of rate-cutting measures by the central bank in the past two months hasn't yet enticed big lenders to cut rates. On the contrary, banks have been tightening credit standards. "It is not just the availability, but the better cost of finance which is the main problem," says S.M. Bafna, head of Bafna Motors, a leading Mumbai auto dealer for Honda, Tata Motors, and Toyota.
To boost consumer demand in many sectors, including auto, New Delhi announced a $4 billion stimulus package on Dec. 7. It also lowered the tax on many products, excluding petroleum, by 4%, and dropped gas and diesel prices by 6%. The auto industry greeted the move with enthusiasm, and most of the big companies reduced vehicle prices within days. Auto stocks like Tata Motors, Maruti Suzuki India, Bajaj Auto, Mahindra, and Hero Honda Motors are up 14% on average since the tax cuts.
However, customers have yet to warm up to the price reduction. "Nothing will change in a hurry," says Ramnath Subramaniam, director of research at Mumbai brokerage firm IDFC-SSKI Securities. SIAM's Chenoy expects another round of rate cuts from the central bank "before consumer sentiment picks up."
Before it's here, it's on the Bloomberg Terminal.
LEARN MORE