Expanding Honest Tea Without Diluting Its Brand
Honest Tea founder Seth Goldman explains how packing his son's lunch box helped him understand the true value of his brand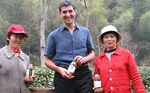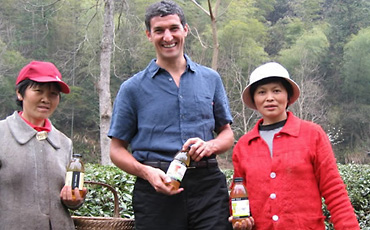 The Entrepreneur: Seth Goldman, 43
Background Goldman, an active runner since the eighth grade, had been hunting for the perfect thirst quencher for years, often concocting his own juice combinations after his runs. When one of his running buddies urged him to start a beverage business about 10 years ago, Goldman jumped on the idea. In short order, he called Barry Nalebuff, one of his former professors at the Yale School of Management. Nalebuff had recently returned from India where he had analyzed the tea industry for a case study and determined most American iced-tea makers bought cheap tea leaves. The two came up with the idea for an all-natural brew that used only high-quality tea leaves. By 1998, Goldman had quit his job at Calvert Investments and was brewing batches of tea in his kitchen and storing it in thermoses.
The Company: Honest Tea launched in 1998, offering five varieties of barely sweetened tea. The company nabbed its first account, Fresh Fields—the precursor to Whole Foods (WFMI)—using tea samples made in Goldman's kitchen. Today, 20 varieties of Honest Tea are sold in 25,000 locations across the country, along with seven other products. Earlier this year, the company sold 40% of the business to the Coca Cola (KO).
Revenues: $39 million
His Story: When my co-founder Barry and I launched Honest Tea, we always thought of ourselves as a tea company. But it took my 12-year-old son Elie to help us understand that "tea" wasn't the most important word in our company's name.
Ever since we began selling our product, our goal was to turn Honest Tea into the best-selling bottled tea brand in the natural food channel—a goal that we realized in 2005. As a result of our success, we felt we had the momentum to expand our tea business in new directions.
Since our core bottled tea business had seven of the top 10 best-selling varieties in the natural food category, we weren't pressed to analyze where the true value of our enterprise lay. We thought we could duplicate our success in other areas. But we soon discovered that moving away from our core value proposition could be a painful and costly diversion. Yet it was exactly those same costly diversions that helped us understand what business we were really in.
Our tea bags, for example, were a perfectly nice product line. In response to customers' requests, we took the same tea leaves from our bottled tea and sold them as tea bags in 1999. However, it turned out that the packaging was a little too unconventional. We designed innovative bags which contained whole tea leaves, instead of tea dust. But the bags were a little too costly, and the line never really took off. At the same time, it was hard to differentiate our tea bags from the other brands on crowded shelf space.
We also ended up wasting a lot of time and money running our own bottling plant, because we were afraid we wouldn't find any other place to bottle our tea. In 1999, we had invested more than $1 million in a plant in Pittsburgh, along with two other partners. Now that we owned the plant, we ended up multiplying our worries. For one, we were worried about keeping the line full, so we agreed to pack tea for other brands, which occasionally meant creating competition for ourselves. Overseeing the bottling plant was an enormous distraction—none of the other owners or I had any experience running a bottling plant, which is a very different business from building a brand, and I found myself driving to Pittsburgh several times a month to try to keep the plant afloat.
However, it wasn't until my son Elie asked, "Dad, how come you sell healthy drinks to adults but give us sugary drinks for lunch?" as I put a drink pouch into his lunch bag two years ago, that I began to think critically about the kind of business I had built. As I read the ingredients statement on the box, I realized he was painfully correct—the pouch drink I had been giving my sons had more sugar per ounce than a can of soda. For a few weeks, I put a glass bottle of Honest Tea in his lunch box, but the bottle was heavy and rarely returned home empty.
Our company had just started marketing a line of organic thirst quenchers we called Honest Ade that had just a touch of juice for flavor. So I started putting plastic bottles of Honest Ade into Elie's bag. It was an improvement—48 calories per serving instead of 100 per serving from the drink pouches I had been buying. The problem was, Elie would still come home with half-full bottles.
As a result, we decided to introduce Honest Kids—a line of lightly sweetened drink pouches for kids in a smaller serving size than our regular drinks. The new line, rather than pulling us away from our core value proposition, actually expanded on it. The pouches have been phenomenally successful—in just one year we have sold 30 million of them—more than the number of bottles of tea sold in the same time frame. We are now in the process of identifying additional food and beverage categories which need to get a little more "honest."
Sometimes a diversion leads to uncovering the true value of your brand, sometimes it's what takes a business under. For example, we eventually sold off the assets of the bottling plant (at a loss) and licensed the tea bag line. And we recently had a customer who asked us to go into banking, but that feels a little too far afield, at least at this time. But we all need to innovate—one of my favorite quotes that we have on our bottle caps is from Frank Scully: "Why not go out on a limb? Isn't that where the fruit is?" There's nothing wrong with going out on a limb, the key is to recognize when the branch has a strong connection to your trunk.
—edited by Stacy Perman
More journals are available in our ongoing series
Before it's here, it's on the Bloomberg Terminal.
LEARN MORE