The Robust Dollar: A Chance to Diversify Overseas?
The currency's temporary strength provides an opportunity to build up positions in foreign markets
Ben Levisohn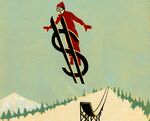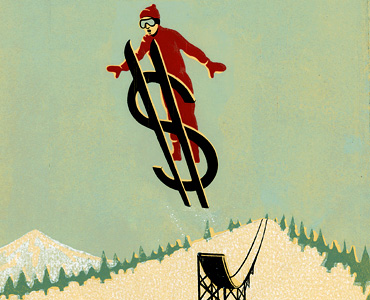 After years on the skids, the dollar has climbed 13% against a basket of major currencies in the past six months. While that means pain for exporters, the greenback's renewed vigor gives globally minded U.S. investors a reason to celebrate—and not just because a Coke in a Paris café now costs around $2.60 instead of $3.10. Another result of the dollar's recent strength is that foreign stocks are cheaper for U.S. investors.
Investors should tread carefully, as markets are expected to remain volatile through 2009. But for those with the stomach to start nibbling on stocks, foreign markets may provide a compelling opportunity. In local currencies, Europe's bourses are down more than 40%, and Brazil, Russia, India, China, and other emerging markets are off as much as 70%. But market moves are only one source of foreign returns. Most overseas equities trade in local currencies, and the dollar's rebound has made shares in many of those countries cheaper. In dollar terms, those markets are down an extra five to 20 percentage points. "This is a great time to start building positions" overseas, says Jeff Layman, chief investment officer at BKD Wealth Advisors. He recently increased his stake in emerging markets from nothing to 5% of his portfolio.
Why should you believe the dollar won't continue to strengthen? Its rise has been spurred by many factors: a flight to safety, the realization that the rest of the world is just as troubled as the U.S., and a sell-off by investors needing to shore up their balance sheets at home. None of those, though, is an explicit vote of confidence in the U.S. "It's not that the dollar is so strong," says Matthew McCall of Penn Financial Group. "It's that other currencies are so weak."
EVERYONE NEEDS TO EAT
Many professional investors are betting the greenback's surge will be short-lived. The U.S. federal debt has swelled by $1.5 trillion in the past year, to $10.7 trillion, or 73% of gross domestic product. And even when the recession ends, most economists are predicting lackluster growth at best. "It's hard to make the case for the dollar's continued strength once we get out of the crisis environment," says David Reilly, director of portfolio strategies at mutual fund manager Rydex Investments.
So fund managers are trolling for international companies that have the financial strength to weather the storm. Since everyone needs to eat, food producers are popular in a recession. Investors might want to look at Nestlé (NSRGY), the world's largest food company (down 16% in Swiss francs, 22% in dollars). If you like Wal-Mart (WMT), British supermarket chain Tesco (TESO)—down 38% in pounds sterling but 52% in dollars—is worth a look. And for those sifting through the rubble of the financial sector, banking stock HSBC (HBC) (down 15% in sterling but 34% in dollars) is an attractive play.
For a straight bet on a country's economic strength, currencies make sense. Currencies have a reputation for being riskier than stocks, but recent losses have been much smaller than in equities. The Indian rupee, for instance, dropped 19% in the past year—painful, but less so than the 61% decline in India's Sensex stock index. Once out of reach of most investors, currencies are now available as exchange-traded funds, and many strategists recommend making a basket of developed- and emerging-market currencies a part of any portfolio.
Not everyone is predicting the dollar's decline. Adviser Charles Zhang doesn't see a weakening soon. If you want to venture abroad, he says, "take a trip"—but leave your investment dollars home. Even some dollar bears don't believe investors should rush headlong into foreign markets. Mohamed El-Erian, Pimco's chief executive, recommends investors keep plenty of cash on hand and diversify slowly. Still, "there's one thing we know for sure," he says. "Global growth is going to come from many sources, not just the U.S."
Return to the Investment Outlook Table of Contents
Before it's here, it's on the Bloomberg Terminal.
LEARN MORE