How Loomis Sayles' Dan Fuss Works the Bond Market
Despite a 30% drop this year in his fund, Loomis Sayles' Dan Fuss sees big opportunities, particularly in the borderline BBB-rated bonds
By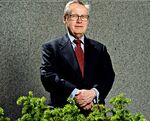 Since the credit crisis began last year, Dan Fuss has canceled all of his vacations. "I don't have any downtime now," says the 75-year-old manager of the Loomis Sayles Bond Fund. "I get up at 4 a.m., go to work, come home, have dinner with my wife, and go to bed. I do that every day but Sundays, when I go to mass." It's a safe bet that Fuss prays for a speedy economic recovery.
Fuss has been managing bond portfolios for 50 years, yet he has never seen a crisis like this, which he says will leave markets volatile for some time to come. "I can't necessarily say I've survived the worst bond market anymore," he says. So far in 2008 his $11 billion fund, which can invest in any kind of bond, has taken it on the chin—down 30%. Still, his long-term track record is enviable: Over the past decade, Fuss has returned an average of 4.88%, beating more than 80% of his peers. Although the credit crisis has hammered his and other funds, he's excited about the opportunities he sees. "This is a bond-picker's market, no two ways about it," he says. "The selling is indiscriminate across the board, so there are phenomenal opportunities."
Fuss is particularly fond of corporate bonds with BBB credit ratings, which sit on the cusp between top-quality bonds and low-rated junk. "BBB-rated bonds are a highly inefficient area of the bond market," he says. "They don't have natural holders. Junk-bond funds often can't hold them because they're too highly rated, while traditional bond fund managers often think they're too risky." That's especially true now, he says, given that investors have shunned all but the highest-quality bonds. "The difference in yield between an A-rated bond and a BBB-rated one has historically been about 0.4 percentage points," he says. "Now it's about three points. That's huge."
One Fuss favorite in the BBB arena is International Paper (IP). "In 2007 you would get maybe 5.5% to 6% on the company's long-term bonds," he says. "Now you can get them for 12%." Although the paper industry has been struggling for some time, Fuss isn't worried. "Paper is in a cyclical downturn," he concedes, "but even if it continues to fall, the last company standing in that sector will be International Paper."
UPSIDE DOWN UNDER
Currently, junk, or high-yield, bonds account for 25% of Fuss's portfolio. His high-yield favorites include BB-rated glass manufacturer Owens-Illinois (OI) and natural gas producer Chesapeake Energy (CHK), both of which Fuss feels are poised for ratings upgrades.
Fuss has also been dabbling in foreign bonds, which are now 15% of his portfolio. "In the past three months a lot of foreign bonds have fallen sharply as investors have fled to U.S. Treasuries," he says. Right now Fuss likes government and corporate bonds in Australia and New Zealand. Both countries' governments have large budget surpluses, making the likelihood that they will default on their debt pretty slim. On the corporate side, Fuss has been buying bonds that multinationals such as General Electric (GE) and McDonald's (MCD) have issued in Australia and New Zealand, which yield a lot more than their U.S.-issued debt. "In the U.S., a GE bond might yield about 8%, while in New Zealand it yields 10.5%," he says. "But because the New Zealand bonds are highly illiquid, you have to hold them to maturity."
Fuss's buying spree has been tempered by the need to remain liquid enough to handle redemptions by nervous fund investors. Even though he thinks Treasuries are overvalued, he has kept as much as 10% of the fund's assets in highly liquid government debt just for redemptions. "The redemptions really hurt in September and early October, since we wound up selling bonds in an illiquid market that we really wanted to buy," he says. If anyone has the experience to navigate this market, it's Fuss. It will be a while, though, before he's able to sleep in.
Return to the Investment Outlook Table of Contents
Before it's here, it's on the Bloomberg Terminal.
LEARN MORE