FedEx Whites-Out the Kinko's Name
Poor customer service and fast-changing technology are still problems. Can the delivery giant redeem its troubled copy-chain unit by rebranding?
Christopher Palmeri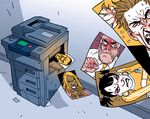 Kinko's is not what it once was, and many customers don't like that a bit.
"They are chronically understaffed and overpriced," Pamela Haber, a Los Angeles event planner, says of the printing giant. "I've done enlargements—I had to get behind the counter to show them what to do."
Gerald Bose, a Sewell (N.J.) management consultant, complains: "You go in there now, the average person, you're not sure what the place is. The first thing you see is the photo kiosk. You can mail stuff. There's the color copier. Way over in the far corner, computers [for word processing and other tasks]. They are getting away from their knitting."
FedEx (FDX) hoped for something very different when it bought the copy king for $2.4 billion in 2004. Combining FedEx's ubiquitous delivery system with 1,200 Kinko's would provide access to consumers at every step as they created documents and shipped them around the world. "FedEx and Kinko's share a similar heritage, culture, and commitment to superior service," Frederick W. Smith, FedEx's chairman and CEO, said at the time.
Instead, the FedEx-Kinko's marriage has become a case study in the challenges of meshing disparate corporate cultures. Even as FedEx tries to capitalize on the demise of rival DHL's U.S. delivery business, management still has plenty of heavy lifting to do as it tries to boost profitability and improve customer service at the printing unit.
ERASING A BRAND
Since the delivery giant acquired Kinko's, the unit's profits have fallen from more than $100 million in 2004 to $45 million in 2007. Revenue has stagnated at $2 billion. In 2008, FedEx announced an $890 million write-off on the purchase and named the third CEO to head Kinko's in four years. The $38 billion-a-year combined company stopped reporting the printing unit's financial results separately in September 2007. And now FedEx is dropping the Kinko's brand. The chain will be called FedEx Office.
Some longtime customers are lamenting the imminent demise of the Kinko's sign, which FedEx will start removing from stores next year. Andy Sernovitz, an author and marketing consultant in Chicago, says he got more frustrated reader responses to a blog item he wrote about the name change than to any other. "It's not just a place you shop," he explains. "A Kinko's moment culminated in something big. It's the night before the term paper, and you've got to get to the frat party. It's your wedding invitation, your résumé, a big presentation."
Tom Vander Well, a call-center consultant in Pella, Iowa, fondly recalls stopping at Kinko's while on the road: "We'd go anytime, night or day. There was always someone there to help, free coffee; it was a good feeling." But his last visit was spent trying to get machines to work or catch an employee's eye for assistance. He left unhappy, "never to return," he says.
The latest CEO of FedEx Office Brian D. Philips faces the challenge of turning it around in what his boss, FedEx founder Smith, calls "the worst economic conditions in the company's 35-year operating history." On Dec. 18 FedEx announced that it was cutting employee salaries 5% to 10%—as well as cutting Smith's pay by 20%—and doing away with retirement plan matching contributions and pay raises for a year. The company hopes such measures will help it reduce costs by an additional $800 million over the next 18 months.
Philips says the company is still investing in the printing business, for example by buying printers that make large signs and offering new services such as direct mail for businesses. "There's a lot of potential here," he says. "FedEx and Kinko's are both networks, and what FedEx is very good at is running networks.
"
The first Kinko's opened in 1970 in a former burger stand near the University of California at Santa Barbara. Naming the company after his kinky hair, founder Paul Orfalea tapped into demand on campus for cheap copies. He also developed an unusual pay model: In addition to their modest salaries, employees divided 25% of the profits. Orfalea extended that feature as he opened stores in partnerships with local entrepreneurs.
Kinko's was a fun place to work. At what became company headquarters in Ventura, Calif., employees got free lunches on Fridays. There was a basketball court, a baseball diamond, and on-site child care. Kinkoids, as workers called themselves, became an extended family.
By 1996, Orfalea and his partners were looking to cash in some of their chips. He sold a controlling interest to the buyout firm Clayton, Dubilier & Rice and soon was relegated to the role of "chairperson emeritus." Clayton Dubilier hired Gary Kusin, who had run the software retailer Babbage's. Kusin moved the headquarters to Dallas, laying off 700 staffers.
Both Orfalea and Philips say the private-equity owners shifted from face-to-face employee training to Web-based programs and slowed store expansion. That hurt morale as many workers figured that they had less opportunity to advance. The company did away with the 25% profit-sharing and reduced the number of 24-hour stores, a Kinko's hallmark.
"Kinko's grew up on college campuses; it developed a kind of People's Republic of Kinko's feeling, and it was wonderful," says Kusin, who left the company in 2006 and now works for the buyout firm TPG. "But at some point in any company's growth and maturity they have to professionalize and move forward into a new future."
Thomas C. Franco, a spokesman for New York-based Clayton Dubilier, says the firm focused on growth opportunities such as larger corporate printing jobs. By improving efficiency, the firm increased Kinko's profit margin from 5% in 2001 to 11.7% in 2003, he says.
Frustrated with the changes, however, Orfalea sold the rest of his shares to Clayton Dubilier in 2003. A year later the firm sold the business to FedEx, booking a $1 billion profit.
By then, Kinko's already was developing a reputation for poor customer service. In 2003 comedian Dave Chapelle produced a skit on his cable television show parodying a training video for a Kinko's-like store called Popular Copy. "Occasionally you may get snagged by one of these customer people," Chapelle said. "Just remember your job is to frustrate them and make them feel unwanted."
Such perceptions marked a sharp contrast to FedEx's absolutely, positively get-it-there-overnight image. Customer service scores for the company's package delivery business have risen in recent years, according to an annual University of Michigan survey. Last year, FedEx landed a spot on BusinessWeek's list of customer service champs.
HOME COPIERS
But the FedEx Office unit has fallen victim to changing technology. Copier makers such as Xerox (XRX) and Hewlett-Packard (HPQ) have reduced prices and improved quality, putting commercial-grade machines within reach of almost any home or office. Prices for commodity jobs got much more competitive, particularly as office supply stores such as Office Depot (ODP) and Staples (SPLS) began offering low-cost printing services. "Five years ago a color copy was 99 cents a page; now it's 29 cents," says Charlene Sims, who runs an independent print shop in Dallas. That has left FedEx with more of the difficult printing jobs, such as those requiring specialized bindings and large orders on short deadlines.
Philips says he's making improvements. Customers can now track print jobs online to see when they are finished.
He's experimenting with time-based service commitments, such as in-by-9 a.m., done-by-noon. Store employees must perform quality checks three times on printing jobs.
The company says customer complaints are down 40% since 2006 and now run at fewer than one per every 10,000 orders. Internal metrics, such as the percentage of projects done correctly and on time, have risen from the 70% range to the high-90% range companywide, Philips says.
Meanwhile, Philips is giving store managers more opportunity to promote their businesses locally with coupons and price cuts that help them compete against rivals. Employee turnover—nearly 50% two years ago—fell to 21% for full-time workers, before the overall job market weakened substantially in recent months.
Donald Broughton, a stock analyst who follows FedEx for the investment firm Avondale Partners, says he believes the Kinko's buy will ultimately turn out to be smart. FedEx has made acquisitions in the past—such as overseas cargo line Flying Tiger—that were difficult to integrate initially but ultimately proved valuable, Broughton argues. He adds that FedEx is picking up $1 billion a year in lucrative shipping business through Kinko's sites.
That doesn't mollify Kinko's founder Orfalea. He fumes over the looming disappearance of his company name. "All the things they could have done with that brand," he says, throwing up his arms. "They could be providing online photo processing. They could be the leader in printing books on demand."
Philips says the FedEx Office name will create more opportunities for growth. "Kinko's is known as copies," he says. "Nine-cent, black-and-white copies you got in college. FedEx is a very elastic brand. We do packaging, shipping, digital document storage, direct mail. We're the back office for small businesses, the branch office for mobile professionals. Copies are a small part of our business."
Business Exchange related topics:Co-BrandingBrand IdentityFedEx Corp.Mergers and Acquisitions
Before it's here, it's on the Bloomberg Terminal.
LEARN MORE