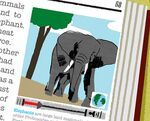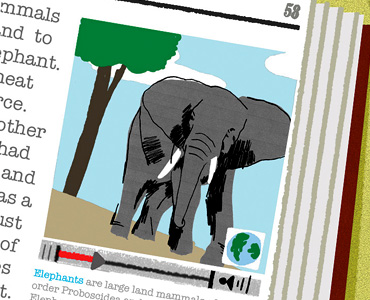 From magazine publishers to TV broadcasters, everyone is looking to offset a dismal advertising environment with cool content they can sell directly to an audience. And smart media companies are figuring, why invent something new when we can recycle (or, to use an annoying buzzword, "repurpose") stuff we already have?
One of those companies is Discovery Communications, a collection of cable channels that includes TLC, Animal Planet, and, yes, Discovery. In recent years, the company has become known for such shows as American Chopper, Dirty Jobs, and Deadliest Catch. But Discovery has a mother lode of educational video—100,000 hours dating back nearly 25 years—fully digitized and stored in a vast room of servers in Evanston, Ill. Instead of letting the archive remain idle, the company is digging into it for videos about science, nature, and culture to sell to schools around the U.S.
Two years ago, Discovery got a new chief executive officer in the person of David Zaslav, an NBC Universal (GE) veteran looking to run his own network. One of Zaslav's first edicts to his new team: Vet money-losing businesses to see if they should die or be saved. Bill Goodwyn, an affable North Carolinian, was asked to take an unvarnished look at Discovery's money-losing efforts to sell video content to schools. He knew that Goodwyn had persuaded cable and satellite companies to carry a bunch of Discovery channels. Zaslav figured Goodwyn could work the same magic with school district apparatchiks.
Goodwyn quickly stopped investing in a failed subscription service that had been conceived in an ivory tower somewhere: Parents supposedly were going to pay $9.95 per month for educational videos that would help guide their kids through homework assignments. The service never took off. Selling video directly to schools was a much better idea but had been poorly executed. United Learning, as that service was known, was never fully integrated into Discovery and failed to take advantage of the company's scale and resources.
After renaming the business Discovery Education, Goodwyn made the entire archive available. Working with states and school districts, he tailored the video to suit lesson plans. For example, dramatic footage of tornadoes from Discovery Channel's Storm Chasers fits nicely into an earth science lesson on weather patterns.
Educators bit hard. School districts all over the country signed on, as did the states of Connecticut, Kentucky, and Georgia. Today, says Goodwyn, more than 4,000 full-length videos and 40,000 clips are being used by a million teachers and 35 million students. In Knox County, Tenn., fourth-grade teacher Teryl Magee uses a liquid-crystal display projector to screen Discovery video on a whiteboard. During a recent lesson on carnivores, Magee showed Animal Planet clips of a wolf chasing a deer. She was able to freeze the images and have students write directly over them on the board. In another lesson about the solar system, Magee loaded Discovery's When We Left Earth series into six classroom laptops: Students then mashed together clips to create their own movies.
Discovery Education is a decent business. About half of the nation's 120,000 schools pay $2,000 a year for the service. If the company manages to blanket the U.S., annual proceeds would total some $240 million—a nice addition to the company's $3 billion in yearly revenues. And because Discovery owns the rights to most of its content, Goodwyn says, the offshoot is already in the black. It doesn't hurt that Discovery is putting its shows in front of a very young audience (with an incentive to pay attention). "These students are going to be our TV viewers of tomorrow," says Goodwyn.
The even bigger money could be in textbooks. In the coming years, giant publishers like Pearson (PSO), Houghton Mifflin, McGraw-Hill (MHP), and others will go digital. Students will ditch heavy textbooks for computers or handheld devices such as the Sony (SNE) Reader or Amazon's (AMZN) Kindle. Discovery would like nothing more than to place its TV programs in those digital textbooks. With a major presence in U.S. schools, the company is now trying to make that case to a couple of publishers. And if the book guys don't want to play, Goodwyn says: "We're thinking about getting into the business ourselves."
Before it's here, it's on the Bloomberg Terminal.
LEARN MORE