Can Airbus Keep Its Edge on Boeing?
A strike and Dreamliner troubles have hurt Boeing plenty, but if Airbus falls further behind on its A350, it could be in even deeper trouble
By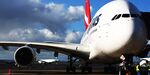 It has been a rotten year for Boeing's (BA) commercial jet business. Production glitches and a 58-day machinists' strike this fall have pushed its newest plane, the 787 Dreamliner, a full two years behind schedule. Archrival Airbus (EAD.PA) has pulled ahead in the race for new orders, logging 756 net sales this year, compared with 657 for Boeing. At the same time, Airbus seems finally to have untangled its A380 mega-jet's production mess. And the strengthening of the dollar against the euro has boosted Airbus' bottom line and helped the European planemaker regain some of its competitive edge.