Alcatel-Lucent's Perpetual Turnaround
Alcatel-Lucent CEO Verwaayen announced a reorganization and a new strategy for the struggling telecom equipment maker
Jennifer L. Schenker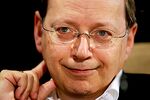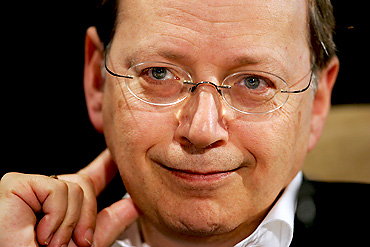 Alcatel-Lucent (ALU) announced on Dec. 12 that it will reorganize its divisions, shift its product strategy away from declining markets, and slash 1,000 management jobs and 5,000 contractors. The move prompted one analyst sarcastically to ask the Franco-American equipment maker's newly appointed chief financial officer, Paul Tufano, whether such restructuring—Alcatel's third in three years—is a trend that can be expected to "continue for perpetuity."
Chief Executive Ben Verwaayen made it clear that's not his intention. His goal, he said, in describing the reorganization and new strategy, is for Alcatel-Lucent to become a "normal company," one with a "clear purpose" that can earn a "fair return" for shareholders.
Shares Sink on Earning Forecast
The company certainly isn't there yet. In the short to medium term, "the share price is going to go nowhere," predicts Richard Windsor, a global technology specialist with Nomura Securities in London. Alcatel-Lucent shares sank 11% in Paris trading on Dec. 12 after the company forecast that the market for telecommunications equipment will decline 8% to 12% next year and that it expects operating results only around breakeven for the year. By 2010, Alcatel-Lucent says it hopes to achieve operating margins in the mid-single-digit range.
Verwaayen acknowledges that it will take time to turn the company around and implement his new strategic plan. "The shift we are trying to make is pretty dramatic," he says. "What we have to do now is translate this into operational reality."
And how. Alcatel-Lucent hasn't made a profit since France's Alcatel and U.S.-based Lucent Technologies merged in 2006. Former Lucent Chief Executive Officer Patricia Russia and Alcatel Chairman Serge Tchuruk, the architects of that merger, were ousted last July and replaced in September by Verwaayen and Philippe Camus. Verwaayen, who is credited with turning around British telecommunications operator BT Group (BT.L), was brought in to pull off similar results at Alcatel-Lucent. But he took over just as the economic downturn started to take hold, causing further pain in a sector that was already struggling. In a sign of the times, Alcatel-Lucent rival Nortel Networks (NT) is reportedly considering filing for bankruptcy.
Management Shake-Up
To shore up Alcatel-Lucent's own bottom line, Verwaayen said in an Oct. 30 interview with BusinessWeek that he would deliver a plan by early December to streamline the company's operations and product portfolio. He hinted then at the shake-up in top management that has taken place over the past few weeks.
Verwaayen has brought in a new crop of managers to oversee the changes, including a chief financial officer, a senior vice-president in charge of strategy and corporate development, and presidents in charge of the North American, Asia-Pacific, and European regions. The company also announced new board members on Dec. 12, including Stuart Eizenstat, former Deputy Secretary of the U.S. Treasury Dept.
At the same time, Alcatel-Lucent said on Dec. 12 that it will continue its ongoing cost-cutting efforts through job reductions; streamlined research and development; and operational efficiencies in manufacturing, supply chain, and procurement.
Moving to New Technologies
But the news wasn't only about shrinking. Verwaayen also plans to shift the company's focus increasingly to services and customer hand-holding. He wants Alcatel-Lucent to help telecom operators build out their networks to accommodate expected huge increases in video traffic while also supporting a host of new Internet applications. To that end, Alcatel-Lucent intends to reinforce its current efforts in Internet protocol technology, optics, broadband fixed access, and the CDMA EV-DO version of mobile networks developed by Qualcomm (QCOM). He also aims to boost investment in next-generation mobile technologies such as Long Term Evolution (LTE)—the successor to 3G.
The company said it will "rationalize spending" on older technologies such as the original version of CDMA, as well as the aging, early-generation GSM system. And it will ease up on decade-old fixed telecom technologies such as ATM (used in core voice and data networks) and conventional copper-based DSL broadband. Trouble is, say analysts, it can't afford to alienate customers by completely phasing out these legacy technologies. Alcatel-Lucent is hampered by the fact that it's strong in weakening areas like CDMA and ADSL but weak in growth fields like LTE, according to analysts.
Alcatel-Lucent says it aims to collaborate with other companies to reduce spending on the development of some emerging sectors, such as the fixed and mobile high-speed wireless technology called WiMAX, which is heavily backed by Intel (INTC). The company also is expected to shed assets that are not central to its future business, such as its 20.8% stake in Europe's largest defense electronics maker, Thales (TCFP.PA), which it is selling to Dassault Aviation (AVMD.PA) for $2.05 billion. That sale is expected to go through on Dec. 15.
Business Exchange related topics:Alcatel-LucentTelecom IndustryMarket Bottom
Before it's here, it's on the Bloomberg Terminal.
LEARN MORE