Orvis' Hot Rod
As the recession hits retailers, lifestyle brand Orvis is using its award-winning new Helios fly rod to fish for new customersand reel old ones back in
by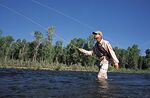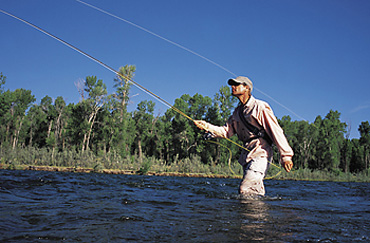 Standing thigh-deep in Vermont's Battenkill River, tying a nymph onto the leader of his fishing rod and wearing a beat-up green cap with a feather sticking out of it, Leigh "Perk" Perkins Jr. doesn't look much like a CEO. The tanned, sinewy, 56-year-old looks more like a fly-fishing bum, and the grace and accuracy with which he casts his line indicates the many years he has spent on the water. But he is in fact the chief executive of Orvis, one of America's biggest lifestyle companies—and today's damaged economy isn't very good for lifestyle companies.
"Sure, I'm worried," he confesses as he wades carefully through the cold, rushing water. There was a big storm the night before and the river is higher and faster than normal. Unseen rocks loom underfoot and a misplaced step could easily knock one over. "Our sales in many of our strongest divisions are really hurting. Our pets division is way down for this year—and that's been one of our strongest earners for years. I guess when times get tough, people don't spend as much on their dogs as they used to," he says with a small laugh.
Women's apparel, another recent big earner, has also come down with a thud. So have the company's travel-related services as their traditional well-heeled private and corporate customers hold off on taking $8,000 fishing trips to Tierra del Fuego or $30,000 African train safaris.
But the rod in Perkins' hand gives him reason to celebrate. It's the handmade $775 ZG Helios, the lightest, strongest and most flexible fly-fishing rod Orvis has ever produced. And it's been a big hit for the company. "We've sold a ton of the Helios," Perkins says proudly. "It's 300% over our initial sales targets."
Reel Success
Perkins understands that the sale of a fishing rod, even a $775 rod that has won universal praise from fishermen, isn't going to have a significant impact on Orvis' bottom line. He does, however, appreciate the psychological importance of the rod's success. "There are a lot of people at Orvis who are really proud of the Helios," he says. "We're first and foremost a rodmaker, and even though we are more of a lifestyle brand now it's great that people still recognize us for that."
The success of the 152-year-old Orvis brand is very personal to Perkins. Founded by Charles Orvis in 1856 in Manchester, Vt., as a tackle shop for visiting fishermen, the company was acquired by Perkins' father, Leigh Sr., in 1965 for $400,000. At the time the company enjoyed a solid reputation among the fishing world's cognoscenti as a maker of fine rods, but it was far from the retail giant it is today. Since taking over as CEO in 1992—Perk's younger brother Dave serves as the company's executive vice-president—Perkins is said to have tripled the privately held company's annual revenue to more than $320 million. Not bad for a small company that is still based in Manchester, where most of the employees are as at home with a fly rod or shotgun as they are with a Power Point presentation.
Of course, Orvis' revenues are small when compared with larger companies in the premium retail category, notably Polo Ralph Lauren (RL) which announced sales of $4.8 billion for its 2008 fiscal year, and Abercrombie & Fitch's (ANF) $3.7 billion. Perkins knows he could have grown Orvis more but he believes that it is important for the company to hold true to itself. He points to other brands that have grown at the expense of their brand and how they lost their way as a result. "We've actually cut some products that were successful that we felt didn't fit our image," he says. "We won't just sell things that don't make sense for our brand."
Now that he has successfully been able to grow the brand—there are more than 60 Orvis retail locations in the U.S. and Britain, plus more than 400 dealers worldwide, and a catalogue mailing list of approximately 2 million—the most pressing challenge is to maintain that growth and attract new customers. While Orvis and Ralph Lauren may sell to a lot of the same customers, Orvis still has a whiff of the woods attached to it. While that might give it more authority when selling fly rods and hunting boots, no one would expect to see its women's clothing on the red carpet at the Academy Awards any time soon.
Getting On Target
"We've expanded into just about every area I can think of that makes sense for us," says Perkins. The problem is that during economic downtimes, when people are finding it harder to make ends meet, a new fishing rod isn't very high on the list of priorities.
To deal with this new reality, Orvis is, like many companies, becoming more targeted in its approach. That means getting back to basics and redoubling its focus on its core customers who are serious about hunting and fishing.
That's why the success of the Helios is so important to the company. Orvis knows that its customers are constantly on the hunt for the next new thing. Like golfers, fishermen are obsessed with finding equipment that will elevate their game, allowing them to cast longer and more accurately despite the weather conditions or a bunch of junk on the end of the line. And, like golfers, anglers are also usually willing to spend a fair amount of money for gear they feel that will truly make a difference.
Before Orvis formally introduced the Helios in 2007, it spent two years developing it at its design studio in Manchester. Their engineers employed an exclusive thermoplastic, thermoset resins—the same kind used in bulletproof Apache helicopter blades—from tip to butt, using a special lightweight scrim wrap to strengthen the rod while allowing it to reduce the overall weight by 25%. In addition, the engineers also designed a new, lighter reel seat (the metal device used to attach reels).
Angler Acclaim
"The challenge was the weight issue," says Jim Logan, Orvis' vice-president of manufacturing. "We wanted to make a lighter product but didn't want to compromise durability. We really beat it up in testing too and were amazed at the abuse it could take." However, should you be unfortunate enough to have your Helios break—if, for example, it is trampled by a herd of African elephants or gets thrown in a woodchipper—it also comes with a 25-year unconditional guarantee that Orvis will send you a new one.
The success of the Helios is about more than making a better rod, it is also about Orvis re-establishing its bragging rights in the fishing community. Like many successful companies that diversified its product line as it grew, in its push to expand a lot of people felt it lost sight of what made the brand special in the first place: a dedication to providing outdoorsmen with the best gear at a fair price. By the 1990s, Orvis was probably as well-known for dog beds as it was for fishing equipment. Moreover, as the company grew, it also lost some of its cachet, the way that Coors beer did when it began delivering east of the Rockies. Orvis was no longer a well-kept secret, it was a large company. Serious anglers, who are as fiercely contemptuous of mass-produced equipment as they are of over-fished rivers, began seeking out smaller rodmakers such as Sage and Winston, which only made fly rods, not women's flannel nightgowns or leather weekend bags.
But the Helios is changing all that. The response from the sporting press and fly-fishing blogs, such as TroutUnderground.com and FlyFishMontana.com has been pretty much unanimous: Everyone is raving about the Helios. Best of all, the Helios won Field & Stream's "Best of the Best" fly rod award for 2008. What they all agree on is that it is was the lightest, most accurate rod they had ever fished and that unlike many light rods it is capable of bringing in everything from steelhead trout to sockeye salmon.
Hard economic times force people and companies to trim fat and rethink their strategies. Like many other retailers, sales at Orvis are likely to struggle through the holidays and well into 2009. As a result, some divisions may shrink or be folded entirely. Others, however, will be preserved, if not expanded. In fact, the success of the Helios has lifted the sales for many of their less expensive rods as well, according to Tom Rosenbauer, the marketing director for Orvis Rod & Tackle. "We started with 13 Helios rods in different weights and we're now up to at least 28 for both fresh and saltwater. But we're also going to be moving into Spey rods and rods for big game fish. The great thing about the Helios is that it has given our entire rod line a lift. A lot of people want to know more about the Helios but maybe don't want to spend the money, so they buy one that costs less instead."
Before it's here, it's on the Bloomberg Terminal.
LEARN MORE